In sickness and in health, Barbara Nichols, R.N., served the Corry community for 45 years. Nichols, CEO and President of Corry Memorial Hospital, an affiliate of LECOM Health, has been a staple in the community for years, and is now headed for retirement.
Although a bitter pill to swallow for those who enjoyed working closely with Nichols, it came to a sweet end on Thursday as peers gathered to recognize her accomplishments and career.
Nichols began her time in Corry as a nurse aide, then a registered nurse, before moving up the ranks to CEO in 2000.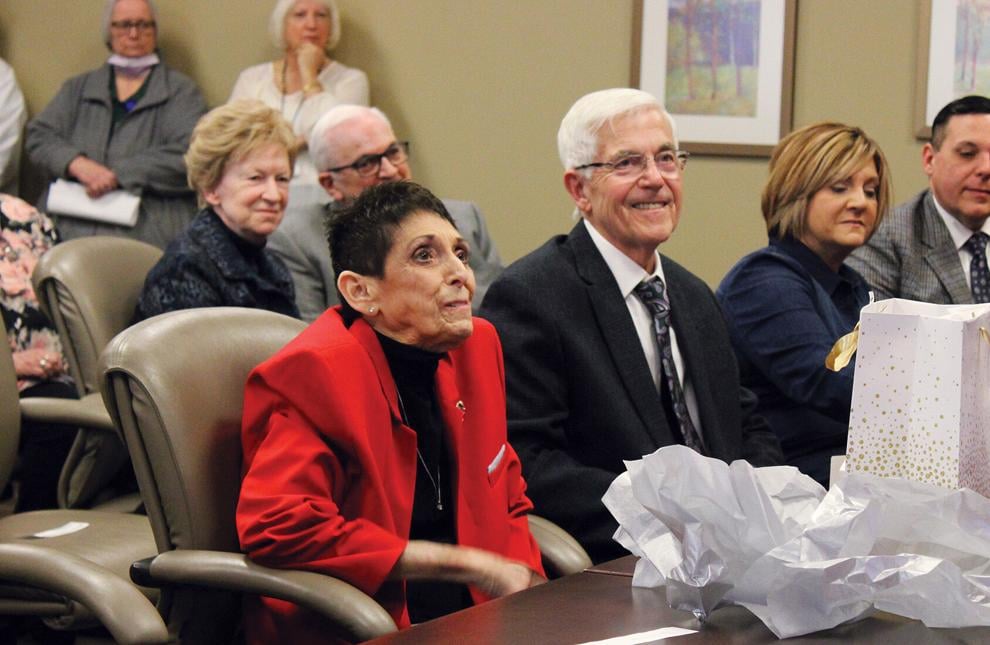 "Barb is certainly leaving an indelible legacy on the people past, present and future of Corry Memorial Hospital and all the families she has served in the Corry community and surrounding areas," said Jasen Diley, vice president of affiliated services for LECOM Health. "Of all her many remarkable achievements over the span of her career, Barb's biggest contribution might be the way she has inspired people and made them feel."
Diley presented Nichols with a book full of memories, gifts and a dedication plaque that will be displayed in the foyer of the hospital.
When recalling the highlights of Nichols' career, Diley still had quite the list. Some of them include starting home health care in 1983, initiating Corry Ambulance Service, opening the oncology clinic, starting the hospice program, opening the geriatric psych unit, signing the lease agreement for the Clymer Rural Health Clinic, implementing multiple life-saving scans and achieving critical access hospital status and age-friendly health system status.
When asked about what fueled her passion for rural health care in Corry, Nichols told The Journal she made the care what she believed was best for her family, watching her parents and kids use the system.
"I live here, so I'm going to use it," she said. "That's the driving force. If you're going to use it, it better be pretty good."
Still, in her final days serving the hospital, she was being the cheerleader for others. She said she'll miss the people most, and singled out Sue Hicks, administrative assistant, who made a lasting impact on Nichols' life.
"My assistant Sue Hicks has been a great part of it," Nichols said. "She kept me organized, and she kept me moving in the right direction."
She said she has been most proud of the difference the hospital staff has collectively been able to make over the years in the lives of others, and she expressed her gratitude for the support of the community.
"Continue to support us, and thank you for supporting us," Nichols said, bowing her head with a gentle smile.
The hospital has named a new CEO, Dan Grolemund, who will be taking over now. Nichols' last day was Friday.
Diley remarked that Nichols' commitment to the Corry community and its surrounding areas is admirable, and her work will be remembered for years to come.
"Barb's commitment to excellence and the community drove her to provide exemplary health care services for the rural population," Diley said. "We congratulate her on a tremendous career and unwavering devotion to Corry Memorial Hospital."