UNION CITY - The senior players on Union City's football team had quite a showing as they played their final contest at Bears Stadium on Friday night.
Union City celebrated senior night by trouncing winless Sagertown 41-6. The Bears are now 4-4 overall and 3-1 in Region 2 with the win against the Panthers (0-8, 0-4).
UC scored six touchdowns before giving up one TD with 1:28 to play in the game, which was the last home game for seniors Austin Jaquith, Marshall VanTassel, Matt Krause, Ryan Newton, Lucas Thomas and Ryan Brooks.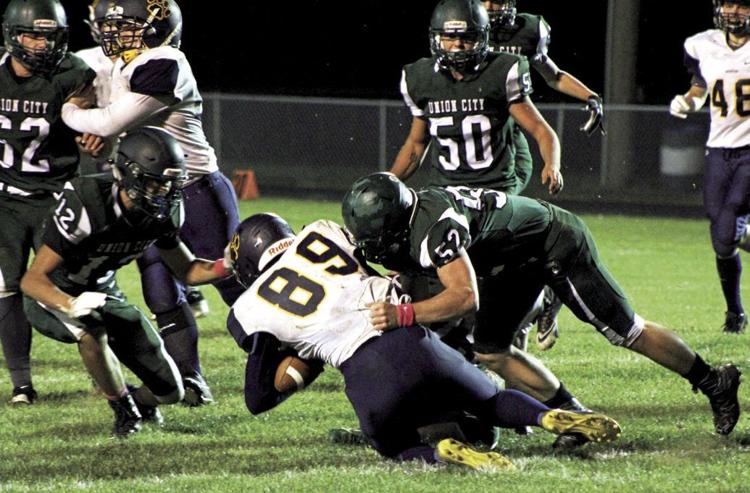 Jaquith was the first Bear to score, rushing for a 5-yard touchdown with 7:16 left in the opening quarter.
VanTassel scampered 66 yards for a TD with just over a minute to play in the first frame and a 2-point conversion run by Tallin Henry made the score 14-0.
Henry then scored his own touchdown 56 seconds later on a carry for 14 yards. Danny Ruckman rushed for an extra two points as the Bears led 22-0 after one.
On the first play after Saegertown turned over the ball on downs, VanTassel broke free for a 65-yard touchdown run less than three minutes into the second quarter. The score was 28-0 after UC's kick was blocked.
With 4:44 remaining in the first half, VanTassel found the end zone again, this time from 42 yards out, but it was called back due to a personal foul for a high hit by the Bears.
One play later, Jaquith zigzagged his way through the Panthers' defense for a 33-yard gain. Henry then rushed for seven yards to the 6 and capped off the quick drive with a TD run, extending his team's lead to 34-0 before halftime.
UC's Matt Krause sacked freshman quarterback Henry Shaffer for a loss of 10 yards during Saegertown's last series of the first half.
The Bears kicked off to start the third quarter but swiftly regained possession once the Panthers had to punt after Cain Greeley tackled for a loss of 5 yards and VanTassel had a sack for a loss of 5.
Union City set up shop near their own 47-yard line and Henry carried to the 15 on the first play for a gain of about 38 yards. VanTassel then powered his way up the middle for his third TD of the night.
The Bears were penalized twice for lining up in the neutral zone on the ensuing PAT attempt, pushing back Ryan Newton's kick to the 20-yard line. However, Newton still made the kick for what may be a UC school record for longest PAT kick.
The Bears were up 40-0 after that as the mercy clock went into effect.
Saegertown managed to score on a 7-yard throw by Shaffer in the final minutes of the game, but he was sacked on a 2-point pass attempt.
VanTassel finished with four carries for three touchdowns and 153 yards. Henry rushed 11 times for two TDs and 91 yards, while Jaquith had three runs for one TD and 69 yards.
Union City will close out its season with a Region 2 game at Cambridge Springs (3-5, 2-2) next Friday as undefeated region leader Maplewood (8-0, 4-0) visits Saegertown.
Union City 22 12 7 0 - 41
Rushes-Yards 44-59 31-388
Comp-Att-Int 6-11-0 0-1-1
Penalties-Yards 2-18 7-65
Records 0-8, 0-4 4-4, 3-1
UC- Austin Jaquith 5 run (run failed)
UC- Marshall VanTassel 66 run (Tallin Henry run)
UC- Henry 14 run (Danny Ruckman run)
UC- VanTassel 65 run (kick blocked)
UC- Henry 6 run (kick failed)
UC- VanTassel 15 run (Ryan Newton kick)
S- Ethan Hayes 7 pass from Henry Shaffer (pass failed)
Rushing: UC- Marshall VanTassel 4 carries for 153 yds, Tallin Henry 11-91, Austin Jaquith 3-69, David Roscinski 5-36, Danny Ruckman 4-24, Logan Kesselring 3-13, Caden Fox 1-2. S- Keenan Schaaf 29-75, Ethan Hayes 5-32, Robbie Brown 1-4, Blake Boylan 1-(-4), Henry Shaffer 8-(-48).
Passing: UC- Kyler Shaffer 0 of 1 for 0 yds, 1 int. S- Shaffer 6-11-79, 0 int.
Receiving: UC- none. S- Brown 4-49, Hayes 2-30.