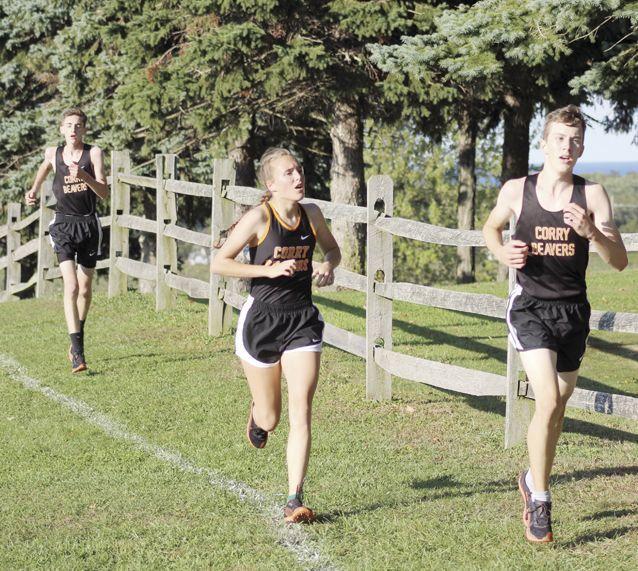 The Corry and Union City cross country teams competed at North East on Tuesday afternoon. The Corry girls team finished up the regular season with victories over North East 21-34 and Union City 19-42 and ended up with a 6-2 mark in the region for the season.
Hannah Smrcka was the overall winner with a time of 20:24. Mallory Jaquith (21:38, 2nd), Kaitlyn Webb (22:43, 5th), Lexy Hasbrouck (22:59, 7th) and Anna Long (23:15, 10th) were the other scorers for the Lady Beavers.
Freshman Gwen Adams (23:29, 14th) and Teya Bailey (23:32, 15th) also ran well for the girls team.
Union City's Octavia Kosnik was fourth and Andrea Myer eighth.
The Corry boys team lost to a dominant North East team 15-50 and lost a close one to Union City 30-27. DJ Stine led the Beavers with a 16th place in a time of 19:50. Stephen Brady (20:02, 18th), Michael Winans (20:03, 19th), Tony Kerr (20:04, 20th) and Dustin Seth (20:30, 24th) rounded out the top five for the boys.
Brock Pennington led the way for undefeated NE who had the top six finishers and clinched the Region 4 title.
Union City's top runners were Landon Myer and Joe Anaya.
The boys middle school team entered with a 6-0 mark and had an epic battle with 6-0 North East. When it was all said and done, North East pulled out a one point win over the Beavers 27-28 to win the region title.
Fabian Fourspring (9:35, 2nd), Ryan Webb (10:04, 4th), Zach Turben (10:10, 5th), Carson Meredith (10:18, 8th) and Isaiah Bayle (10:21, 9th) all were top 10 finishers.
"I'm really proud of how the boys competed today and am looking forward to battling North East a few more times in the final few invitationals of the season," said coach Ryan Kelly. "Finishing 7-1 in the region is a great accomplishment, but we are now focusing on doing what we need to do have a strong finish at the district meet in a few weeks."
Haeleigh Bayle was once again victorious in the girls middle school race with a time of 10:52. Teryn Bailey also ran well finishing in ninth place with a time of 12:23. The girls team finished 3-5 in the region.
The Corry teams next compete at the Slippery Rock Bill Lennox Invitational on Saturday.
NORTH EAST Boys 15, CORRY 50
NORTH EAST 15, UNION CITY 49
UNION CITY Boys 27, CORRY 28
1. Pennington (NE) 16:59, 2. Courtwright (NE), 3. Kloss (NE), 4. Boyd (NE), 5. Seevers (NE), 6. Leonard (NE), 7. L. Myer (UC), 8. Haskins (NE), 9. Anaya (UC), 10. A. Reinsel (NE).
• North East 8-0; Corry 6-2; Union City 4-4.
CORRY Girls 21, NORTH EAST 34
CORRY Girls 19, UNION CITY 42
NORTH EAST 24, UNION CITY 33
1. Smrcka (C) 20:24, 2. Jaquith (C) 21:38, 3. Hammond (NE), 4. Kosnik (UC), 5. Webb (C) 22:43, 6. Hartner (NE), 7. Hasbrouck (C) 22:59, 8. A.Myer (UC), 8., Bement (NE), 10. Long (C) 23:15.
• Corry 6-2; North East 5-3; Union City 3-5.