WATERFORD — In a game that had no hits, and plenty of walks, Corry's Minor girls outlasted Harborcreek 6-5 in Wednesday's District 3 loser's bracket action.
It was tied at 4 going into the sixth. Harborcreek took the lead in the top of the sixth, 5-4.
Then Corry's Jayda Martin lined one off the first baseman's glove, and stole second. Mckenzi Lewis ripped a hard grounder through the left side as Martin rounded third and scored on the throw back into the infield, Lewis aggressively going all the way to third.
Alexis Hasbrouck then laid down a bunt that was fielded by the pitcher.  When she made her throw to first, Lewis scored the winning run, with Hasbrouck safe on the overthrow.
Corry pitcher Haylee Dyne also threw a no-hitter. She gave up five runs on 15 walks and 16 strikeouts as Harborcreek put only two balls in play.
Corry faces LeBoeuf today at 6 p.m.
• Union City advanced to the championship game with a 10-0, four-inning win over LeBoeuf. Sydney Gilbert pitched a no-hitter with 10 strikeouts and two walks.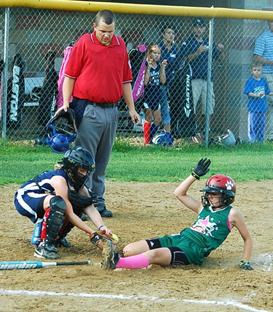 Gilbert also went 3 for 3 batting with four RBI and three runs scored.
Julie Burger was 2 for 2, scored three times and drove in three.
Sophia Messinger and Abby Tingley also had RBIs.
In three games, UC has outscored its opponents 28-0 and allowed just one hit.