Corry's Senior boys all-star team finally took the field on Sunday at The Ballpark At Columbus.
When it did, there was a familiar face in center field, though he has not played baseball for a few years.
All-star running back, triple jumper and sprinter Liam Cragg was back wearing the orange and black.
All he did was go 4 for 4, score three runs and make a pair of diving catches in the outfield to help Corry to an 11-5 win over FLAG.
Corry has not fielded a Senior team for several seasons, bit this squad appears to have plenty of talent.
After giving up three runs in the top of the first inning, Corry plated three runs to tie it.
The hosts then reeled off back-to-back four-run innings and breezed to victory in a three-team District 3 bracket.
Ethan Brown started on the mound pitching two innings. He allowed three hits and a walk.
High school all-star Joe Karpenko took over the third and blanked FLAG for four innings. He allowed just one hit, with six strikeouts and four walks.
Cragg pitched the final frame, charged with two hits, two walks and two runs, fanning two.
Cragg, who had two RBI, almost had a second triple but was thrown out at third in the sixth inning.
Bailey Volk had two hits and scored three runs (see photo). Karpenko scored twice.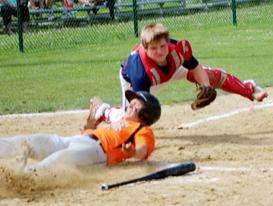 Collecting one hit were Jimmy Donaldson, Karpenko, Tagen Drayer, Nick Marrs, John Keener and Logan Triscuit.
Triscuit, Marrs and Drayer scored runs.
Brown made a diving over-the-shoulder catch while playing shortstop.
"Everyone on the team hit the ball hard," reported coach Joe Marrs. "We only made one error in the field. It was a complete team effort."
FLAG, who topped Erie 9-5 on Saturday, hosts Erie on Tuesday. Corry will host the winner of that game on Thursday night in Columbus.
FLAG Boys         300   000   2   —    5    6
Corry Seniors     344   000   x   —   11  12
  2b-Liam Cragg (C), Jimmy Donaldson (C), Cruz (F), Hudson (F), Grimaldi (F). 3b-L.Cragg (C). WP-Joe Karpenko. LP-Hutchison.