After two road trips, Corry's football team returns to Sheen Field on Friday to host winless Girard.
"They run a wing-T offense so they will be run heavy with a lot of misdirection and some play action pass," noted coach Jeff Goodwill. "They have a pretty athletic quarterback. Defensively, they are a base 4-4 with a lot of cover three.
"They're pretty young up front," he claimed. "Their strength will be at the linebacker position.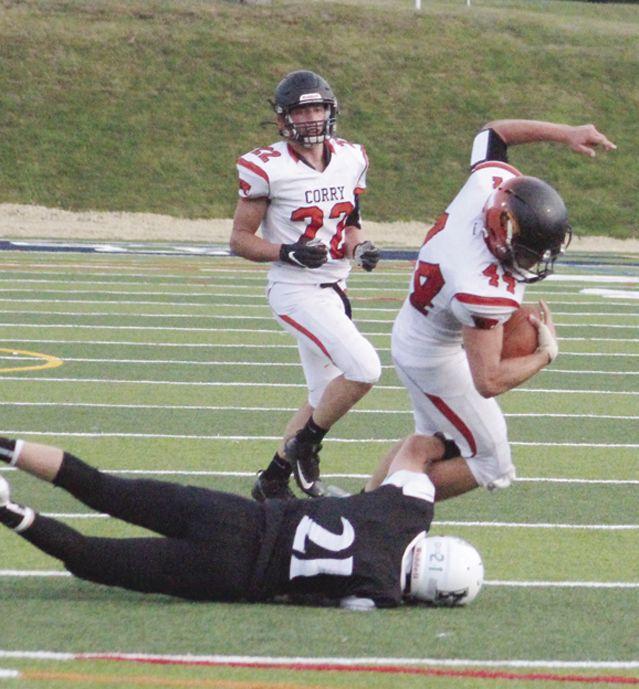 "We've played some good football during the first two weeks of the season," said Goodwill. "We lost our momentum last week (at Grove City) and we need to get that back. A big win at home would be helpful in getting us back on the right track."
What are the keys to winning this game?
"We need to get back to playing team defense," Goodwill admitted. "We want to see the same effort defensively that we saw during the first two weeks. We also have to be fundamentally sound.
"Against wing-T teams, you can't afford to have anybody out of position on any play," he stated. "Offensively we're going to continue to feature our run game, but we have to get our passing game going if we expect to win more games late in the season."
Girard is coming off a 33-6 loss to Oil City. Todd Essman rushed for 73 yards and Dustin Roesch 56.
The YellowJackets lost to Fairview in week two, 27-26. Essman had two touchdowns as did quarterback Austin Barrett. Barrett ran 12 times for 79 yards and was 3 of 5 passing for 45 yards.
Kickoff is set for 7 p.m.
Region 6 Football
Titusville   1-03-0
Fairview  1-01-2
Mercyhurst Prep  1-01-2
Harbor Creek  0-03-0
Corry  0-11-2
Girard  0-10-3
North East  0-10-3
Friday's 7 p.m. Games
Girard at Corry
Harbor Creek at Fairview
Mercyhurst Prep at Titusville
Grove City at Brashear
------
Cochranton at Union City
Saegertown at Eisenhower
Cambridge Springs at Maplewood
Franklin at DuBois
General McLane at Oil City
Wilmington at Lakeview
Sharpsville at Greenville
Hickory at Conneaut
Slippery Rock at Sharon
St. Edward at Cathedral Prep
Canisius (NY) at McDowell
W.Toronto Prep at Erie
Hutch Tech at Jamestown (NY)
Franklinville/Ellicottville at Randolph
Salamanca at Cattaraugus-Little Valley
Southwestern at Portville
Saturday's Games
Clymer-Sherman-Panama at Silver Creek
Warren at North East
Fort LeBoeuf at Meadville
-----