WARREN — With second place and a bye in the District 10 playoffs on the line, Corry's boys basketball lost a heartbreaker Tuesday night falling to Warren in overtime, 63-61.
The outcome left Corry, Warren and Titusville tied for second in Region 6 with final 7-5 records.
However, the Dragons won the tiebreaker which was the best record among the tied teams. Corry got the No. 3 position by going 2-0 over Titusville.
"After getting down early in the first quarter we really came back and played a hard-fought game," claimed coach Tyler Bailey. "To get us back in the game Logan Joncas hit three 3-point baskets in their 2-3 zone and scored 11 of his 20 points in the second quarter. Micah Knapp also had six points in the quarter.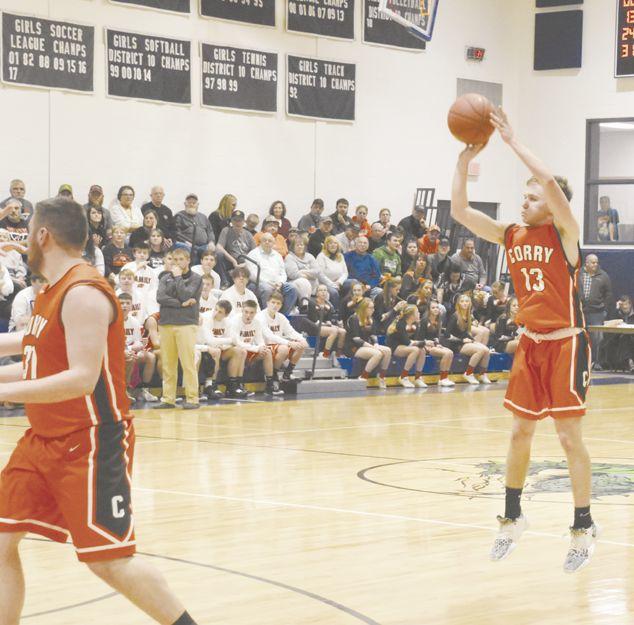 "The second quarter we played some of our best ball of the evening," he stated. "We settled in defensively and were pretty comfortable. We seemed to be aggressive all night on both sides of the ball.
"Playing in Warren is always tough but I believe this was our first loss in four years there," Bailey noted. "Reagan James played a solid game all evening. He is back to the dribble drive, getting to the hoop, making good passes and taking care of the ball," he said.
James ended up with 13 points, seven in the back-and-forth fourth quarter. 
"A positive is that we got to the foul line 24 times and hit 17 for 70%," Bailey pointed out. "A negative is that we shot 38% but we were still able to stay in the game.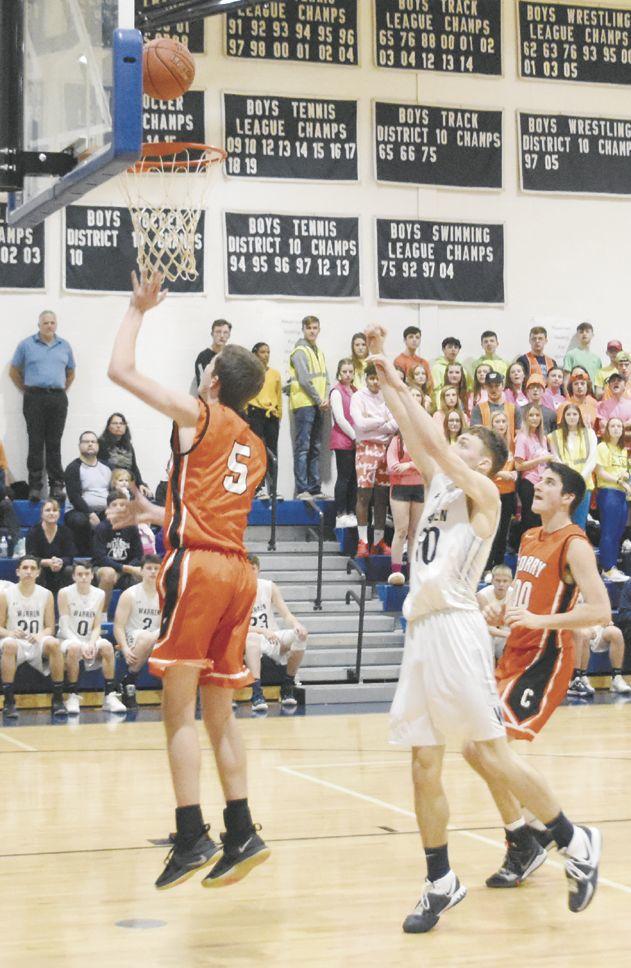 "Lucas Nichols has been effective on defense the whole year, but he has really made an impact the last six or seven games scoring a good 10 points for us each night," he said. "He needs to continue to be aggressive.
"Late in the third quarter, Micah got sick and was unable to finish out the game," Bailey said. "He ended up with nine points. We really missed him defensively. With him out of the game they were able to exploit us a little because they always had one up on us, either a small on big, or the other way around.
Taylor Willis also had nine points and led the team with seven rebounds. Nichols led the team in assists with three.
Payton Barnes scored all seven of Warren's points in overtime including the game-winning basket and finished with 17 points. Ben Berdine also netted 17 markers, 10 in the first period.
"Now that the regular season is over, we really have to buckle down and play our best," said Bailey. "We will be the three seed and playing Fort LeBoeuf at home on Friday night."
 CORRY (15-7, 7-5): Willis 3 3-3 9, James 4 5-9 13, Brundage 0 0 0, Saborsky 0 0 0, Knapp 3 3-4 9, Nichols 5 0 10, Joncas 5 6-8 20. Totals 20 17-24 61.
 WARREN (14-8, 7-5): Berdine 8 0 17, Arnold 3 0 8, Rafalski 0 0 0, Bablak 4 1-2 10, Gustafson 0 0-1 0, Barnes 7 1-2 17, Swanson 1 1-2 3, Grosch 4 0 8. Totals 27 3-7 63.
Corry          9   24  14    9    5   —   61
Warren     18   12  15   11   7   —   63
 3-pts: C-Joncas 4. W-Arnold 2, Bablak, Berdine.