WATERFORD — Corry's volleyball team put together one of its best matches of the season against the Region 5 leading Fort LeBoeuf sweeping the host Bison in three straight games on Thursday 25-13, 25-8, 25-18.
LeBoeuf, a possible District 10 playoff opponent down the road, came into the nonregion match with a 9-3 overall record and 6-0 Region 5 record.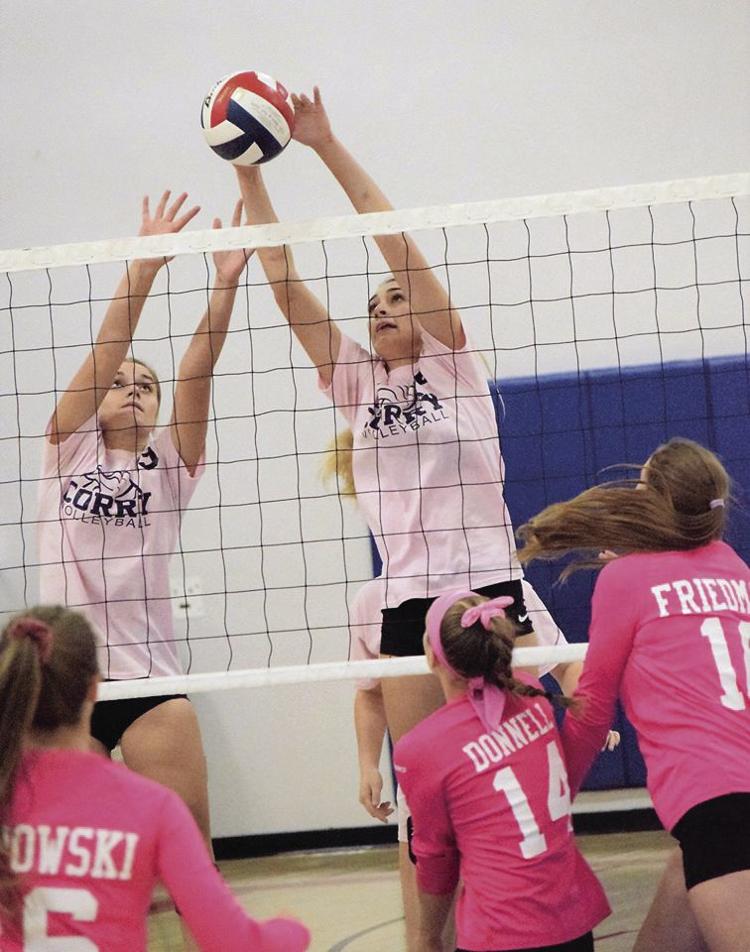 The first set started out as expected, a competitive affair with Corry leading 6-5 when senior setter Meg Goodsel went back to the service line and stretched the lead to 10-5 on a kill by junior middle hitter Ciara Davis and several LeBoeuf errors. The lead grew to 16-7 on two kills by sophomore outside hitter Rachel Brady and a kill by right side Kiran Bugbee as Corry cruised to an easy victory.
The second set wasn't close, Corry dominated offensively collecting 11 kills: four by Maddi Vona, three by Brady, two by Goodsel and one by Davis and Bugbee. LeBoeuf struggled to put the ball on the floor, many times because of Corry's stout defense. Junior libero Lindsey Mitchell had seven digs and Goodsel, Vona and junior Allison Zaczkiewicz all had three digs.
The third set score was closer, mainly due to a few more Corry errors and a late run by FLB. Junior middle hitter Hailey Smith had two of her four blocks in the set, frustrating the Bison hitters. One of the keys to winning the set was consistent serving. Juniors Melanie Scouten and Robyn Biondi, as well as sophomores Lexi Frisina and Miranda Nickerson, all came in off the bench to effectively serve error-free as Corry closed out the match.
"We are really pleased with the way the team played, we kept the pressure on Fort LeBoeuf with tough serving, good defense kept us in our offensive system and our hitters put the ball down," said coach Kelly Goodsel. "This was a big win for us as we start looking at the District 10 playoffs. Assuming Fort LeBoeuf wins Region 5, we could meet FLB in the semifinals, so beating the Bison on their home court builds our confidence."
The team was led by Vona who had an outstanding night, collecting 20 kills and nine digs. Goodsel dished out 30 assists and collected nine digs, three kills and three aces. Middle hitters Davis and Smith helped shut down the Bison middle attacks with five blocks and two kills combined. The defense was led by Mitchell and Zaczkiewicz who both had 13 digs.
Corry is 10-2 overall and 4-1 in the region.
After nine days off, Corry gets back to consistent action. The Beavers play at the always competitive Cochranton Tournament on Saturday, then host Lakeview on Tuesday night for the senior night. The Lady Beavers close out the regular season with a nonregion match versus Cochranton on Thursday and then the last tournament before District 10 playoffs at Maplewood on Oct. 19.
Corry's junior varsity team lost to LeBoeuf in two sets, 25-11 and 25-20.
"This was our first game in 10 days and the rust showed," admitted coach Mark Brenner. "In both sets, the difference between the teams was the ability to receive serves and unforced hitting errors. We struggled greatly in the first set to read the serves and move into position to pass them."
LeBoeuf started the set with a nine-point run and two servers later, the hosts added to their lead with a 10-point run. "That may be the longest run that a team has had on us this year, without us being able to side out," claimed Brenner. "LeBoeuf's serves were consistent, but not exceptionally hard. We were just not playing at our normal speed."
The second set was closer as Corry passers settled down and the offense had a chance to attack. The highlight of the game came in the form of tough serving by Miranda Nickerson. She served eight times with four consecutive aces and zero errors.
"It was a disappointing loss because we did not give them even close to our best play," said Brenner. "This was one of those matches you would like to forget about, except for the fact that you need to use every opportunity to get better. We will hit the practice court hard in preparation for our last two matches next week."
Corry will be playing with a shortened roster in the Fort LeBoeuf JV Tournament on Saturday. A couple of our older players will be traveling with the varsity team to the Cochranton Tournament.