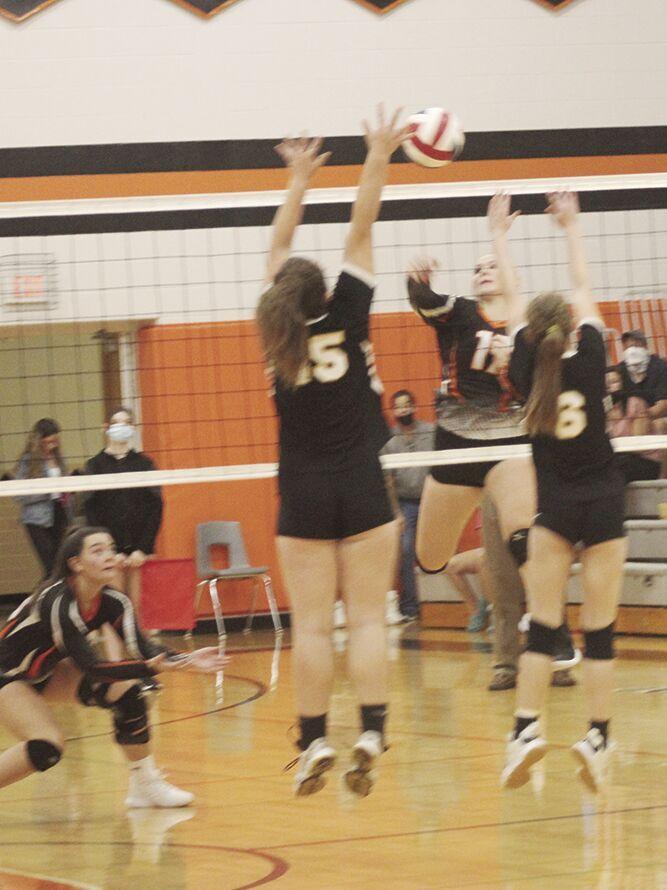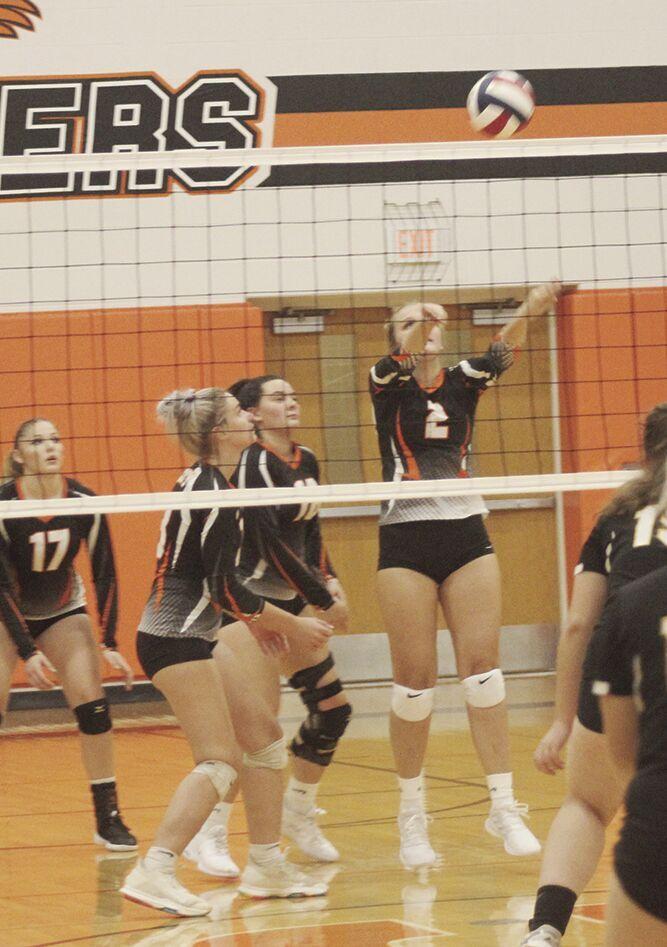 Corry volleyball continued its winning ways sweeping Iroquois easily Thursday night at the Beaver Dam in Region 4 play 25-9, 25-10 and 25-12.
The night was focused on the six seniors that have played volleyball together since elementary school, and most have played other sports (basketball and softball) for many years; so when they all got to start and dominate the first set, it was extra special.
The starting lineup was Kiran Bugbee – setter in 1, Kaylee Pierson – outside hitter in 2, Maggie Dow – middle hitter in 3, Miranda Nickerson – opposite hitter in 4, Rachel Brady – outside hitter in 5, and Lexi Frisina – defensive specialist in 6.
This was the first time all six have started on the court. All six seniors scored in the first set. Pierson led the team with three kills, Brady had four service aces, Frisina had two digs and a service ace, and Dow, Bugbee and Nickerson all had a service ace.
The seniors cruised to a 25-9, trailing 0-1 and tied only once at 1-1.
Corry never trailed in set two, although there were a few more unforced errors by the home team. Brady and Pierson led the offense with four and three kills respectively, but it was a full team effort, Dow had two kills, Nickerson had one, junior middle hitter Elaina Brown had two kills, and freshmen Aubrey Vanderhoof and Makenna Moore both scored for the Lady Beavers.
The offense was evenly spread by setters Bugbee and freshman Payton McCray with nine and four assists. Junior libero Tayler Elchynski picked up three of her six digs in the second set.
In the third set Corry started all six seniors one more time and after each player contributed to a nice play (service aces by Dow, kills by Brady and Pierson, Frisina digs, Bugbee assists, and Nickerson serve), coach Goodsel substituted a younger player in for the senior, where he greeted each player with a big hug and a Corry crowd ovation.
It was a hot night in the gym, so there might have been some sweat getting in players and coaches' eyes. The younger players took care of business with junior Lakota Donaldson serving up a couple of aces and passed several free balls perfectly. Sophomore Keira Knight and freshman McCray ran the offense without an error, and freshmen Allison Sawyer, Halle Albers, and Moore all continued their solid varsity play.
"Corry volleyball teaches young players in the 4th, 5th and 6th grade recreational program where we introduce them to the sport that we want to build confident, loud, assertive young women," head coach Kelly Goodsel said. "These six seniors are great examples of the type of young people that the Corry school system and the volleyball program are proud to have representing us in the community.
"We have a couple more weeks of regular season play to continue improving and then we will go fight for another District 10 title."
Prior to the senior festivities, the JV squad would cruise to 2-0 sweep of the JV Braves 25-9 and 25-10 to remain undefeated at 9-0 on the year.
The JV Beavers would take a ride on the ace train 20 times in the match with More leading the way with seven.
Corry's record is currently 8-2 overall and 7-1 in the region. Corry has a practice day on Friday and then both the varsity and JV play in tournaments on Saturday, varsity is at Cochranton and the JV is at Fort LeBoeuf.