---
Shatters his own state record in finals
---
LEWISBURG — Corry senior Brent Benedict had just broken the state record in the 100-yard butterfly -- for the second time on Wednesday.
But he wanted to talk about something else.
That was the Beavers' 200 freestyle relay that had earned all-state honors at the PIAA Championships.
"This was awesome, I've wanted to do this for four years, to share as a team, this time it worked out,"  said the Virginia Tech-bound recruit.
The relay was  seventh in 1:30.91 after going 131.15 in the morning.
Benedict went lead-off, instead of his normal anchor spot. His 20.60 was a school record.
So were both of his times in the butterfly, as he bested the state mark of 48.56 set in 2009.
In the prelims, he went 48.41.
In the finals, he splashed his way to a new lower record of 48.01.
Second place was more than 3 seconds behind, at 51.37.
"He owns this building," said coach Doug Gerould. "He set a goal of breaking the state record and he accomplished it. He was so close last year, 1/100th of a second.
"He wasn't going to let that happen again," he claimed. "He has the backstroke and another relay tomorrow."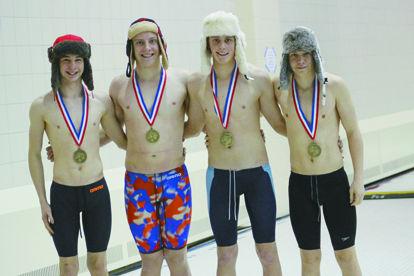 Benedict went out in 22.2.
"I wanted to be faster than this morning," he noted. "I wanted to be under 22, but I came back stronger. It all worked out."
In the morning relay, Corry received a little help after appearing to finish ninth -- the top eight teams are all-state. But three teams, two that were ahead by time, were disqualified.
So that meant Benedict, Donald Buell, Nate Labowski and David Anderson were in the finals.
At the end of the night, Corry was in ninth place overall team scoring with Bloomsburg first. Grove City was fifth.
Union City's Maggie Stebick, who was 10th a year ago in the AA diving, held on for eighth place on  Wednesday afternoon.
UC's Stebick, a student at Fort LeBoeuf who competes through a co-op program, was in fifth place after the first eight dives. But her 287.10-point total was only six points from second place and five and a half from third. She wound up with 381.40 points. The winner was Taylor Hockenberry of Mars Area  with 426.75.
Harbor Creek freshman Ashley VanHorne wound up 13th (345.45).
Thursday's state meet resumed this morning at the Kinney Natatorium.