We lost a valuable, much loved friend, artist and weekend warrior salesman at the Painted Finch on Friday the 17th when Mark Vincent Hulings, 65, left us to go dance and sing in Heaven. Mark loved to make people laugh and thoroughly enjoyed entertaining, so in quieter moments at the gallery, he would sail through belting out renditions of Elton John or Elvis. Occasionally, he would treat our customers to his musical acumen, much to their delight.
After graduating from Union City High School, his next step in education was at York Academy of the Arts, in York, Pa. This gave him the ability to pursue a career in art while making lifelong friendships. Some time after York, came his adventures in Alaska with a few buddies, which were the highlight of his life. He regaled us and our customers with harrowing renditions of daring do, encounters with wildlife, great people and the splendor of the state.
He moved to Corry maybe 12 years ago and we met at an art show where we were mutually admiring his work. A friendship was born. I opened the gallery in the summer of 2012, and I badgered him into working for me occasionally. He loved it. When I moved the gallery from Route 6 into downtown Corry in 2015, he volunteered to work every weekend. (I paid him!)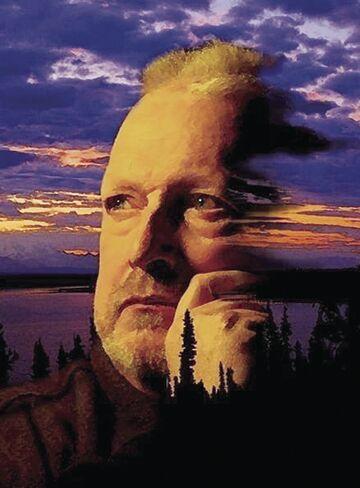 As a great artist, he loved to paint, photograph moments, play piano, write music, lyrics, poetry, stories, and design comics and cook … which he described every part of the process in excruciatingly painful degree. He was brilliant with designing ads, billboards, brochures and business cards for the Finch and Epiphany's as well as other clients.
Passionate about architecture and interior design, he constructed many designs for his own house as well as in the last couple of years color and awning choices for facades of buildings and storefronts in downtown Corry. His friendships from each place he lived throughout his lifetime were treasured.
Marcus, you were larger than life, a character full of sentiment, fun and whimsy. I will miss you until I see you again! Love, Wendy.
Mark is preceded in death by his father, Donald F. Hulings, and his mother, Maxine M. Hulings.
He is survived by a brother, Donald E. Hulings and his wife Dixie of Lincolnville, Pa.; a sister, Robin Kieklak and her husband Richard of Wattsburg, Pa.; and two nieces, Renee Arellano and her husband Mike and Rhonda Callan. Also surviving are many dear friends.
A Celebration of Life will be held at a later date.
Arrangements are under the care of Bracken Funeral Home Inc., 315 N. Center St., Corry, PA 16407.
To sign the guest book or send condolences, please visit www.brackenfh.com.