CLYMER, N.Y. — For several years, a Clymer-based nonprofit called 5 Loaves and 2 Fish Ministries, or 5&2, has been focused on fighting childhood hunger in Clymer, New York, and the surrounding communities.
The ministry was co-founded by Jen Heiser, who serves as board president, and board member Laurie Beckerink. Its first food distribution took place in January 2017, according to Heiser.
The organization's name comes from a Bible story, told in Mark 6:41, of Jesus miraculously feeding a crowd of 5,000 people with only two fish and five loaves of bread that were given to him by a young boy.
To help provide food for area kids in need, 5&2 volunteers pack bags of items like oatmeal packets, granola bars, fruit cups, applesauce and other snacks that local elementary students, who perhaps depend on meals provided by the school during the week, can take home with them on Friday afternoons and access over the weekend.
Food distributions take place every Friday throughout the school year.
There are no income requirements for being part of the program. Instead, Heiser said an opt-out system is used that allows families who do not feel they need the service to decline it.
"We don't ask about income," Heiser said. "If you have a need, we will get you a bag."
Privacy and confidentiality are key priorities for this organization, Heiser explained.
"We take that very seriously," she said. "We don't talk a lot about numbers. The teachers are the ones who have the confidential opt-out letters and know which kids need food."
Each school district has a designated point person who oversees the storage and pickup of the food items, and that person knows how many bags each classroom needs per week.
When the bags of food arrive, teachers place them in the backpacks of participating students while they are out of the room at a special, for example.
The ministry began in Clymer, but has expanded into Bemus Point, Panama, Sherman and Jamestown school districts, and maintains its focus on elementary grade levels.
Summers are handled based on each district's individual needs.
"We leave it to the school district to let us know if they need snacks or food for summer school," Heiser said, adding that the recent pandemic did slow down their operations to some extent, but some drive-thru pick up was available throughout those months.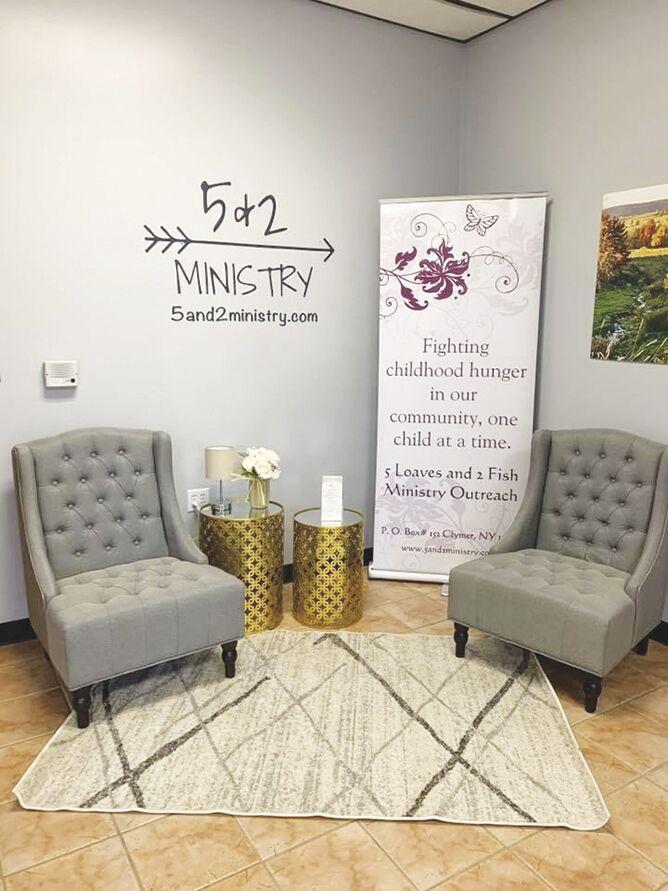 Originally, the ministry's headquarters was in the basement of the Clymer United Methodist Church. In 2019, a warehouse space at 8956 W. Main St., Clymer, was donated by Heil Transportation.
Heiser expressed a deep sense of gratitude for the company's generosity.
"They never charge us rent, electricity, nothing," Heiser said. "They go above and beyond. When you're an all-volunteer ministry, every dollar counts."
Heiser estimated the worth of the food bags at about $7 apiece, but noted that amount can fluctuate.
Two major fundraisers are held each year to support 5&2's mission. The first is a meat raffle held in the early spring, usually in February or March, according to Heiser.
The second is an annual fall golf scramble in September, which Heiser stated raised over $20,000 for the cause this year.
Kevin Goreé, who serves as vice president of the ministry's executive board, and board member Andrew Reinwald play a large role in gathering sponsors and coordinating the event, which took place in Chautauqua, New York, on Sept. 11.
North Hills Golf Course in Corry has also hosted the event, according to Goreé, as well as courses in Westfield and Bemus Point, New York.
The money raised comes from donations, sponsorships, a 50/50 raffle and other activities and contests held throughout the day.
"Those are things that go directly to our nonprofit," Goreé said.
He also noted that gathering volunteers to help out and making connections with local businesses and community members is key to their success.
He went on to commend the hard work that Reinwald does behind the scenes.
"He [Reinwald] has been a tremendous blessing when it comes to the golf tournament," Goreé said.
The 5&2 organization is headed by a board of up to 12 members who meet monthly during the school year. With only 10 members currently serving, Heiser pointed out there are a couple of open seats right now.
Serving alongside Heiser and Goreé as officers of 5&2 Ministries are Beth Collins, treasurer; and JoAnn Kopta, secretary. In addition to Beckerink and Reinwald, board members are Martha Anderson, Kathy Carlson, Julie King and Levi Swanson.
Heiser, who is also volunteer coordinator, commented on a need for volunteers to help with packing, which takes place at 6:30 p.m. on the first Tuesday of every month, September through June.
For those interested in donating food items, drop-off points are located at Clymer Hardware and Home Center, 8746 W. Main St., and the Clymer-French Creek Free Library, 564 Clymer-Sherman Road.
Monetary donations can be made online or checks can be mailed to P.O. Box 152, Clymer, NY 14724.