The Mennonite Central Committee (MCC) is warming things up this winter as it celebrates its 100th anniversary by helping those most in need with a comforter campaign, called "The Great Winter Warm-up."
The committee is inviting interested community members to participate by helping to make comforters for people around the world whose lives are affected by political, social and economic unrest.
Sewing days have been scheduled for Jan. 18 and 25 between 10 a.m. and 4 p.m. in the social hall at Beaverdam Mennonite Church, 177121 Route 89, Corry. 
Participants are free to come and go during those hours, said Cathy Harms, a representative of Beaverdam Mennonite Church, and who works to organize the event. 
She also noted that fabric, sewing machines and thread will be provided, but those interested may bring their own machines as well.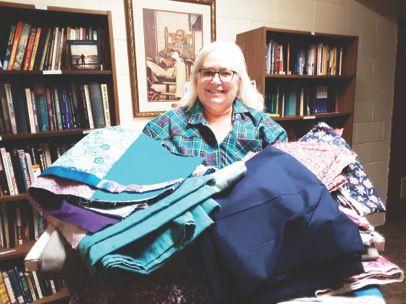 Harms commented that the majority of these materials were donated by community members while others have been purchased by the church.
According to Harms, several of these events are being held throughout the U.S., since the organization as a whole hopes to produce and distribute 6,500 comforters for people facing difficult situations worldwide by the end of January. 
Locally, Harms hopes to generate the manpower for producing at least 30 comforters during the upcoming sewing days.
She said there will be different stations set up so that participants can help cut out squares, mark squares to indicate where the stitches go, sew the squares together and iron the quilts when they are done. 
Templates will be available to help with the tasks of cutting and sewing, Harms said.
"We have everything but bodies to help do the work," she said. "It's not hard, but it's time-consuming."
Those who have questions or are interested in participating can call Harms at 814-739-2067.
The Mennonite Central Committee is a global nonprofit organization made up of several anabaptist groups, including the Brethren in Christ, Amish and Mennonite churches. 
According to the MCC website, the organization provided over 53,000 comforters for struggling families in 2018. These comforters are used by families not only as blankets but also as mattresses, carpets, curtains, room dividers for privacy and wraps for warmth, among other things. 
To learn more about MCC and its mission, visit its website at www.mcc.org or the Mennonite Central Committee Facebook page.