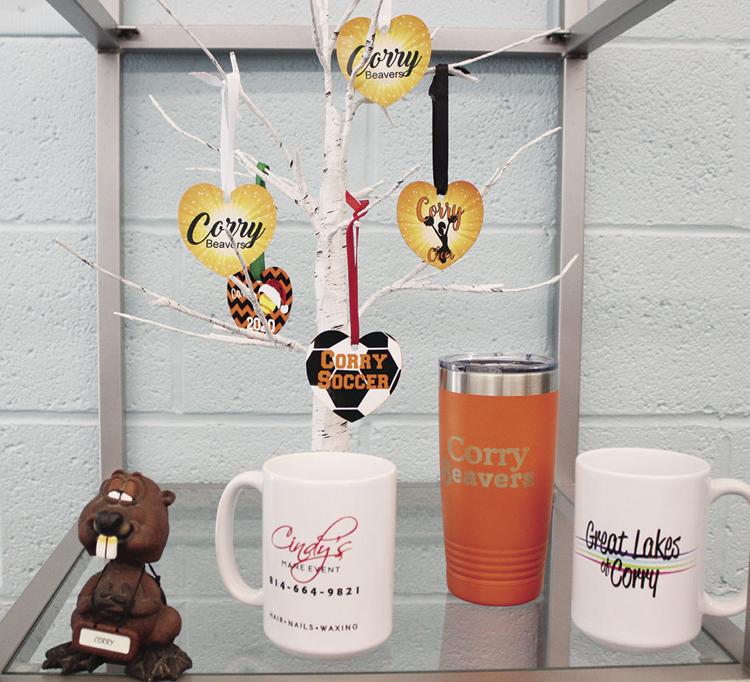 A local custom graphics shop recently broadened its abilities to create personalized products with the purchase of new equipment.
Business partners Dave Popovich and Sue Lewis, owners of Great Lakes of Corry, bought pieces of equipment that gives them the ability to do more with the items they create for their customers.
"We've done some big expanding with more to come," Popovich said. "We bought a laser engraver and sublimation system. We've also upgraded all of the computers."
The new equipment was installed in the back room of Great Lakes of Corry, located at 114 N. Center St., and it allows the business to engrave and sublimate products in house. A sublimation machine uses heat to transfer dye onto materials such as glass.
"We used to outsource it. Now we do it all locally," Popovich said. "By us doing them in house, we've also eliminated setups."
When Great Lakes of Corry used to outsource a job to a manufacturer, the company would have to make a setup to create the product and a setup fee would then be assessed to Great Lakes, who had to pass on to its customers.
"Now there's no setups. We just do it here," Popovich said.
Doing the work in house cuts down on costs for the business and its customers. Great Lakes of Corry also eliminated minimums for orders since they began performing sublimation in house.
"Now we can do no minimums," Lewis said.
Before, their customers had to order a certain amount of items, but now they can place an order for any number of items - large or small.
"In the past, the sublimated mugs would have an absolute minimum of 72, but most of the time 144 pieces," Popovich sad. "Now it's not a problem.
"We can do anything from shot glasses all the way to those big mugs and everything in between: Coffee mugs, latte mugs," he added. "We bought the pieces to do it all."
Great Lakes of Corry had to hire an electrician to rewire the business before installing the new equipment. A special ventilation system also had to be added for the laser engraver.
"The sublimation and the laser has got us very excited," Popovich said. "We're still experimenting on the laser a lot."
Lewis and Popovich have tried using the laser on wood and slate. Eventually, they're going to be able to etch on glass.
"I guess there are limits to anything, but at this point, it's pretty much limitless," Popovich said. "I think people will be surprised at the scope of what we can do. There are so many things that we can do or have access to."
Some of the new items they are able to create - such as laser-engraved Corry coffee mugs and sublimated Great Lakes mugs - are on display in the store, which recently underwent a facelift.
Anyone who has passed by the shop has probably noticed new Great Lakes of Corry decals on the business' windows, which were done by Popovich. The perforated decals allow people inside the store to see outside through the designs.
"You can see out because the holes are so tiny and so close together," he said. "It's really just an optical illusion."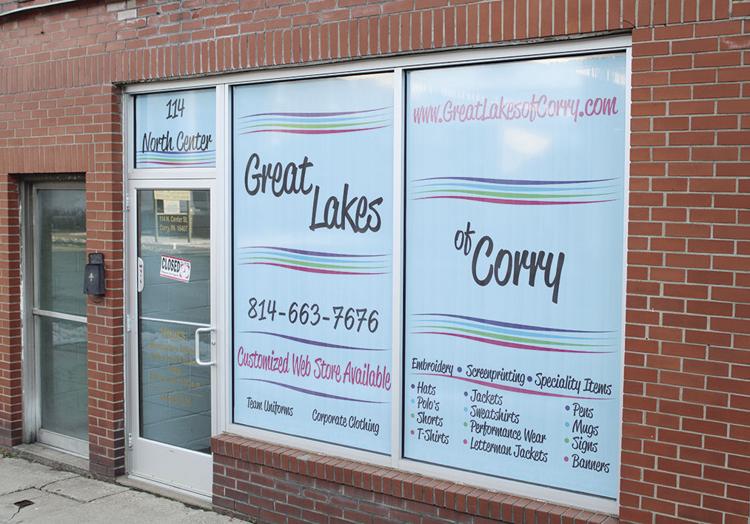 The new window decals serve more of a purpose than just advertising. Ever since the canopies above the sidewalk on North Center Street were taken down, the business has had problems with too much sunlight.
"It got extremely hot in here," Lewis said. "I couldn't have clothes out here before because they would fade."
The new window decals provide temperature control for the store, so the owners don't have to worry about sun damage occurring to clothes displayed in the storefront.
Lewis and Popovich have been working together for a long time. The business is 100% locally owned with Lewis becoming a partner in May.
"We've been working together for 24 years and been working in town side by side as Great Lakes for 22 years," Popovich said. "At the helm will be Sue. She's the breath of this. Most of the time, I'm on the road."
One other new feature to the business is the addition of customized web stores for organizations who want to sell items online.
"I make each organization their own page and it's a store for them," Lewis said. "They can make a profit or they can just sell it at cost."
She said the web stores have been going on for roughly a year and it's great for booster organizations or fundraisers for groups.
"Football did it this year. Girls basketball just did it. Soccer has done it. Volleyball has done it for quite a while now," Popovich said. "We also do it with manufacturing companies."
Lewis would also like to remind area residents that they still have the capability to make lettermen jackets for any high school, not just Corry Area High School.
In addition to the laser engraving and sublimation, Great Lakes of Corry still offers screen printing, embroidery and vinyl work. The business can make many types of personalized and customized products, including single-sided and double sided ornaments and keychains, mugs, electric and vinyl signs, clothes, uniforms, socks, blankets, hats, pens, mugs, signs, whiskey stones and more.
The store is open Monday through Thursday from 8 a.m. to 4 p.m. and Friday from 8 to 11 a.m. The store is closed on Saturday and Sunday.