A spring internship at Corry Police Department in 1989 turned into a 30-year career for Corry Police Chief Rich Shopene, who's retiring from his position on Oct. 24.
Shopene went to Gannon University and finished with a bachelor's degree in criminal justice. 
He went to Mercyhurst University Municipal Police Training Academy in May 1990 and was hired as a police officer at CPD that following June.
Shopene said during his internship, he got to see the community, was able to get to know the officers very well and when the police civil service test became available, he took it.
The impression he got of the community during his internship was a good one and led him to the decision to move here and build a life.
After all this time, he still considers Corry to be a great community and an excellent place to raise a family.
He accomplished many things that he says he is proud of, both as a police officer and in positions of police management. Shopene was promoted to corporal on March 1, 1997, and to lieutenant on June 20, 2002, which was his first time in a police management position.
He went on to name many things he helped bring about over the last 30 years that bring him pride.
"I started becoming involved with countywide dispatch and a countywide radio system back in the late 90s," Shopene said.
Since then, he's been able to help both become a reality, with the department moving to a county dispatch while he was a lieutenant, and most recently, the implementation of a countywide radio system, which went live in September 2019.
Another point of pride for Shopene was his work during the early stages of bringing a child advocacy center to Erie County.
"I actually had the first interview in the Child Advocacy Center," Shopene said. "They still hadn't even unpacked the boxes, and that's when it was at the Hamot Professional Building on East Second Street, which they recently tore down and rebuilt something else."
Shopene said before the Child Advocacy Center, officers had to bring children into the police station to interview them.
"How bad is it for a child to come into a police station, then talk to a man in a full uniform about being either physically or sexually abused? That's kind of intimidating," he said.
After the center was opened and Shopene used it a few times, he said he was asked by the assistant district attorney and erie county detective at the time, Damon Hawkins and Joe Spusta, respectively, to talk to other officers who do child abuse cases and let them know how it works.
Now it is the standard not only in Erie County but across the country, he said.
"When they opened the Child Advocacy Center there was only a handful of them across the country and now it's basically the way child abuse cases are handled," he said.
The center gives children a kid-friendly environment to be interviewed by a forensic interviewer, bringing everyone involved in a child abuse case under one roof, with one person asking the questions as the rest watched through a two-way mirror or from another room on a TV, he said.
"It's a win for the children, is what this is, and it also helps in the prosecution because the district attorney's office is on board from the beginning," he said. "I'm happy that I could play a role in helping it move along, helping it grow in Erie County and to be what it is today. My guys use it exclusively for all child cases of sexual abuse and physical abuse."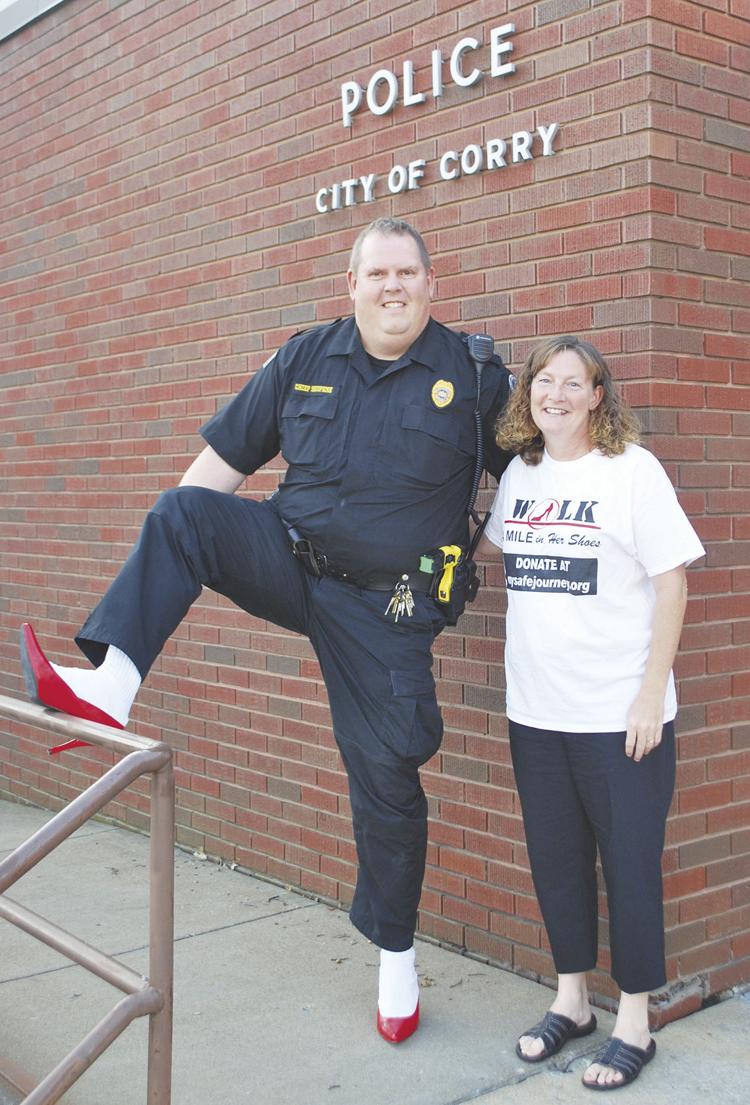 He also said he is proud of helping with the creation of the Rural Erie County Domestic Task Force, started by him and Safe Journey Executive Director Lori Palisin.
That formation also helped the start of Safe Journey's Purple One program, to offer training to people to recognize and help victims of domestic violence, he said.
"It started with a conversation about me wearing high heels for Walk a Mile in Her Shoes and we had a discussion on what can we do to get a voice out there for victims of domestic violence," Shopene said.
He went on to mention his pride in helping the Salvation Army's Red Kettle program in creating a challenge among area businesses to help man kettles during weekdays and see who brought in the most money.
"That is in the fourth year or fifth year," Shopene said. "It also gets us, at the police department, seen doing community service and allows officers to talk to people while they're out there."
The importance of community interaction for Shopene became apparent as he spoke about his original vision for the police department, when he took over as police chief on Oct. 21, 2011.
"My vision was to be more community oriented, do more outside of the job, get guys involved, get guys coaching, get guys being on boards, working with their churches and do more for the community than just come here and collect a paycheck," he said.
He said another part of his vision was to build relationships between his department and other area police departments.
"When I took over as chief, my first thing was to reach out to all the local departments and introduce myself, let them know who I was and establish a relationship or build a relationship that may never have been there in the past," he said.
"I see that every day now with our excellent working relationships with other departments in the area," he said. "It's nothing for us to call a department or a department to call us to be able to share information and help each other out."
He took over at a time that a study on city operations was released called the Weir Report, which he was able to dive into and implement just about every recommendation within, he said.
In asking if he has advise for his successor, Cpl. Michael Cherry, he said he would advice Cherry to make the chief of police position his own.
"As chief you have to have a vision of what you want to accomplish, what you want to do and if you want to make any changes or anything like that," Shopene said, and added that is what he did when he took the position.
"I'm proud of the fact that for 30 years, I've been able to help people," he said.
The importance of helping others was something he learned at a young age because of his upbringing, he explained.
"We grew up on the lower east side of Erie and we were a working class family," he said. "We always helped our neighbors in need."
He witnessed his parents buying stuff for kids that lived on their block to help them be able to participate in sports.
"My parents always told me family comes first," he said. "You always help family, whether it was your brother, your sister, your parents, your aunts, uncles, or cousins, and then you help your neighbors and friends."
He attributes much of his success to the officers, police clerks, mayors, city administrators and managers, councilmen and women, management staff and all the people he's worked with in city government over the last 30 years.
"I have learned from each person I have had the pleasure to work with during my career," he noted. "I could not accomplish what I have in my career without the support and trust of Corry's elected and appointed officials and the support of my fellow officers."
Shopene also recognizes the support of his family, especially his wife, Maggie, whom he met 51 weeks after being hired as a police officer. They've been married for 27 years.
He said he owes thanks to the citizens in the Corry community for their trust and support through the years, for which he is very grateful.
When someone calls the police it's not their best day, Shopene reflected, and being able to be there for them and help them has always meant a lot and will continue as he moves on to a job in Erie in the private sector.