During a Wednesday morning meeting of state and city officials at Corry-Lawrence Airport, 800 Spring St., the city officials revealed they are investigating having the Corry Redevelopment Authority take over sponsorship and operations of the airport.
State and U.S. legislators were contacted to join city officials at the Corry-Lawrence Airport to inform them of the status of the airport and ask for support in the future as the city takes steps to ensure the airport can remain open as an operating and self-sustaining community asset. 
In attendance were U.S. Rep. Mike Kelly (R-16); his executive assistant Jill Burke; state Rep. Curt Sonney (R-4th); Sen. Pat Toomey's Northwest Regional Manager Sheila Sterrett; Sen. Michele Brooks' Legislative Aid Christi Martone; Impact Corry's Community Development Director Chuck Gray; and Corry RDA Project Administrator Erin Passinger.
Also, Councilwoman Chelsea Oliver; Councilman Steve Drake; Councilman Bill Roche; City Manager Jason Biondi; Erie County Councilman Scott Rastetter (D-6); Corry RDA Executive Director Rick Novotny; and Corry Mayor Dave Mitchell. 
"We wanted to bring you all up to date as we move forward in this project," Mitchell said. "We are moving forward and we do have solutions to the problem but we want you to know, as our elected officials how we are moving as a community."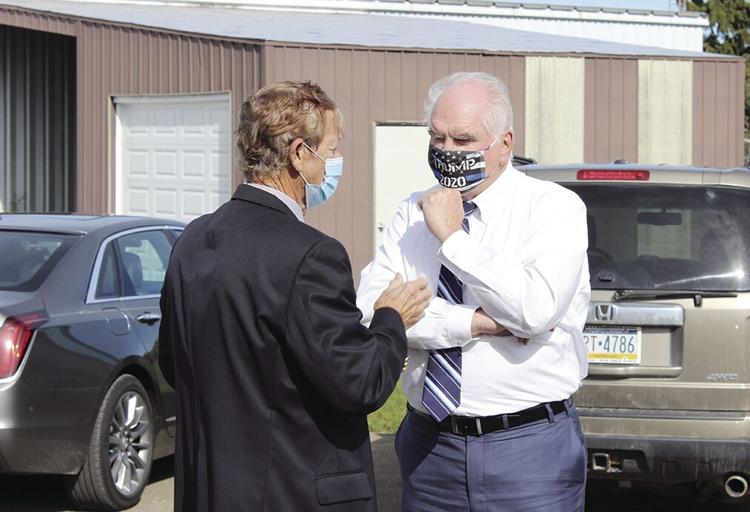 The problem Mitchell referred to is the precarious financial situation of the airport, which has been further exacerbated by the revelation of an inactive status of the airport authority, Biondi said.
Research done by an attorney hired by the city, Jennifer Gornall with Knox Law Firm, of Erie, revealed in August that the airport authority's official status expired in 2005.
"We're currently working with the FAA, BOA and PennDOT to work toward a resolution to the issues we have — both financially and with the authority," Biondi said. "We're currently investigating the possibility that our local redevelopment authority — led by Rick Novotny, who's here today — take over both sponsorship and day-to-day operations of the airport."
Biondi said while no official decision has been made, the city is investigating how that would transpire, what that means, and what would have to be done legally to facilitate that.
"The city identifies the airport as an asset and we're working to find a sustainable business plan because our biggest concern to this point is it really hasn't been sustainable," Biondi said.
Historically, the airport has run on a tight budget. It has become more difficult to sustain as more regulations have been put into place and usage has lowered over the years since its inception in 1955, Biondi said. 
Further destabilizing the airport finances, STAT MedEvac, a local emergency helicopter company, moved its base of operations from Corry to Jamestown in 2019, in accordance with its agreement with UPMC. The move reduced airport fuel sales, which was a big part of the airport's income, Biondi said. 
In trying to find solutions, the city launched into an evaluation stage, which delved into the past to help plan for a sustainable future. 
"We believe his organization — and Rick — taking over this operation would allow us to further develop it and get more stability, both financially and in the long-term for the airport," Biondi said.
Biondi went on to say the city doesn't have the experience, trained individuals or insurance coverage to take over airport operations, but is working with local resources to find a temporary solution until a permanent solution can be put in place.
Biondi said local small airports are being contacted to find a temporary management solution until a transfer of operations can be finalized.
Novotny said there has been no formal meeting with redevelopment authority board members about taking over sponsorship and operations, but he hasspoken to each member informally. 
He continued to say each member expressed interest but they want to see exactly what they are taking on if they do decide to take over operations. 
"I've had multiple thoughts about what we could do here, besides working with businesses and maybe having something like an air taxi service where a business may want to fly to Kentucky," Novotny said.
Business plans will be researched while the city continues to look for a management solution in the meantime.
After hearing the history of the airport plus the ideas and challenges of its future, legislators each asked questions, and agreed the airport is an asset to the community and Erie County.
"I think in general the aviation industry knows the importance of smaller airports," Sonney said. "There's a tremendous amount of these smaller airports that exist and they all could be potentially critical to us at some point."
Kelly said the airport is a community asset and it would be difficult to build one such as the Corry-Lawrence Airport again. 
"The possibilities of building something from scratch is impossible with just the cost of putting it together," Kelly said. "I think now the challenge is a business plan to make it a sustainable asset for the community."
As this was an informational meeting geared toward gaining support from legislators,airport authority members were not informed of the meeting, though Biondi was prepared to present all shared information at an airport authority meeting scheduled for Wednesday evening.
The airport authority meeting did not take place, as Chairman Dick Hornick said members did not feel it was appropriate to hold a meeting while the legal status of the authority is still in question.