Anyone who has seen a preview for the upcoming episode of "The Curse of Oak Island" may have noticed a familiar face. 
That's because it features a brief clip of Corry native Jim McQuiston who will appear in the latest episode of the hit cable TV show that airs tonight at 9 p.m. on the History Channel. 
McQusiton, 69, currently resides in North East but was born and raised in Corry and graduated from Corry High School in 1967. His mother, Veronica McQuiston, still lives in Corry and will be 97 this year. 
The former Corryite will be appearing on tonight's episode titled "Short Days and Tall Knights," which is one of the final episodes of the show's sixth season.
The TV series depicts the efforts of brothers Marty and Rick Lagina as they strive to solve the mystery of Oak Island off the coast of Nova Scotia, Canada, and search for a treasure that has been sought after for more than 222 years - the longest treasure hunt in history.
McQuiston was invited to Nova Scotia in 2018 by the cast and crew of the TV show to present his theory on the mystery of Oak Island. 
"Rick said that mine was the best presentation they have ever had," McQuiston said.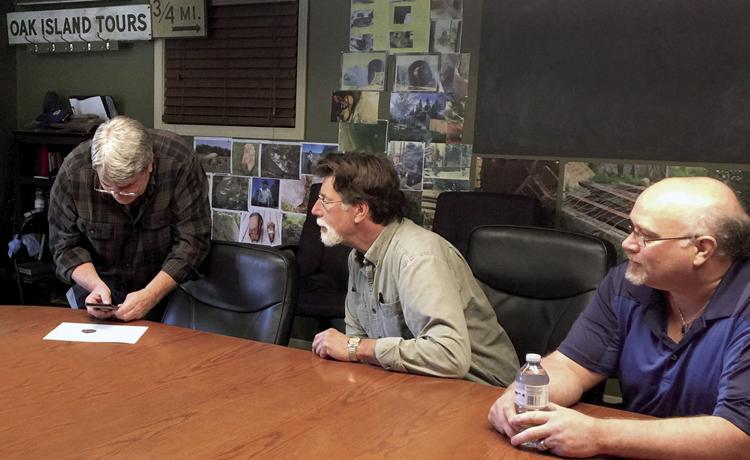 His presentation was filmed in what's known as the show's "war room" and McQuiston expects snippets of it will appear on TV today. 
"I'm going to be presenting a theory in the war room," he said. "It's a unique theory that nobody else has ever presented, but it's based on over two years of research, a lot of communication with the Oak Island team and a lot of communication with historians in Nova Scotia, Scotland and a little bit in England."
This wasn't the first time McQuiston has been filmed for the popular TV show. In May 2017, the crew paid for him and his wife, Beth, to travel to Nova Scotia to discuss his theories on camera. 
The footage, however, never aired on the show, but now McQuiston is getting his turn in the limelight.
"In March, I received an email from Doug Crowell saying that he thought they were going to use it to ramp up the end of the season," McQuiston said. 
The next month, McQuiston got an email from Prometheus Entertainment - the production company that produces the show - saying that they couldn't tell him what episode he will appear in, but he wouldn't have to wait long.
"Oddly enough, the very next day I got another one from Doug saying that my theory matches the bulk of the discoveries made," said McQuiston, who added that Rick Lagina called him two weeks ago to assure him that he will be on the show. 
At the end of last week, McQuiston got an email from Prometheus asking for some final details on some of the items he covered in his presentation. Prometheus then told him that he would be featured in the episode on April 9 and they thought he would be very happy with the results.
"Then I saw myself on the preview last week when they showed previews for this week," he said. "I'm extremely excited to be on it."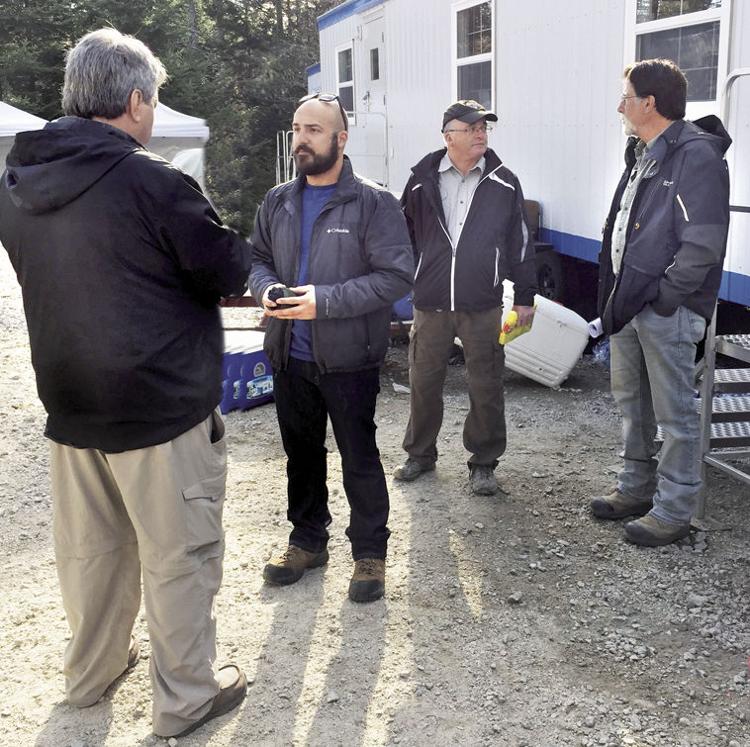 McQuiston talked to cast members in the war room for a couple hours during both of his trips to Nova Scotia and also filmed on location at different sites on Oak Island. 
"They're only going to use five or six minutes of me probably, and so they can only represent my theory so well in that amount of time," he explained. "So the odds that it's 100 percent understood by people are probably pretty slim, but right afterwards I'm releasing my latest book, which this book is the final tell-all as far as the treasure goes," McQuiston continued. 
McQuiston's third book on the subject is called "Oak Island Nights" and is now available for purchase on www.Amazon.com. His first two books on the topic are titled "Oak Island Missing Links" and "Oak Island 1632" which are also available on Amazon. 
"Even though my first two books can stand on their own, they didn't tell the final story so I made the decision to write the third book," he said. 
McQuiston has spent countless hours conducting research for his three nonfiction novels regarding Oak Island.
"In the end, I think that I've got one of the best researched books that's been written because a lot of the books dwell on the searchers," McQuiston said. "I have enough documentation which appears to tie a group from Scotland specifically to Oak Island.
"This is a somewhat historically proven theory that involves a lot of people," he added. 
McQuiston has been asked to hold multiple presentations around the local area on his experiences with the TV show as well as his Oak Island theories and research. 
He spoke at the library in North East about a month ago to a crowd of 125 people. 
"One hundred twenty-five people were let in the door, which was their max capacity, and they had to turn another 30 away," McQuiston said. 
The North East library is planing on having him back sometime during the first week of May.
He also gave a speech at the Warren Higher Education Center on April 3 and will be speaking there again on Wednesday. 
"Oddly enough, that'll be my first public appearance after I'm on the show but it's already sold out," McQuiston said. 
He spoke at the Corry Hi-Ed building to about 30 people at the end of last year, and Brody Howard, the executive director of Corry's Hi-Ed, has already reached out to McQuiston inviting him back to do a follow-up talk. He can provide more information since his non-disclosure agreement with the TV show will be over when tonight's episode airs.
"The whole Oak Island team is one of the nicest groups of people I've ever met," McQuiston said. "Prometheus has been very open to contacting me for information and appreciative of how I explain things to them."
McQuiston isn't just an Oak Island author. He has written numerous other books since his retirement in 2014 from a long career in the print and publishing industry. Some of his other works include "Captain Jack, Father of the Yukon," "MacUisdean" and a book about the first mayor of Pittsburgh.
All of his books have been nonfiction with the exception of one called "Patrick's Run," which is historical fiction based on the life of a Spartansburg man who became a War of 1812 hero at the Battle of Lake Erie and was wrongfully executed in Michigan. 
"I've written quite a few other books too, but I got a tiger by the tail right now," McQuistonsaid.