The Corry Post Office and five others in the local area Friday were recognized by the U.S. Postal Service for being 100% accident free for the past year.
Corry, Spring Creek, Bear Lake, Columbus, Elgin and Spartansburg post offices were honored for going the entire fiscal year — from October 2019 to October 2020 -- without a single motor vehicle or industrial accident among all the workers.
USPS Western Pennsylvania District spokesperson Tad Kelley said the distinction earned is a difficult one.
"Last year, the Western Pennsylvania District, which stretches from Erie to Wheeling, W. Va., and Butler to State College, had over 800 accidents, combined motor vehicle and industrial," Kelley said. "Our drivers negotiate daily poor road conditions, outside distractions and haste, to name a few. While we work very hard to train our professional drivers, we cannot always control other motorists' habits such as cellphone usage and external factors."
Corry Postmaster Jim Ditzler Jr. oversees 37 employees at the Corry Post Office in addition to those at the five remote managed post offices as they deliver mail daily through inclement weather and over many rural roads.
At a ceremony Friday at the Corry Post Office, Kelley, Ditzler, Western Pennsylvania District Manager Jim Drummer, Western Pennsylvania District Safety Specialist Denise Butler, and employees came together for the recognition.
Each of the 37 employees received a certificate and pin from Drummer. Numerous workers were also recognized for continuous years of service with no accidents, individually, including Greg Hennigh who has 26 years under his belt with no accidents.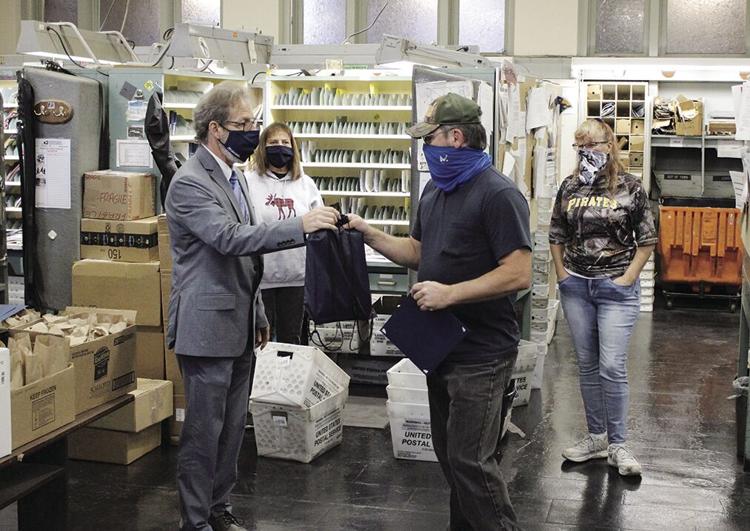 Sander's Markets was hired by the district to cater the event at the post office and provided breakfast and lunch for everyone.
"My hat goes off to my entire workforce," Ditzler said. "This dedicated postal team — that services the Corry and surrounding communities – daily demonstrates care and pride in all job positions while successfully navigating each challenge presented to them."
Kelley noted that few can say they accomplish the job without a single accident, for an entire year, while also pointing out that Corry has received roughly 48 inches of rain this year and 143 inches of snow last year.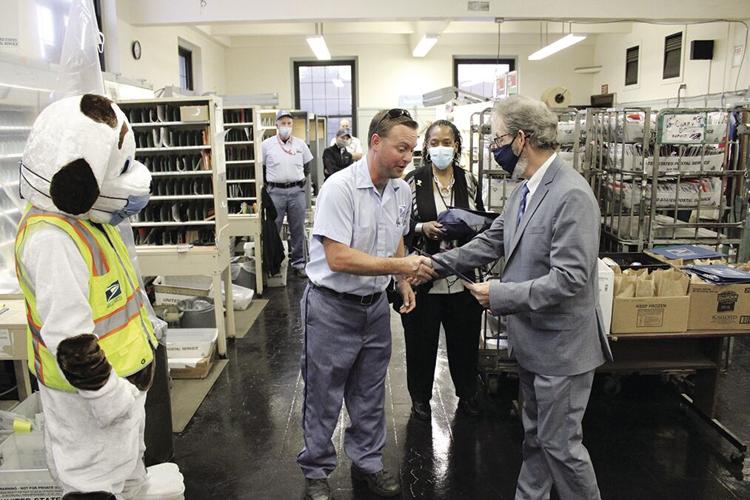 While punishing weather may not be news to local residents, other elements of the job for postal workers contribute to their daily challenges.
"Throughout the 2020 Fiscal Year, in both safety and customer service, these outstanding employees consistently improvised to ever changing challenges with mail, weather and community and, yet, still provided top notch service in both a safe and efficient manner," Ditzler said.
The unofficial post office motto that "Neither snow nor rain nor heat nor gloom of night stays these couriers from the swift completion of their appointed rounds," still holds true.
"It's very difficult, given the conditions that are faced on a daily basis, including dogs, inclement weather, walking, driving and unexpected hazards, within the facility, as well as on the routes," Kelley said. "Also, in light of current COVID-19 issues, delivering mail poses a heightened level of challenges to our employees.
"Our clerks and carriers move incredibly large numbers of parcels, some well in excess of 40 pounds. We walk through adverse conditions such as the heat, the cold, the rain, the sleet and the snow and do it in a safe manner."
Ditzler noted the bar for safety is set high by USPS, and his employees reached it.
"These are outstanding postal employees in every aspect considering this very demanding position," Ditzler said. "The Postal Service has always emphasized employee safety and safe working conditions."
To that end, USPS management facilitates safe conditions for workers through facility and vehicle inspections; gate checks; Program Evaluation Guide Audits; the CARE Program, which stands for Counseling At Risk Employees, and is a protection measure for workers; Safety Talks; and one-on-one discussions with employees to work toward best practices.
Employees are also provided with needed Personal Protective Equipment to aid in dealing with COVID 19 issues, heat stress and protection from dog bites.
"Management can set the tone, but it takes a team effort to maintain a flawless safety record," Kelley said. "Employees must maintain a daily focus on completing the task at hand, being aware of their surroundings always, and reporting potential hazards right away so they can be abated. This is what results in a facility going an entire fiscal year, without an accident."