ERIE — A local resident will spend the rest of his life in prison for murdering two men during a brutal crime spree in mid-June 2020 that prompted a nearly 24-hour manhunt across Erie and Warren counties.
Cody J. Potthoff, 26, of Corry, pleaded guilty to second- and third-degree murder on Monday before Judge John J. Mead at the Erie County Court of Common Pleas.
After accepting the guilty plea, Mead immediately sentenced Potthoff to life in prison with no chance of parole for the second-degree murder charge and an additional 15 to 30 years in state prison for the count of third-degree murder, according to a representative from the Erie County clerk of courts office.
Murder of the second degree carries a mandatory punishment of life in prison in Pennsylvania.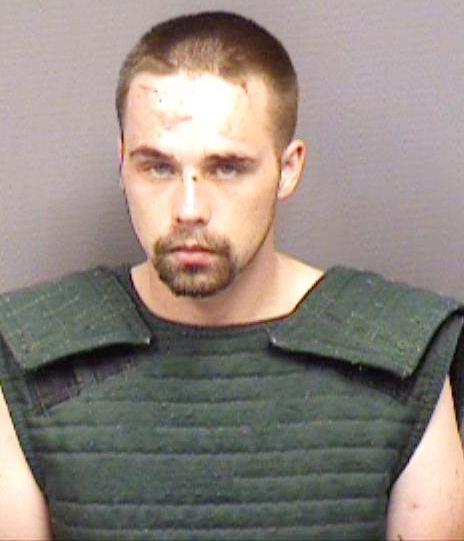 Potthoff's sentences will be served consecutively, and he was also ordered to pay restituition as well as court costs.
The guilty pleas and sentencing came just days before Potthoff was scheduled to go to trial on charges including homicide, aggravated assault, abuse of corpse, robbery of motor vehicle, kidnapping to facilitate a felony, burglary and fleeing or attempting to elude police.
Potthoff, who was 25 years old at the time of the killings, was charged by Pennsylvania State Police with the murders of two men — Ian Michael Welden, 41, of Corry, and John Charles Burick, 66, of Harborcreek Township.
Potthoff was taken into custody at a Warren County homeless shelter on June 18, 2020, after state police at Warren received information that he was currently sleeping there.
On June 17, state police at Girard were notified by the Edinboro Borough Police Department that one of its officers was in pursuit of a silver Nissan Sentra. The Edinboro officer had attempted to execute a traffic stop on the vehicle on Route 6N for a traffic violation.
The vehicle came to a stop and a front seat passenger exited the vehicle.
The officer instructed the occupant to get back inside the vehicle. The passenger took a step back, at which time the operator of the vehicle, later identified as Potthoff, fled the scene at a high rate of speed. The passenger fled on foot as the officer pursued the fleeing vehicle.
PSP units from Erie, Girard, Corry and Meadville were dispatched to the Edinboro area to assist.
The fleeing vehicle traveled through Edinboro while approaching speeds over 70 mph. The vehicle then crashed through a metal gate before the operator lost control on a gravel road, rendering the vehicle inoperable.
The officer approached the crash scene and observed a white male wearing a white shirt flee from the vehicle on foot, heading east through a field toward Hamilton Road.
The officer then traveled east on Route 6N and observed a white male walking along a fence line near a residence at the intersection with Hamilton Road. As the officer pulled into the driveway of the Washington Township residence, he was flagged down by the homeowner and informed that someone had just stolen his ATV.
The officer attempted to pursue the individual in a side-by-side but was unsuccessful in locating him. The individual was described as a white male wearing a white shirt.
Shortly after, it was reported that a white male wearing a white shirt robbed a vehicle owner at gunpoint at a residence on Crane Road. The male stole a white 2013 Chevrolet Silverado pickup truck and fled west.
The Nissan Sentra was towed to PSP Girard and the body of a deceased male was found in the trunk of the vehicle. The victim was identified as Welden.
Information obtained during the manhunt on June 17 revealed Potthoff was later seen near Mindi Court Trailer Park in Harborcreek Township. An extensive search was conducted, but yielded negative results.
Information was reported to PSP Corry that Potthoff arrived at a Columbus Township residence on Route 6 in a red pickup truck. The truck was registered to Burick, who lived on Dynes Avenue in Harborcreek Township, a short distance from the last reported sighting of Potthoff in Mindi Court.
Troopers said information was developed, which resulted in the activation of a Special Emergency Response Team (SERT) to search the Columbus residence on Route 6. The search yielded negative results.
State police later learned the suspect had entered another Columbus Township residence on Center Road sometime between 4:30 and 6:30 p.m. on June 17. The individual removed keys from a table, entered a garage and fled the area in a blue 2012 Jeep Liberty.
At about 6:06 p.m. June 17, PSP Erie responded to Burick's residence for a welfare check after he was reported missing and likely the victim of foul play in reference to this incident.
On June 18, information was received from news and social media posts resulting in a witness providing video evidence of Burick operating his truck in the Harborcreek area with a young white male passenger, suspected to be Potthoff.
A possible site for Burick's body was developed and troopers began searching for him at 11 p.m. on June 18.
Troopers discovered Burick's body while checking a state game land on Calkins Road in Greenfield Township after they found tire tracks leading from the parking lot into nearby woods.
In concurrence with the Erie County District Attorney's Office, Potthoff was charged with criminal homicide for both victims as well as numerous related charges including aggravated assault, kidnapping, abuse of corpse, firearm not to be carried without license, fleeing and eluding, multiple burglaries, thefts and possession of a weapon.
Through PSP's investigation, Cameron James Zimmerman, 25, of Union City, was identified as an accomplice to Potthoff.
Zimmerman was in the passenger seat of the Nissan at the time of the attempted traffic stop in Edinboro and he was aware of a dead body in the trunk because Potthoff said he had shot Welden.
Zimmerman told police Welden's murder occurred at Potthoff's parents house in the 8600 block of Route 89 in North East and added Potthoff showed him the body in the trunk on June 17.
Police charged Zimmerman with misdemeanor counts of abuse of a corpse and tampering with evidence. He is scheduled for trial in January, according to online court dockets.
In addition to Zimmerman, police allege Jessica Nye, 42, and Benjamin Luczywek, 37, assisted Potthoff during his crime spree.
Nye will stand trial in January. She is charged with a felony count of hindering apprehension, and abuse of a corpse and tampering with evidence.
Luczywek faces two counts of hindering apprehension and tampering with evidence. He is also scheduled for trial in January.
Prior to Potthoff's two-day crime spree, he was wanted by Erie City Police on a first-degree felony charge of attempted homicide stemming from a June 11 incident that occurred in the 900 block of Chestnut Street in the city of Erie.
Police were dispatched for a report of shots fired at about 11:18 p.m. Erie County Dispatch advised police that a male on scene had been shot and officers found the victim on the ground at the intersection of 10th and Chestnut streets with one gunshot wound to the abdomen.
The victim told police he had been shot by Potthoff after an argument over keys to a vehicle, and officers located one 9mm shell casing in front of 923 Chestnut St