UNION CITY - As the weather worsened in the area, numerous fire departments were braving the elements to battle a blaze that broke out in a Union City home late last night.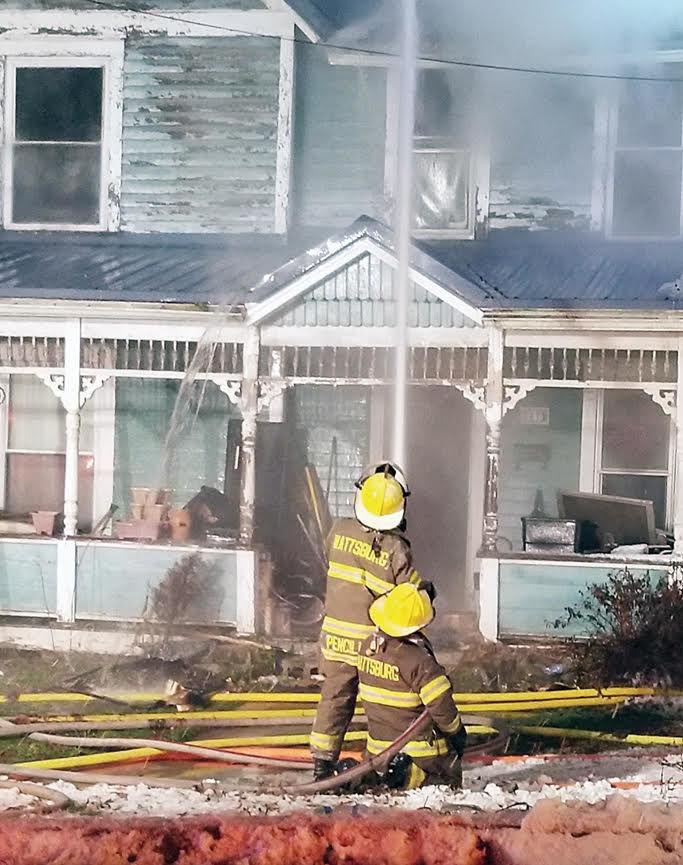 The two-story residential structure fire occurred in the borough at 47 E. High St., Union City, and was reported at about 11 p.m. on Monday, according to the Erie County 911 dispatch center.
Members of Union City Volunteer Fire Co. were first to arrive at the scene and found a working structure fire, according to UC firefighter Bob Wolf who is a former chief of the department.
Wolf said the occupants of the residence - a Union City woman and her children - made it out of home unharmed. He said the family had no pets that they were made aware of.
After arriving at the scene, firefighters began to battle the blaze from the interior of the structure but had to pull out and fight it from the exterior after conditions became too hazardous, according to Wolf.
"Due to the deteriorating conditions," he said. "We had a floor collapse."
Crews were getting ready to depart from the scene when they discovered the fire had rekindled between 4 and 4:30 a.m. this morning.
"We were getting ready to pack up and leave," Wolf said. "A crew had gone inside to retrieve a tool and discovered it already rekindled, so we hooked back up the hydrant and went back to work."
A crew of firefighters remained at the scene until 9:44 a.m. this morning, according to Erie County dispatch.
Mutual aid was provided to Union City firefighters by crews from Edinboro Volunteer Fire Department, Elgin-Beaverdam Hose Co., Wattsburg Hose Co., Kuhl Hose Co. and Stancliff Hose Co. Emergycare Ambulance also assisted at the scene.
A firefighter suffered a minor injury while battling the blaze but did not have to go to a hospital for further treatment.
"We only had one minor shoulder injury that was treated at the scene," Wolf said.
The cause of the fire is still under investigation.
"The fire marshal has been called in to investigate," Wolf said.
It's unknown if the residence is a total loss, but there was substantial damage to the structure, according to Wolf.
The most difficult challenge for firefighters was the inclement weather.
"The biggest condition was the weather, actually," Wolf said. "The guys getting to the fire station and then us getting to the scene and the mutual aid companies getting there. It was slow going. It was slower than normal because of the weather."