Downtown Corry was filled with fire crews Wednesday after an unknown caller reported smoke and fire coming from a building at 4:03 p.m. 
Corry firefighters arrived to find smoke and flames visible from the back side of Ye Olde Antique Shoppe, 45 N. Center St.
"The fire was in the third floor of the Ye Olde Antique Shoppe and under the roof," Corry Fire Chief Jim Lathrop said. "We had to open up the roof and open up the interior ceilings and walls."
Within minutes of arrival, four firefighters were working, quickly knocking down the fire.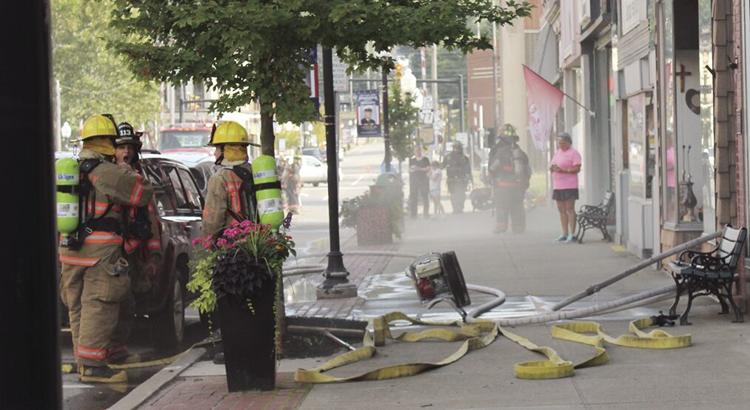 "We fear a downtown fire more than anything," Lathrop said. "It's very labor intensive to stop them to the point of origin, because when they get going, it is so easy for them to travel from one to the next."
Lathrop explained a lot of the older downtown buildings have voids and openings, which allow the fire to travel from one building to the next. 
The fire was contained to the Ye Olde Antique Shoppe building and the building next door that houses Store 104. On the other side of Ye Olde Antique Shoppe is where Augie's Pizza is located. 
Due to an air handling unit, smoke was drawn into Augie's Pizza, but owner Pat Mennen is relieved that there is no fire damage to her restaurant.
Mennen said Augie's Pizza will be closed for 48 hours to clean up smoke damage and repair the roof.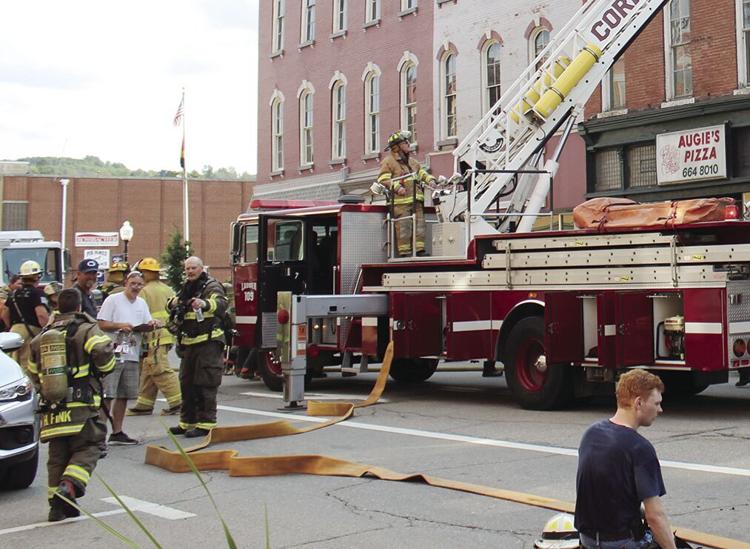 "We're hoping that's all it is," Mennen said. "We're hoping that it could be even sooner, we don't know. It will depend on getting the roof repaired and the inside all cleaned. It was a lot of smoke damage."
Reports of an occupant on the third floor were investigated upon arrival, Lathrop said. 
Building owners Alfred and Linda Aikens were contacted and confirmed there was a third-floor occupant. The man was not home at the time of the fire. 
Other agencies responded to the scene, including Union City Volunteer Fire Co., Spartansburg Volunteer Fire Department, Spring Creek Volunteer Fire Department, Wrightsville Volunteer Fire Department, Elgin-Beaverdam Hose Co., Wattsburg Hose Co., EmergyCare and Corry City Police.
A cause is currently being investigated and Lathrop called in the state police fire marshal to evaluate the scene.
One firefighter did succumb to heat exhaustion and was treated on scene and released.
Corry fire crews were back in service at 7:46 p.m., after following all threads the fire could have moved through and confirmed there was no more threat of fire.
Lathrop said despite many from the public gathering to watch, everyone stayed on the east side of the street, as directed. He said he was also grateful to the public who showed up to pass out water.