Several residents of the Corry area and other sections of northwestern Pennsylvania faced power outages over the weekend due to high winds early Sunday morning.
Todd Meyers, spokesperson for Penelec, a subsidiary of FirstEnergy Corp., estimated that between 1,000 and 1,500 residents in the Corry area were affected, with under 100 of those being within the city limits. The larger number includes surrounding areas such as Spring Creek and Columbus townships.
Meyers also noted that at 1 a.m. Sunday morning, Penelec entered what it calls "storm mode," which means that tree crews are on alert and workers put in 16 hours before switching shifts and taking eight hours of rest.
"You keep working until the lights are back on for everyone," he said.
Meyers noted that all outages Penelec worked to fix on Sunday were wind related, and most were caused by trees falling on power lines.
Two such incidents occurred on the 500 block of Liberty Street and on Sciota Road in Corry.
Jim Lathrop, chief of Corry Fire Department, said firefighters were busy responding to tree-related calls in the early morning hours of Sunday.
One of the first calls firefighters responded to was at 4:31 a.m. when they received a report of a tree that had fallen onto power lines near 549 Liberty St.
Lathrop said firefighters closed off a section of Liberty Street, placing barricades at Pennsylvania Avenue and Viking Street to shut it down to traffic until Penelec could arrive on scene.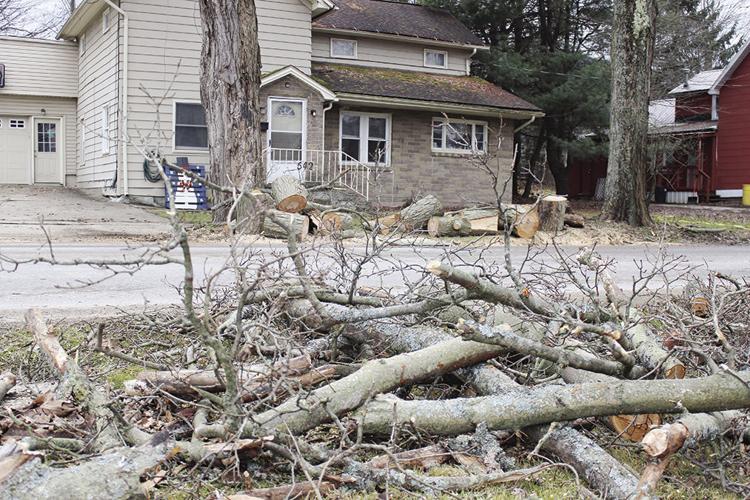 Corry Fire Department was dispatched to a similar incident on Sciota Road, just north of Plastics Road, at about 6:07 a.m. for a fallen tree lying across the roadway and on electric wires. Firefighters put up barricades on Plastics Road and Sciota Street until Penelec could respond.
Meyers said that Penelec has two meteorologists on staff who help them prepare for bad weather situations.
"We made plans for this before it ever happened," Meyers said.
Most residents of Corry had power back by the end of the day yesterday, Meyers said.
Matt Franklin, CEO of Warren Electric Cooperative, said that around 4,000 residences from Bear Lake to Scandia were without power for up to 14 hours.
"Predominantly, it was the whole northern section of our map," Franklin said.
Franklin estimated that the number of outages in Columbus Township was in the hundreds, though only 30 residences reported a problem. 
According to Franklin, the majority of the aforementioned outages are believed to have been caused by four broken electric poles: one in Akeley, one in Pittsfield, one in Sugar Grove and another in Forest County.
As of this morning, about 12 residences were still without power because two of the poles were not yet fixed. The poles on Teal Hill in Sugar Grove and on Beantown Road in Forest County were still down. Franklin said the residents still affected live on those two roads, but those in the northern areas such as Columbus Township have power again.
Corry-area firefighters were called to 104 Pike Road in Columbus Township at 4:36 a.m. for a tree that had fallen onto a home, but it did not affect any electric wires.
Firefighters from Corry Fire Department and Corry Regional Fire Co. were also called to an apartment building at 45516 Route 6 in Columbus, located near Corry Kitchen & Bath and C. Cummings & Sons, around 8:03 a.m. Lathrop said a fallen tree created a hole in the building's roof and knocked down a phone wire.
A tree down across the roadway on Route 426 at Davis Road was reported at 6:07 a.m. Firefighters cut and removed the tree to reopen the road.
Corry Fire Department was also dispatched to 468 E. Pleasant St., Corry, for a pine tree that came down near Corry Area High School. Lathrop said the downed tree was not on wires and wasn't in the roadway, but it was partially blocking the sidewalk so firefighters placed caution tape around the tree before clearing the scene.
Another pine tree fell down near 1284 White St., Corry, and took out a gas meter on a neighboring residence. Firefighters were dispatched for a possible gas leak at that location and notified National Fuel Gas Co. The fire department remained at the scene until National Fuel arrived to secure the gas line.
A motorist reportedly drove through a downed tree near 13449 W. Smith St. Ext. in Wayne Township and drove to one of Corry's fire stations to report the incident, which caused severe damage to the passenger side of the vehicle.
Corry firefighters were sent out to investigate the scene and found a tree partially blocking the roadway, with one of its ends on the ground and the other one suspended in the air on wires. Elgin-Beaverdam Hose Co. was then called in to take over the call at about 6 a.m.
Another tree fell down near the Corry Salvation Army, 127 W. Washington St., due to the strong gusts of wind. Firefighters discovered the fallen tree but it hadn't hit any wires or building and wasn't in the roadway.