For Celeste, it's all about supporting the Corry community and its senior citizens – plus finding a bargain.
Celeste (who asked to have her last name omitted) comes from Pittsburgh to visit Corry, and stops in at the Village Thrift Shop, 51 N. Center St. On a recent trip, she purchased a vintage bowl and some linens.
"The thing I like the most is the people who volunteer," Celeste said. "They're gracious and kind and it's a happy place to be.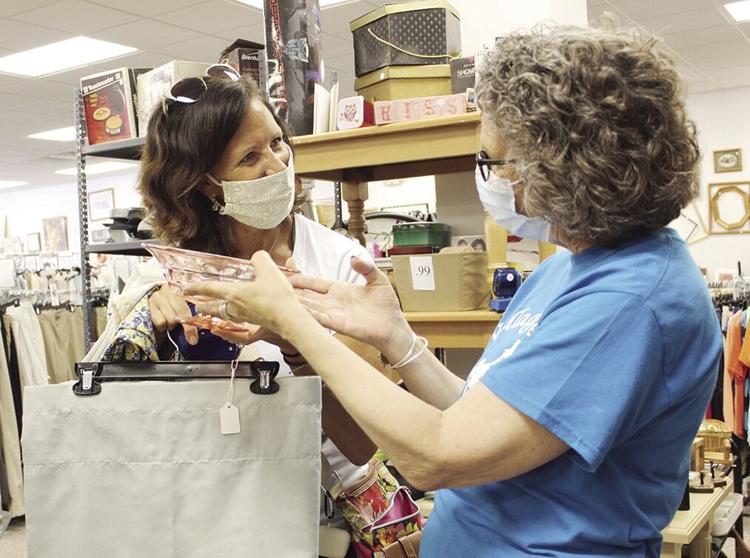 "I also love their mission. Being able to support seniors to live in the community is essential to creating a sense of community. A community without seniors is not a community at all — it's simply incomplete."
Karen Croyle, executive director of Village Friends Inc., which operates the Village Thrift Shop, also believes it's a happy place.
Village Friends Inc., a 501(c)(3) nonprofit, purchased the thrift shop from the Corry Higher Education Council in 2017.
"We started it because the money made from the thrift shop goes to support Village Friends," Croyle said.
The thrift shop has a part-time coordinator and two part-time sales clerks, all paid. The rest of the workers are volunteers. Seven to eight volunteers provide about 90 hours of work each week.
After being closed per state mandates for nine weeks due to COVID-19, Village Thrift Shop reopened the third week of May. The shop was one of the last retail stores in downtown Corry to reopen.
"We wanted to make sure we had all our ducks in a row when it came to health and safety," Croyle said. "We observed all the Centers for Disease Control guidelines for retail sales."
Those guidelines include:
¥ Any clothing tried on is isolated for seven days; the CDC requires 72 hours;
¥ There is a touch-free hand sanitizer when you walk in the door;
¥ Everyone observes the mask policy, which is non-negotiable;
¥ Workers are constantly wiping down high-touch areas;
¥ Social distancing is observed.
Croyle said, after the reopening, workers didn't know what to expect, but were pleasantly surprised – the shop is thriving.
"We had a steady stream of regulars come in, and after a couple of weeks, we noticed more out-of-town traffic," Croyle said.
One of the policies workers prided themselves on before COVID-19 was that everything that comes in the back door – all clothing and linens – are washed and dried. Croyle said the state requires any upholstered and "filled" items be sprayed with a state-approved disinfectant.
"We had a high state of cleanliness before COVID, and it's just been enhanced," Croyle said.
She said the success of the store has exceeded all expectations.
"The community has been so supportive, both in terms of donations and visiting the store," Croyle said.
Why is the thrift shop so popular?
"Everything you can find in a big box store, you can find here," Croyle said. "We try to mark it 10 percent to 25 percent off the retail price, depending on the condition."
Inventory includes high-end, brand-name items.
Village Thrift Shop is open 15 hours a week. Hours are Thursday, Friday and Saturday from 11 a.m. to 4 p.m. each day.
Although the shop sees foot traffic each day it is open, customers seem to have a favorite day to shop.
"Our most popular shopping day by far is the last Saturday of the month," Croyle said. "We charge $5 a bag for clothing."