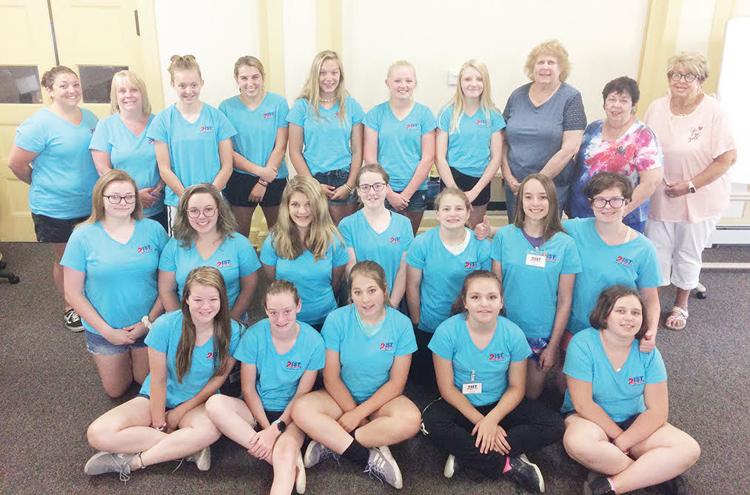 Nominations from teachers brought 16 Corry-area girls to the Corry Higher Education building, at 221 N. Center St., this week for the Corry Higher Education Council's 18th annual "21st Century Girls" program.
To date, about 275 girls have participated in this program. All the girls are entering eighth or ninth grade, with aptitudes in science, engineering, math, business and leadership.
"It is critical that young women get the opportunity to explore nontraditional career paths in STEM subject areas," said Brody Howard, executive director of Corry Higher Education Council. "Oftentimes, girls may have an early interest in STEM-related careers, but do not actively seek to enroll in advanced academic courses associated with these careers."
The focus of the four-day program is on professions in high-skill level careers for young women and interacting with professionals from Corry; Spring Creek; Clymer, N.Y.; and Erie. 
The schedule on Monday included meetings with e-business owners Amanda Stapels and Leanna Willink of a Clymer, N.Y., online business called Joyfully Rooted, and exercises with psychology with Penn State Behrend psychology Professor Melanie Hetzel-Riggin. 
"It's an amazing experience," Hetzel-Riggin said. "It gives us an opportunity to reach out to girls to consider psychology as a field of study."
Hetzel-Riggins said she included during her visit interactive activities that address a lot of psychological principals that impact everyday life, experimental designs and exercises to instill a scientific mindset.
The student group went on tours of local businesses on Tuesday such as Viking Plastics, Fyzical Therapy and Balance Center and Corry Manufacturing Co.  
Wednesday included a walking tour of downtown Corry businesses and science experiments coordinated by Corry Area School District program presenter Sara Balogh.
The week ended today with a new experience added to the program this year, a "Hack Lab" coding experience. Kayla Murphy, director of distance learning at Mercyhurst University, guided the girls through a hands-on experience at Mercyhurst University's Cyber Security Lab.
The program and transportation were made possible by sponsors of the program: Zonta Club of the Corry Area, Corry Central Labor Club, Corry VFW Post 264 and Corry American Legion Auxiliary.
Penn State Behrend's Chris Shelton, assistant professor of psychology, helped Hetzel-Riggins on Monday. It was his first year involved with the program and he thought it was fantastic.
"I love to see more ways we can engage young folks in psychology or sciences," Shelton said.