The ribbon was cut at Parkside at Corry, LECOM Health's senior independent living facility, on Monday morning, opening the three-story, 39 private-apartment facility for business. 
The new facility joined Corry Memorial Hospital, an affiliate of LECOM Health, and the Corry Rural Health Clinic at 965 Shamrock Lane. 
Msgr. David Rubino, LECOM vice president of external affairs, opened the ceremony with a few words.
"When we go to an area, our goal is not just to bring medical services to it. That's easy. Our goal is to be committed to the area, to be a partner to the area," Rubino said. "That's why this facility stands here today."
LECOM Institute for Successful Aging President Dr. James Lin, said this unique facility is the result of two years of planning. 
"This building represents the future of senior health," Lin said. "The reason why it's the future of senior health is because this is the first independent living community that's connected to the hospital."
Lin went on to say with this building, the facility is able to provide a full-service aging in place community to the Corry area.
LECOM Health Vice President of Affiliated Services Jasen Diley spoke about how the vision of the facility started years ago when the board of Corry Memorial Hospital looked at the health needs assessment and their research determined that alternatives in senior care were vital but was an unfulfilled need in the community.
"Dr. Lin and I traveled all over the United States to look at various communities and building types to determine which would be a good fit," Diley said. "We partnered with Building Systems Inc. to determine the scope of the project and two years later we now introduce Parkside at Corry to our communities."
Dick Hart, director of sales for the LECOM senior living communities, gave a tour of a one-bedroom handicap unit after the ribbon cutting.
Each apartment is unfurnished, with the idea that seniors would like to bring the beds, chairs and other furnishings that they find most comfortable.
He brought attention to plank flooring that runs through the building, the lack of cupboards on or next to the fridge and under the sink to provide space for wheelchairs in handicap units, and the use of barn doors on the bedroom and bathroom doorjambs.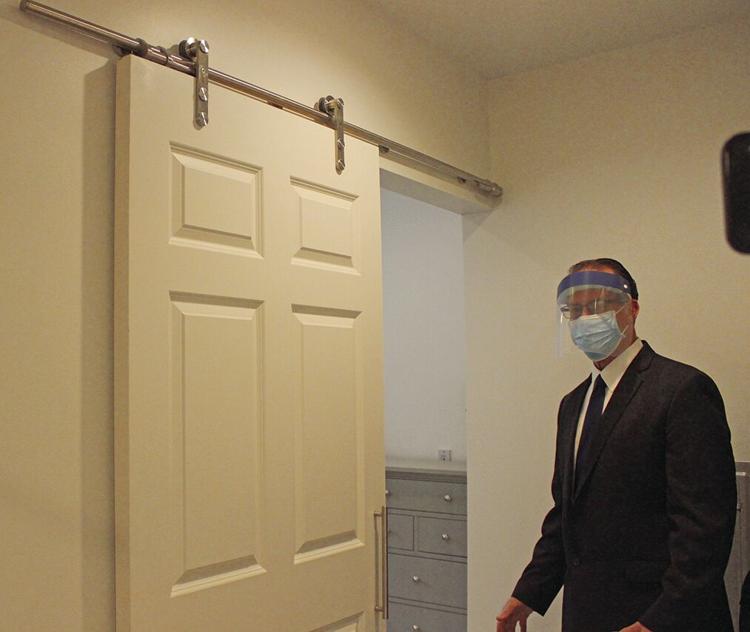 "We have sliding barn doors," Hart said. "I think this is unique in that you get the full width to get into the rooms without any interference."
Anyone looking for more information, including pricing, should call Hart at 814-490-3874.
"It's an example of the commitment of LECOM Health to follow through on what it believes, that to serve a region, you have to be present, too," Rubino said. "That's what this facility really is. It's a demonstration of our commitment to this region, to the great folks in Corry, how proud we are to be here and how proud we are to work with you."