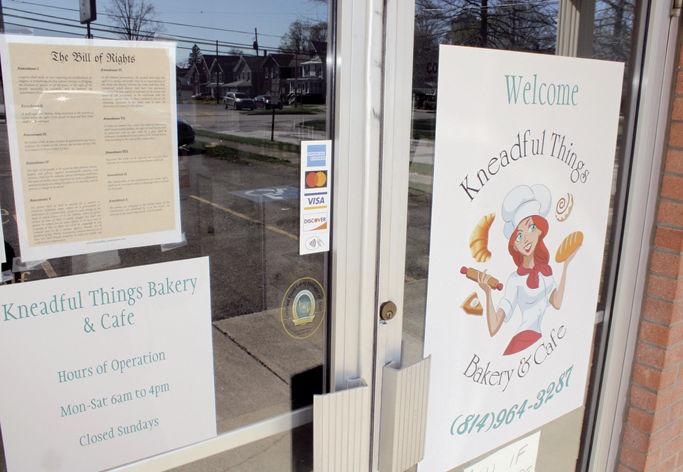 A local bakery and cafe is now offering dine-in service for its patrons in defiance of Gov. Tom Wolf's order that all restaurants and bars must be limited to takeout and delivery, even if they're located in a county that has been moved to the yellow phase. 
Stephanie Smith, owner of Kneadful Things Bakery and Cafe at 425 N. Center St., Corry, has had enough of the restrictions implemented by the state's government to mitigate the spread of COVID-19 and stated Pennsylvania's closure of businesses is unconstitutional. 
"I just decided that enough was enough," Smith said. "Governor Wolf is going to keep us under his thumb and taking away our constitutional rights for as long as everybody lets him. I decided that with everybody moving into yellow phase and some restrictions being lifted that I was going to do the same and move forward."
Erie County, where the bakery is located, was moved into the yellow phase of Wolf's color-coded plan to reopen Pennsylvania on Friday. 
As of press time today, the Pennsylvania Department of Health's ZIP code map shows there is between one and four positive COVID-19 cases in the Corry-area ZIP code of 16407.
Erie County had 25 active cases of COVID-19 as of Tuesday afternoon, with 122 total cumulative cases and 97 recovered cases. Warren County, which is less than 5 miles away from Corry, has two cases to date, one of which was reported today. 
Smith reopened Kneadful Things' dining room on Monday with some safety precautions in place, such as limiting the number of customers to 25, limiting the number of tables and keeping them 6 feet apart. 
"I took steps in my dining room to make it meet the 25 people or less and my tables are six feet apart," she said. "I'm being respectful of the fact that there is a virus, but I decided enough was enough and we need to take our Constitution back."
Smith said she is not requiring people to wear masks, but will respect those who choose to have them on. She estimates about 50 customers have taken advantage of the dine-in service so far. 
The bakery is still offering takeout, curbside pickup and limited delivery for people who don't feel comfortable dining in. Smith acknowledges there are a lot of people who are worried about eating at a restaurant and she fully respects that. 
"There are a lot of people who still are nervous about being out and that's fine. I respect that totally, but there are also a whole lot of people who are ready to get back to living and I need to support them, too," she said. "For me, this is zero percent about politics and it's 100 hundred percent about freedom and my constitution."
Residents' desire to return to normality was one of the driving force's behind Smith's decision to reopen her dining room and she said people were elated when they were told they could eat inside the cafe. 
"People want to get back to normal and nothing is going to be back to normal as long as people buy into the fear that they're falsely selling us," she said. "The looks on people's faces when I told them they could sit down and eat — it was release, it was joy. I had several tables come in, three or four at a time, and they were just happy, they were joyous, they were laughing, and everyone said thank you so much for doing this."
Smith believes the people should be able to choose if they want to eat at a restaurant or take their food to go. 
"To me, this is what the people want and the people should be able to choose," she said. "The people who don't want to come out to eat, that's fine, we respect that. We'll do curbsides or takeout or however you want to do it, but the people have spoken and they want to come in and eat."
As of press time, Smith has not received any kind of citation from Erie County officials, but she has gotten calls from the county's health department. The first call she received was from the health inspector who performs the eatery's routine inspections and she said he referred to Wolf's order to close businesses as new laws. 
"The health inspector himself knows that I am 100 percent compliant on all the standing rules and regulations passed by our state," Smith said. "Throughout my conversation with him, a couple of times he referred to these as new laws and I said, 'No, they're not laws. The governor cannot unilaterally make a law. None of these are laws.'"
According to Smith, the health inspector told her she could close down her dining room and go on — no harm, no foul — because he thought maybe she didn't understand what the yellow phase meant. 
"I said I do understand what it means and I am not bowing down to what Governor Wolf is mandating," she said. "He has no right to close my business. The Constitution says that no one can close anyone's business."
Smith added she has no ill will toward the health inspector since he was just doing his job. 
"He was very nice. I have nothing bad to say about him," she said. "I know he's just doing his job."
Smith said the inspector told her the health department would submit everything they had to the county solicitor who will look over the facts and possibly send a citation in the mail. 
"He doesn't know what it will entail, but it could be as far as closure. He threatened to revoke my license," she said. 
On Monday, Wolf said restaurants that reopen for dine-in service would risk losing their license. 
"The governor has no power to revoke my license," Smith said. "I meet all of the written rules and regulations and all the criteria of having my license."
She said neither the health inspector, nor the director, would divulge the name of her accuser and believes that's an infringement on her rights as a U.S. citizen. 
"I also demanded to speak with his director because he could not tell me the name of my accuser," Smith said. "When the director called back, she also would not tell me, and that's another constitutional right that they've taken away from me. I have a right to face my accuser and they would not tell me who that is."
A copy of the Bill of Rights hangs on the front door of the bakery and cafe, and Smith has placed a call to an attorney to seek legal advice.
"I did not want to have to be the Rosa Parks of Corry, but someone has to say we're done," she said.
Kneadful Things is open 6 a.m. to 4 p.m. Monday through Saturday. Limited delivery is available in the Corry area daily between the hours of 10 a.m. and 2 p.m. 
Pickup, curbside and delivery orders can be placed by calling 814-964-3287.