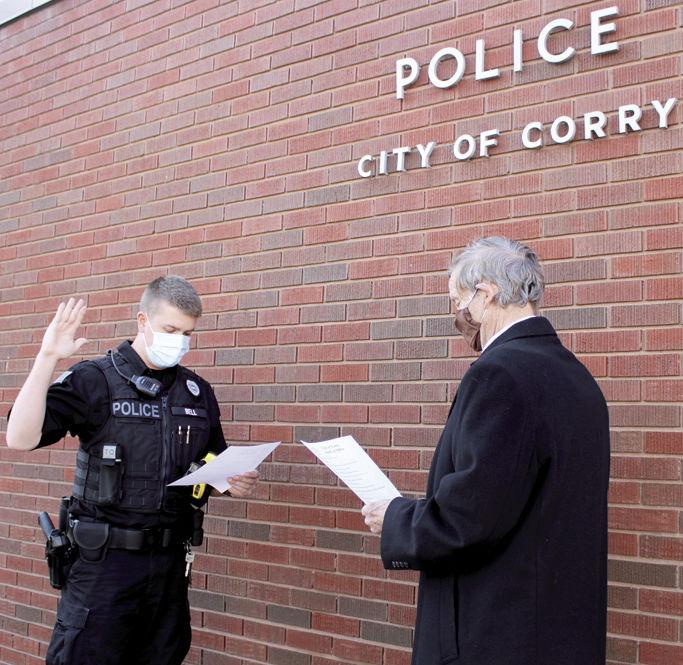 There's not a new sheriff in town, but there is a new police officer. 
Patrolman Ryan Bell, 25, was recently sworn in as the newest officer of the city of Corry Police Department.
Corry Mayor Dave Mitchell administered the oath of office to Bell during a brief outdoor ceremony on Tuesday morning in front of the city's police station at 20 E. South St.  
Bell, a 2012 graduate of Corry Area High School who was born in Titusville and raised in Corry, is excited to be back in his hometown protecting and serving the community where he grew up. 
"I'm happy to be back in Corry and work in a community that I grew up in," Bell said. 
His motivation to become a police officer comes from family. Bell said he always had a desire to follow in his father's footsteps.
"My dad was a [state] trooper. I grew up with a police background," he said. "I've always been attracted to the job. It's something I've always wanted to do."
Before coming to the city of Corry Police Department, Bell worked for the campus police department at the University of Pittsburgh at Titusville for almost two years. 
Tuesday was Bell's first day on the job and he has since begun the NCO (non-commissioned officer) program, which is the training of a new officer by a training officer. Bell's training officer will be patrolman Michael Cherry. 
"I thought it went pretty well," Bell said of his first day. 
Corry City Police Chief Rich Shopene is pleased to have Bell join the force, especially since he's from Corry. 
"It's nice to have a local person come back and work for the city of Corry Police Department and give back to the community that they were raised in," he said. "I think it gives that officer a different bond to the community than someone who we may hire from outside the area."
Shopene feels hiring a Corryite has its advantages.
"They already have a feeling for the community and they already know the community," he said. "We can concentrate on other items of the field training than just working the first couple of weeks making sure they know the layout of the town, the streets and everything else, so there's several benefits of having a local person come back and work."
Bell was one of a handful of applicants on a consortium list who indicated an interest in working for the city of Corry Police Department. Shopene said interviews were set up with those applicants and then evaluated along with their test scores to determine who would be hired. 
To be placed on the consortium list, a person must pass a test from the Northwest Pennsylvania Police Testing Consortium, which is done through Mercyhurst University's police academy. Shopene added that applications for the next consortium test are currently being accepted. 
"To become a police officer in the city of Corry, you must have completed the state-mandated Act 120 municipal police training before you can be considered for hire," he said. "Then you have to go through and pass the physical agility test and the written test given by the consortium."
The new hire brings the number of city police officers to eight. Shopene hopes to have 10 soon since the department is in the process of hiring two part-time officers.
"They have to be qualified with the duty guns and I have to send all the information to the state, so we're close," he said. 
The department has been short staffed since three city police officers resigned in March. Following the resignations, the remaining officers had to work 24/7 straight shifts, two officers per shift, with no days off. 
"It's nice to be getting back up toward a full complement. It takes a lot of pressure off of all the other officers because we have been working quite a few hours since March," Shopene said. "Guys can start actually getting days off, enjoying their days off and decompressing."