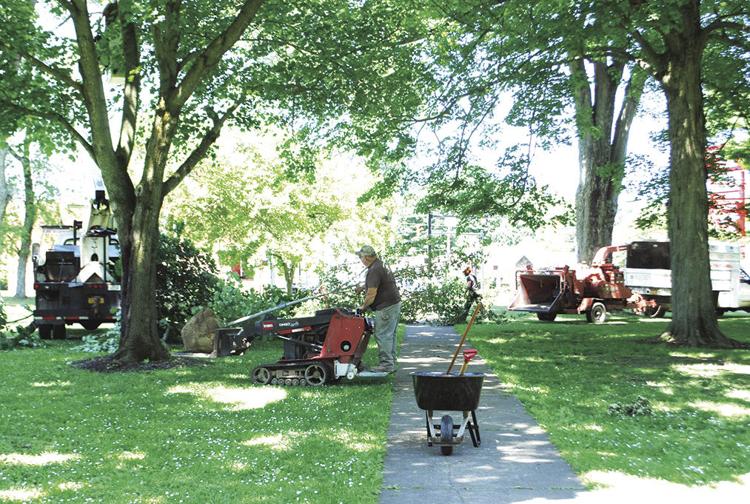 A lot of work is getting done in Corry City Park this week, including tree trimming, tree removal, tree planting, mulching, painting and stump removal.
Bentley Tree Care LLC, of North East, was in city park, Tuesday, trimming and cutting trees.
It was previously determined that there are four trees that need to be removed from city park and 10 trees that need servicing to make the park safe from falling limbs, Corry Tree Committee Chairman Tom VanTassel said.
With all the recent rains in the area, the park has been too wet for Bentley to bring in his large bucket trucks for the trimming and tree removal, VanTassel explained.
When Bentley was scheduled to come in April, a tornado tore up surrounding areas making it a priority for the tree service to do emergency work, VanTassel said.
This week has been the first dry opportunity for Bentley to do work at city park, according to VanTassel.
Due to an agreement with the city, Bentley will be doing the trimming and mulching of limbs, but will cut any larger trunks and limbs into chunks for removal by city employees, Corry Public Works Department Lead Operator Mark Leofsky said. 
After Bentley cuts down four dead and dying trees in city park, workers will grind up the stumps and city crews will take care of the stump grindings as well, Leofsky said.
For two days of work, reduced from three because the city agreed to do part of the removal work, the total costs will be $5,000. Corry City Council members agreed at an April 15 Council meeting to cover half the costs up to $3,000, with the Corry Tree Committee covering the other half with grants received from private parties.
Public works department employees will start removing those chunks from city park today and will have cleanup complete before CorryFest, according to Leofsky.
And that's not all public works employees will be doing in city park this week; there is more work to be done at city park before CorryFest.
Leofsky explained that preparations include putting in mulch around garden beds and trees, but thanks to the Erie Area Council of Governments and a grant received from the Erie County Gaming Revenue Authority, there will now be more trees in city park to put mulch around.
EACOG is giving Corry 29 trees and planting them, at no cost to the city. 
Brooks Landscape, of Erie, has been hired to plant the trees and was putting in the first of the 29 trees in city park Tuesday. 
Sixteen trees were planted in city park and two trees were planted on Mound Street on Tuesday, with the rest of the trees going in various pre-approved places around the city on Wednesday.
Other planting places include: seven trees going in at Mead Park near Corry Area Historical Society Museum, 945 Mead Ave.; three trees going in along Mead Avenue; and one tree going in on the 100 block of East Frederick Street. 
However, Leofsky intends to have more work completed in city park this week, including touching up the gazebos' paint before CorryFest.
The gazebo in city park has flaking and peeling paint giving it a spotted look where wood can be seen. City employees will be painting those spots white to give the gazebo a facelift before this weekend's festivities, Leofsky explained.
A full pressure wash and repainting of the gazebo is scheduled to take place later in the summer.