After tragically losing both parents at a young age, getting into drugs, dropping out of high school and going to state prison for nearly two years, a Corry man has turned over a new leaf and recently graduated from high school through the Corry Adult Diploma Program. 
Austin Calderoni, 22, of Corry, was born at the former Corry Memorial Hospital and lived in Corry for the beginning of his life. 
When Calerdoni was 6 years old, his father, Ronald A. Carlson Sr., died on Dec. 18, 2004, at the age of 30 when he was hit by a semi while riding a snowmobile in Warren. 
His mother, Lesa Marie Carlson, then died of a heart attack on Feb. 7, 2007, at age 37, leaving Calderoni an orphan when he was 9 years old. 
"After my mom died, I ended up going into foster care for two years," Calderoni said. "I went to about 13 different foster homes."
Calderoni eventually ended up going to Beacon Light Behavioral Health Systems in Bradford, Pa., for two years when he was 11. He enjoyed his time there and became close with the manager of the group homes, his house manager and case worker. 
But, at the age of 12, he met his future adoptive parents Joe and Clarissa Calderoni who welcomed him into their family when he was 13.
Calderoni lived in Lawrence County, Pa., with his family and went to Mohawk Junior-Senior High School, but he was later homeschooled because he struggled to connect with his peers. After he turned 18, he made the decision to move back to Corry.
"I couldn't take the freedom of being away from my adoptive parents so I made some mistakes," Calderoni said. 
Before moving back to Corry, his adoptive parents told him that he would end up hanging out with the wrong people, get into drugs and go to jail, and Calderoni said they were exactly right. He dropped out of Corry Area High School in 2014 when he was half a credit shy of meeting the criteria to graduate. 
"I ended up getting into 12th grade and then ended up getting into drugs, and the drugs got the best of me so I ended up dropping out," he said.
When he dropped out, Calderoni said his life consisted of drugs, criminal activity and jail time. Even after going to jail twice, he continued to commit crimes, steal from others, burglarize places and do drugs.  
Calderoni said things started getting better for him when he met Kelsey Ingram and her three children. They spent a summer together and they helped him forget about drugs and living a life of crime. 
However, his final crime eventually caught up with him and he was sent back to state prison for a year and a half, giving him a lot of time to think about his life and what he was going to do with it when he was released.
"Every night you have a lot of time to think and you lay there in your bunk and you're like 'what am I going to do with my life? Is this my life right here?'" Calderoni said. "Finally I just said to myself that I can't come back to this place. I just can't do it. There's got to be another way."
That made Calderoni realize he wanted to do things the right way.  
"I sat down and I took an 180-page notebook and I filled every page, back and front, with how I'm going to get my high school diploma, what I'm going to do when I get my high school diploma and my entire goal from here on out," he said. "So far, everything is working out because I made a game plan and I'm following it."
Once he was released from prison, Calderoni was reunited with Ingram as well as her children and began taking action to follow the plan he set forth. 
While taking GED classes at the Corry Higher Education Council in 2018, another adult in the the class suggested that he enroll in the Corry Adult Diploma Program and gave him a number to call. 
"I talked to Mrs. Simpson there. She said, 'I can get you in, just don't give up. You're almost there,'" Calderoni recalled. 
He began taking night classes at Corry Area High School through the program until one day when he got a call from Andrea Simpson, cooperating teacher for the Corry Adult Diploma Program. She asked him to come to the high school to meet with Bill West, director of secondary education, who is the supervisor of the program. 
"Mr. West looked at me and he says, 'You really dropped out in 12th grade? You were so close. You only need half a credit,'" Calderoni said. 'I'll tell you what. If you get a job, I will give you your half a credit and you'll graduate with the 2019 class, getting your high school diploma.' So I instantly got a job."
As long as Calderoni sent in his pay stub every two weeks and fulfilled the other requirements of the Corry Adult Diploma Program, then he would be able to graduate that year.
"Bill West sat down and said Austin needed to get a job to support his family. We give credits through the high school for work experience," Simpson said. "When he fulfilled that, he got that half credit to be able to graduate since his work schedule interfered with class time."
Calderoni's long journey to get his high school diploma culminated on June 7 when he was one of six adult graduates to walk at Corry Area High School's 146th annual commencement ceremony.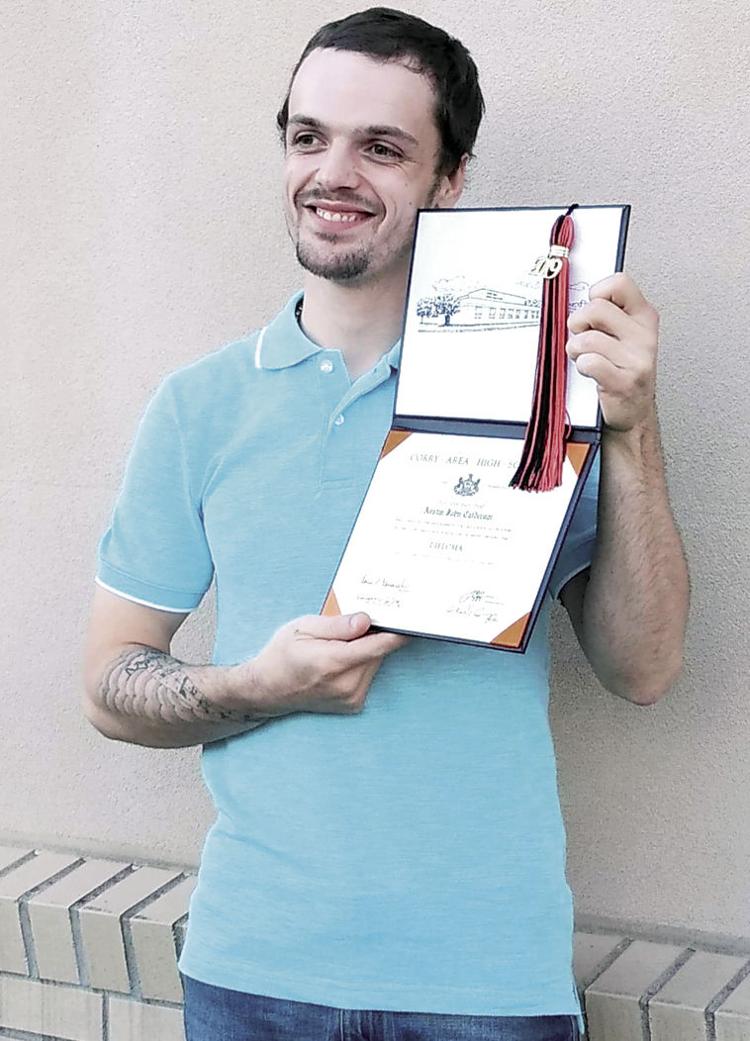 "Honestly, I couldn't have done it if it wasn't for the Adult Diploma Program," Calderoni said. "I got my high school diploma thanks to the program."
To fulfill the requirements of the program, students must complete at least 145 hours of classwork at CAHS, 100 hours of coursework through the GED program at Corry Hi-Ed, perform 10 hours of community service, obtain a library card from Corry Public Library, receive CPR first aid certification and write a two-page essay detailing why they want their diploma. 
There is a $125 fee to enroll in the program, however, if applicants pre-sign up at one of two open houses, then the fee is waived. Adult students who complete the program will receive a CAHS diploma, class ring and a Warren-Forest Hi-Ed sweatshirt. 
Anyone interested in joining the Corry Adult Diploma Program is encouraged to attend an upcoming open house at the Corry Hi-Ed building, 221 N. Center St., Corry. The first open house will be on Aug. 14 from 1 to 3 p.m. The second will be on Sept. 11 from 2:30 to 4:30 p.m.  
"It's a program where adults can come back to school for 160 hours throughout the school year to obtain their Corry Area School District diploma," said Simpson, who is also an emotional support teacher at CAHS for students in grades nine through 12. 
Interested adult students do not have to be a previous student of CAHS. Anyone who cannot make it to the open house can contact Simpson via email at asimpson@corrysd.net or they can call the Corry Hi-Ed at 814-664-9405 or the Warren-Forest Hi-Ed.
Calerdoni was among Simpson's first class of adult graduates since this is her first year teaching the Corry Adult Diploma Program. 
"It was a very touching moment in my career. It was amazing," she said. "I'm glad that I can motivate adults to come back and stick with the program to obtain their diploma.
"I am shooting for 10 students next year and currently I have three that are very interested so I'm looking for that extra seven," Simpson added. 
Calderoni's girlfriend said she is very proud of him for going back to school and she might be a future student in the adult diploma program. 
"We made a deal that if he went and got his high school diploma, then I'd go get mine next year, and I think that kind of pushed him a little bit more," said Ingram, 25, of Corry. 
Ingram's three children - Peyton, 7, Faith, 6, Conlin, 4 - consider Calderoni their father. Calderoni and Ingram are expecting their first child together on Aug. 8 - a girl who'll be named Auslyn.
"I want my high school diploma so I can show my children that no matter how hard you fall, you can always get right back on your feet.
and keep pushing forward," Calderoni said. "I want my high school diploma to show my success to my children. To me that's very important . I want my children to see that they can do anything they want in life as long as they set goals, and fight for their dreams."
Ingram said she is extremely proud of Calderoni, not just because he got his high school diploma, but also for how far he's come. She commends him for getting off drugs and taking big steps to be a better father to her kids and their baby on the way. 
"There's always a chance to turn your life around and do the things you want to do," Calderoni said. 
Another important reason Calderoni wanted his high school diploma is to go to college and pursue his dreams of being a barber. He recently got a call from LaBarberia Institute of Hair in Cleveland, Ohio, and hopes to further his education there. Calderoni aspires to go to barber school, work at a local barber shop for awhile and eventually save up enough money to open his own barber shop.
Calderoni shared his life story on June 13 at a Corry Community Foundation grant reception at relevant church since CCF donated $6,000 to the Corry Adult Diploma Program - $1,000 for every graduate this year.
"It opens up a world of second chances," said Donna Smith, program manager for Warren-Forest Hi-Ed, which oversees Corry's diploma program. "We want it to be Corry's program. I come in and do site visits, but this is really a Corry program. We're just overseeing it."