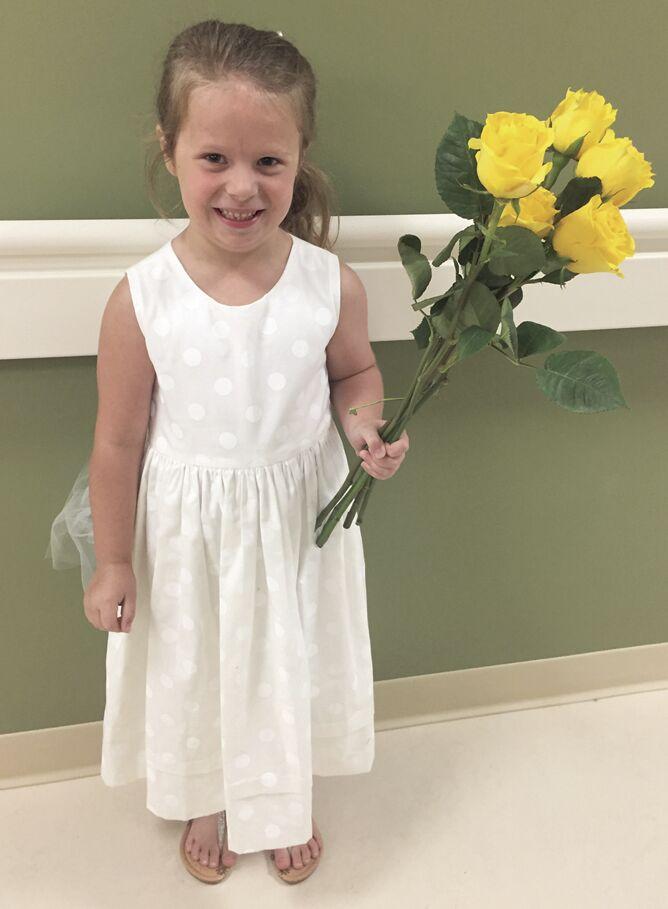 As many people living in nursing homes and assisted living facilities continue not to be able to see their family members and loved ones, one local girl is sending weekly handmade gifts to a man she's never met before to raise his spirits. 
Aubree Chelton, a 9-year-old Corry girl, has been making crafts for Paul Kraft, who is related to a friend of her family, since he hasn't been able to have visitors for almost a year due to ongoing visitation restrictions because of COVID-19. He resides at Elmwood Gardens in Erie
"We have a dairy farm, and our milkman, Ed Lindstrom, has a brother-in-law named Paul Kraft in a nursing home," said Aubree's mother, Christine Chelton. "When the COVID shutdown came, he wasn't allowed to see any of his family and he got very depressed. Ed's family asked family and friends to send him cards to cheer him up, so we did and we have sent him a card every week since."
Aubree is the daughter of Christine and Paul Chelton.
The Cheltons have been sending Paul a card along with a creation from Aubree for about 10 or 11 months. 
"I always write what's going on at our house that week just to give him something different to think about than being in a nursing home, and Aubree always puts something in the card for him," Christine said. 
Aubree regularly makes him a drawing, colors a picture or crafts something to put in the card. Aubree said she enjoys making presents for Paul and her favorite gift she's made him so far is a bracelet.
"She and one of our other daughters made a bracelet out rubber loops and sent it to him in the card and he has not taken it off since he got it," Christine said. 
Another one of her most-liked crafts she sent to Paul is a springtime collage (see photo). 
"In the spring, I made a little collage thingy with a bunny and I sent it to him," Aubree said. 
Christine said Paul cherishes each card and item they send to him. 
"He keeps everything that we send him, every card, every drawing. She's made him sun catchers for his window," she said. "He looks forward to the card every single week. It's just something we do to make life easier for him and bring him a smile."
Terri Lindstrom, Ed's wife, said her husband suggested they find somebody to send cards to their brother-in-law when COVID was shutting everything down last year.
"I think it's just wonderful. She doesn't even really know my brother-in-law Paul but she takes the time to write to him every week and sends him something," Terri said. 
The aides at Elmwood Gardens even know who Aubree is and the impact she's made.   
"I talked to my sister, who is Paul's wife, and she was saying even the aides notice when he gets new stuff from Aubree. They all know who Aubree is," Terri said. 
It's been about a year since Paul's wife, Paula Kraft, has been able to physically go into the facility to see him, according to Terri. The cards and crafts from Aubree have been helping Paul get through these tough times. 
"She doesn't know how much we appreciate that, and I know my brother-in-law has had some tough times there. The depression is really bad with the COVID. Not being able to see anybody makes it even worse. He really perks up when he hears he's got something from Aubree," Terri said. 
Paul's family sent Aubree a thank-you card for everything she has done for him. 
"At Christmastime, Paul's wife and his two daughters sent her a Christmas card with a gift card in it for Dairy Queen thanking her for what she does to brighten his day," Christine said. 
Tracy Kraft, Paul's sister, took to social media to track down Aubree's family to thank them for everything she has done for him while he's unable to receive visitors.
Christine said she's so proud of her daughter's compassion. 
"She's got a tender heart, she always has. She always wants to include everybody," Christine said.
"She's such a sweetheart. She cares about so many other people other than herself," Terri said. 
Aubree's kindness toward others dates back to when she was 3 years old. 
"When she was 3 years old, my mom had to have treatments at oncology in the Corry hospital and Aubree would go with me every week," Christine said. "Before we went to the hospital, we would stop at Sander's Markets and I would let her pick out any flowers that she wanted and she always picked out roses. We started taking her to every patient in oncology and she would give them a rose and tell them to have a nice day."
Aubree delivered flowers to oncology patients at Corry Memorial Hospital every Thursday until she started school. After that, she would do weekly rose deliveries to the patients during her summer breaks, but that changed last year. 
"Then COVID came and we weren't allowed to do that anymore, so sending a card to Paul kind of fills that void for her because she just loves taking those flowers to oncology," Christine said. 
Aubree said she misses delivering roses at the hospital a lot.
Stephanie Donoghue, RN, BSN, was a nurse at Corry Memorial Hospital's oncology department when Aubree began handing out roses and saw firsthand how she connected with the patients.
"She has been doing it for several years. She knew several of the patients by name, they looked forward to her coming and brightening their days. She would still be doing it now if she could," Donoghue said. "Everyone working in oncology was so welcoming and supportive. They made her feel like a member of the staff.
"Aubree is a little girl who has the heart of a giant. Her kindness is contagious," Donoghue added. 
Aubree has developed many close relationships with the patients over the years, which can be difficult when a person passes away. 
"She's made a lot of friendships in oncology, but when you make friendships with terminal patients, there are some sad days," Christine said. "There have been some really close ones that she's lost to cancer."