Chris Lyon has been a firefighter for roughly 20 years and was made the deputy code enforcement officer in March. He has chosen to retire and Jerred Hodak is stepping in to take over the code enforcement position.
"I'm sad to go, this is my family, but I plan to continue volunteering," Lyon said.
Hodak has been serving as the captain of the fire department and today is his first day as the deputy code enforcement officer.
Hodak will have been a firefighter in Corry for 14 years as of June.
"I was paired with Lyon for the first 10 years of my career and I'll be sad to see him go," Hodak said.
However, Hodak is excited about his new role at the fire department.
Hodak was training with Lyon during the month of January to take over the new position and started working in code enforcement last week before his official start date to prepare.
"It's a challenge but I'm excited about it," Hodak said. "I do game warden work so I'm used to that kind of work."
Hodak related the work as a game warden to code enforcement work because both positions require that he work with the public on certain issues to gain compliance with applicable laws.
"It's a different uniform but it's kind of the same thing," Hodak said.
Going forward, Hodak will be taking certification classes for code enforcement work, which includes a fire inspector certification.
Lyon intends to continue volunteering at the Corry Regional Fire Co., volunteer arm of Corry Fire Department, and Hodak said Lyon has been in during the past week to help with his training.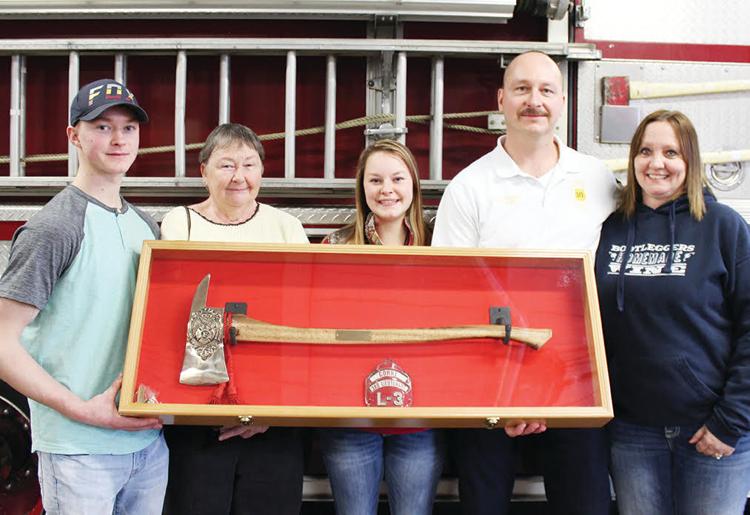 Firefighters surprised Lyon with a retirement party on his last day, Jan. 31, and flew in his son, Bryton, for the occasion.