CLYMER, N.Y. — Educating children about agriculture was the goal Thursday during an event that was hosted by Zahm & Matson Ag and Turf in Clymer, New York.
About 75 children from the Clymer Summer Recreation Program, which is sponsored by the Community Support Group of Chautauqua County, were invited to the facility, 8926 W. Main St., for a day of tours, demonstrations and sweet treats.
"Agriculture is fun and rewarding and it's right here in Clymer," said Andy Campbell, store manager for Z&M in Clymer. "As a store, we want kids to know about the opportunities when it comes to agriculture ... and have some good clean fun, too."
Children rotated between five educational stations. There were tractor-pulled wagon rides around the parking lot to show children the different types of farming and recreational equipment, and tours of the service department and parts department.
Scott Aikens, the agricultural teacher for Clymer Central School, talked to children about the district's Future Farmers of America Program. And, Casey and Kerrie Catalfu gave demonstrations on how to make maple syrup.
The couple, who also made maple syrup cotton candy to pass out to the day campers, own Sweet Traditions pancake house in Corry and their family has been making maple syrup for several generations. Casey Catalfu is an employee at Z&M.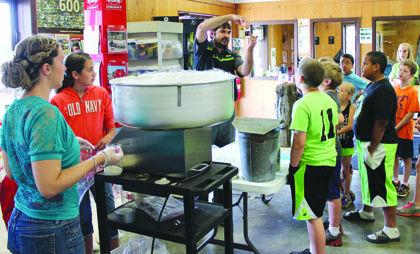 After children rotated between all the stations, they took turns in a bouncy house, played tournaments of cornhole and visited with a calf that was brought over to the business from Nickerson Farms.
Children were given the go ahead to climb and sit in a few pieces of the larger tractor equipment. They were also given ice cream.
"As a store, we care about these kids," Campbell said. "It's important to be involved in the community."