COLUMBUS TOWNSHIP — A portion of Route 6 was closed Monday morning following a motor vehicle accident involving a tractor trailer.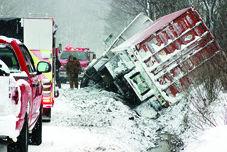 The truck rolled over on Route 6 near the intersection with Sears Hill Road in Columbus Township. The driver of the tractor trailer, who has yet to be identified, was transported to UPMC Hamot in Erie via Corry Ambulance Service. 
Crews from Columbus and Wrightsville volunteer fire departments were the first to respond. 
Columbus Volunteer Fire Department Chief Chip Hasbrouck said Columbus firefighters were dispatched at 11:08 a.m. and the initial call came into Wrightsville, who was first on the scene, shortly before that.
Hasbrouck said the Corry Fire Department, Bear Lake Volunteer Fire Department and Corry Ambulance Service also responded and assisted on the scene. 
"Corry was dispatched just in case they couldn't get the driver out, but they were able to pull him out through the windshield," he said. 
Wrightsville firefighters were able to extract the driver before Hasbrouck and Corry firefighters arrived at the scene. Corry firefighters then assisted with traffic control since a large section of Route 6 had to be shut down. 
The rolled-over tractor trailer and emergency vehicles were located in the eastbound lane of Route 6 while a tow truck was positioned in the westbound lane. As a result, fire police shut off Route 6 at Baccus Corners Road and were diverting traffic to Route 957. Traffic was also being rerouted from Route 6 at its intersection with Route 958.
Columbus Volunteer Fire Department was back in service at about 4 p.m. and Route 6 was reopened shortly before that, according to Hasbrouck.
The accident cleanup took longer than usual because of diesel fuel leaking from the tractor trailer. 
"We did have a hazard team out of Warren respond to the scene since the truck's fuel tank erupted," Hasbrouck said. "But there was no immediate danger. The fuel was dammed up."
Columbus firefighters, accompanied by others at the scene, assisted the hazardous materials response team with the cleanup and helped the team take care of it, Hasbrouck added. 
Pennsylvania State Police at Corry also responded to the rollover. The Corry Journal placed a call to the state police barracks at Corry, but officers did not have an accident report completed as of press time.