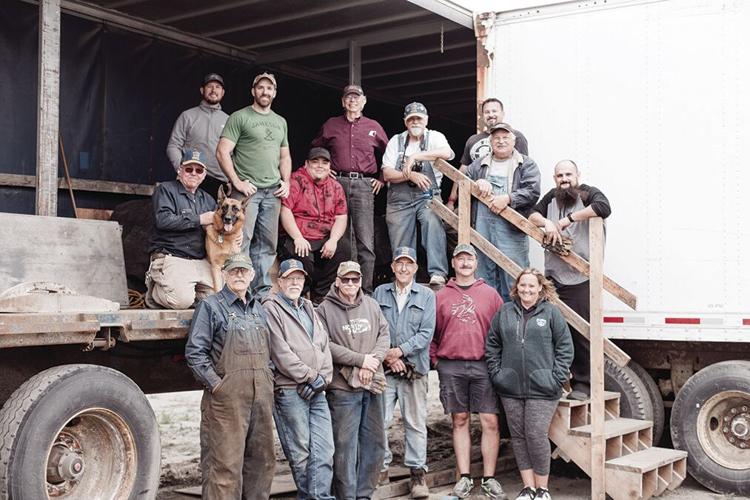 After being away for 118 years, A313 Climax locomotive arrived Friday back to its birthplace of Corry from Nome, Alaska.
Corry Rails and Industrial Legacy Society has been working for three years to arrange its return. 
It may have made it back in pieces, but having A313 home again is a relief for the group that has worked hard to make its return happen. 
"What a relief," Corry RAILS Chairman Tom VanTassel said. "For me it's a relief to know that it's here."
During its arrival, the trucking container holding all the parts and pieces of the locomotive was driven within 100 feet of the Climax building where it was originally constructed, which was momentous for Corry RAILS members and onlookers who have followed the journey. 
Vice Chairman Carl Wassink said it's a relief to have it finally arrive at the newly designated Corry RAILS Climax A Restoration Shop on the corner of Delaware Street and Mead Avenue.
A team of Corry RAILS members arrived in Alaska on Aug. 25 and worked with rail enthusiasts, plus unexpected present and past Corry-area community members, to gather all parts and pieces of A313 to pack and ship it home.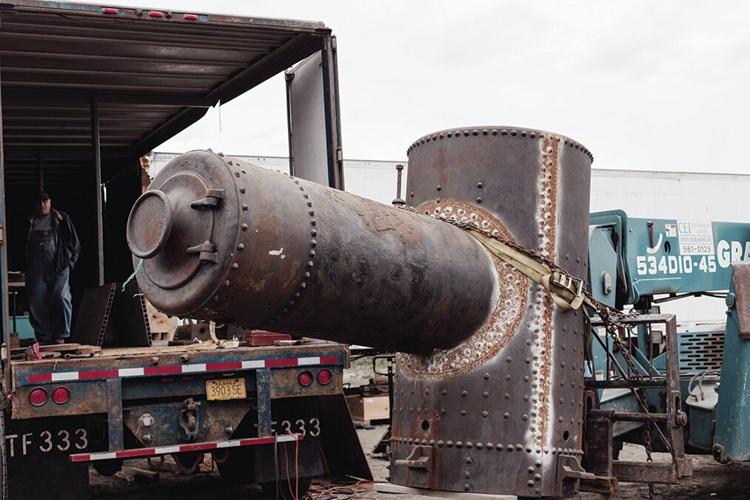 The team included Wassink, of Corry; VanTassel, of Corry; Norm Thomas, of Spring Creek; Chris and Tara Lyon, of Corry; Rusty Pochatko, formerly of Corry and now of Palmer, Alaska; Donnie and Tonya Rosie, of Spring Creek; Grady Smith, of Ohio; Steve Niederriter, of West Virginia; Erik Christiansen, of Alaska; Pat Durand, of Alaska; and Randy Foster, of Alaska.
Unexpected setbacks started in Nome, where the only nearly complete Climax A class engine was located. 
On the final day in Alaska, Sept. 2, the container had to be partially unpacked to be lifted onto a road trailer and then repacked because they did not have a forklift big enough to lift it, VanTassel said.
"We were hours from being ready to fly out and we were just finishing up," VanTassel said.
Just in time, work to pack the container was completed and A313 started its 4,000-mile journey back to Corry. 
The team faced another day's setback after finding out the container was not standard. It was a high-cube container, which would cost them an additional $1,500 in unexpected permits across 10 states. 
Barnhart Transportation LLC, of Erie, donated its services to bring the container from Seattle, Washington. Corry RAILS only paid for fuel.
ROG'S Inc Rigging and Crane Service, of Erie, donated a crane and a Hyster forklift to unload the container and maneuver it into the restoration building. 
"It's the beginning of phase two, which involves the full restoration and raising funds," Wassink said.
Corry RAILS member Kevin Amy said the work is just starting, literally. 
Work is estimated to take three years to rebuild the engine, VanTassel said.
However, that is dependent on how fast funds can be raised, Wassink said.
Some of the things that still need to be done in order to rebuild the locomotive is research into the wood that was used and construction blueprints. 
"We've got drawings to make because the drawings that were made for these things are long gone —  most of them," Wassink said. "We will be creating those drawings."
Wassink continued to say a lot of people expect to see a finished locomotive when the container doors are opened, but that isn't the case. 
Corry RAILS has had offers from many people within the area and around the United States who would like to help with the restoration.
"None of this could have been done if it wasn't for the charity of all the people that have donated time, material and money," Amy said.
New Corry RAILS members, Ron and Connie Sitterley, said seeing the excitement of the other members is great since they became interested in Climax engines long before the A313 was purchased. 
The Sitterleys became interested because the Climax was invented just outside of Spartansburg and they are thrilled to be able to participate in the restoration of A313.
Donnie Rosie, who owns Rosie Marketing, and has documented this historic event, said it's exciting to see the conclusion of this chapter. 
"I don't know if people realize this will be quite the endeavor on this side of it — trying to put it together," Rosie said. "To see this chapter closed — of it being back in Corry and driving by the place it was built 100 years ago — that's pretty crazy."
Tonya Rosie contributed to this report.