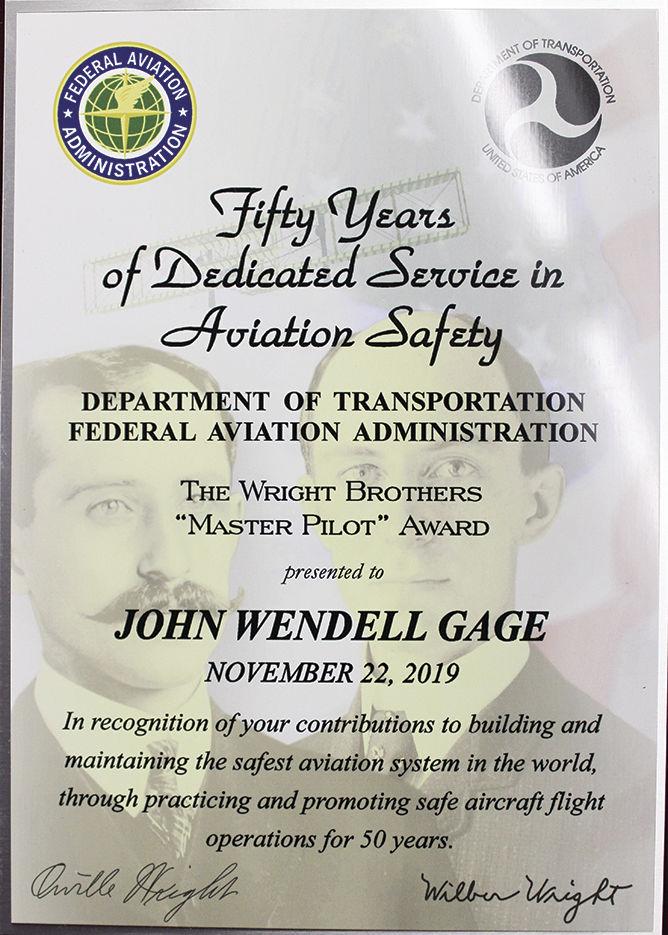 A local pilot, John Gage, 71, of Corry, was recently awarded the most prestigious award given by the Federal Association of Aviation — the Wright Brothers Master Pilot Award — which is awarded in recognition of those who have achieved 50 consecutive years of safe flight operations and have exhibited professionalism, skill and aviation expertise.
FAA Safety Team Program Manager Henrik G. Vejlstrup and FAA Aviation Safety Manager Wendy Grimm came to Corry-Lawrence Airport, 800 Spring St., to recite Gage's aviation history before giving him the award.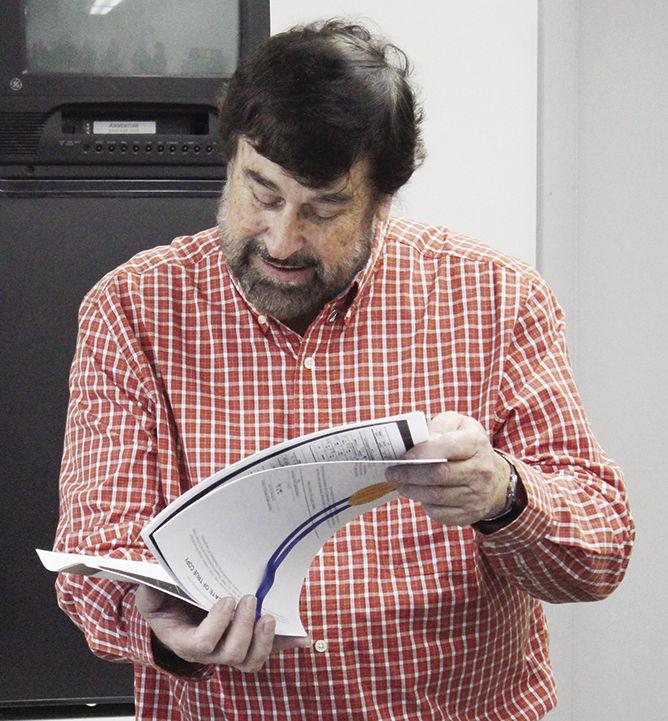 Receiving this award recognizes Gage for his contributions to building and maintaining the safest aviation system in the world, through practicing and promoting safe aircraft flying operations for 50 years, Grimm said.
Gage learned to fly at Corry-Lawrence Airport from the instructor at the time, Frank Lucy. His first solo flight was in a Cessna 150 on Sept. 1, 1967. He received his private pilot's license in 1968.
Gage shared the story of how he became interested in becoming a pilot and was inspired to sell his motorcycle to buy an airplane. 
In the late 60s, Gage was introduced to Dick Hornick, now Corry-Lawrence Airport chairman. Gage learned that Hornick, at the time, had a student permit for flying. Hornick told Gage that he could learn to fly by visiting the airport and signing up for lessons. 
The next morning Gage met the instructor, Lucy, and paid $8.50 for a half hour lesson. 
"I was hooked," Gage said. "I decided that day to sell my motorcycle and within one week I sold my motorcycle to a friend of mine."
His parents helped him pursue his passion for flying, which was the start that led him through 50 years of safe flying.
He obtained his commercial pilot, instrument rating and multi engine rating in the early 1970s. In 1973, Gage went to work for Tonnard Manufacturing Corp., as a purchasing manager, and started flying for the company. He is still employed there today, where he is the purchasing manager, with many additional responsibilities, and pilot.
Gage has been flying a 1966 Beechcraft Baron since the late 70s. He has also flown multiple aircraft, including a 1946 Commonwealth, which was flown to Alaska with Hornick.
He has held the position of treasurer on the Corry-Lawrence Airport Authority for 20 years, and has been an authority member for over 30 years. 
"John always operates aircraft in a safe and professional manner, is of good moral character, and an outstanding individual, who is respected in the local aviation community and general public, earning him the Wright Brothers Master Pilot Award," Grimm said.
Gage also received a citation from the administrator of the department of transportation federal aviation administration in appreciation of his dedicated service, technical expertise, professionalism, and many outstanding contributions to further the cause of aviation safety, Grimm said.
A Wright Brothers pin was fastened to his shirt, and one was pinned to Gage's wife Gayle's lapel because, "none of us do it alone," Grimm said.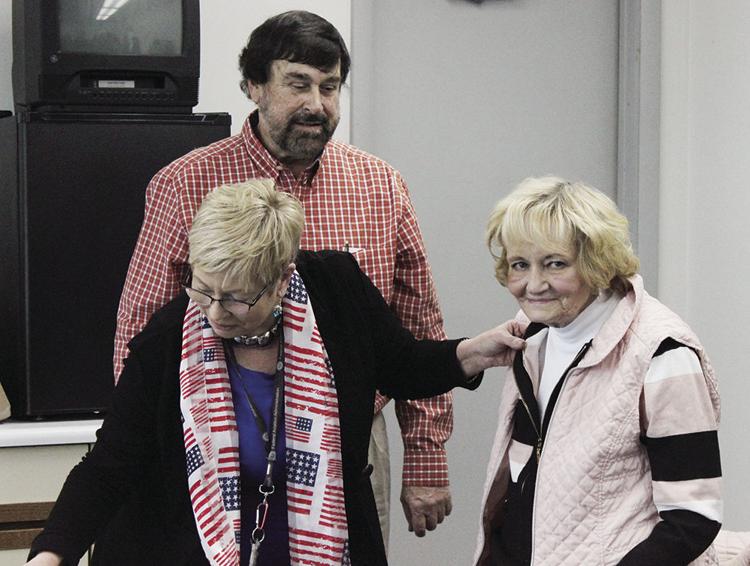 A blue ribbon package was put together as a gift to Gage, which is a collection of his entire aviation history, including records of every knowledge test he has ever taken.
"I've got to thank my parents for giving me the genes and the health to make it through 50 years," Gage said. "That's quite an accomplishment to make it 50 years and still be able to hear lightning and see thunder. My father would be very proud of me."
Gage went on to say that he felt very honored to receive the award. 
"It's amazing. All of a sudden one day you wake up and say, wait a minute, 50 years? It seems like yesterday," Gage said.