Corry native Jackie Rosenthal had no idea a trolley was once used in the city to transport local residents to Columbus and back.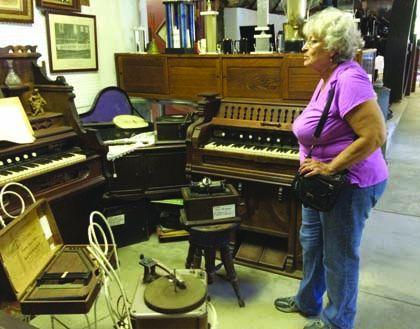 Katie Reed, 14, was surprised to find that the city she has lived in for so many years could have so many different roads.
"I have learned so much today," said Rosenthal, who spends her summers in Corry and winters in Arizona. "I'm just amazed."
Educating local residents — especially youths — about the rich history of Corry was the goal of the Corry Area Historical Museum's second annual Hands-on-History Day held on Saturday on the museum grounds, 945 Mead Ave.
More than 200 children and adults participated in the event, which focused on the time period from 1920 to 1969.
"It seems like things were a lot harder back then," said Reed, who also took a tour of the inside of the museum.
In addition to museum tours, the event offered dozens of exhibits, re-enactors and performances, which were all tied to the celebrated time period.
"We especially want the kids to get involved," said Lisa Puckly, treasurer of the Corry Area Historical Society and chairwoman of Hands-on-History. "We are trying to grow future members."
The museum grounds were divided into stations where children and their families could participate in a variety of activities from 1920 to 1969.
Kids' activities included hopscotch, chalk drawing, toy fishing, Slinkies, bubble blowing and hula hooping. There was also a World War II display, gun exhibit, a singing performance by Elvis Presley (Kurt Nova), games of horseshoes and badminton and specialty food from the 1930s.
"Everyone has been enjoying themselves," said Ann Clark, president of the Corry Area Historical Society. "We are just thrilled with the response and support of the community."
Hands-on-History Day was made possible in part by donations from the Corry American Legion, the Corry Central Labor Club and the Corry Elks Lodge. The historical society also received a portion of the proceeds from The Corry Journal's Cute Kiddo Contest.
Clark added that the museum is always looking for volunteers to help with upcoming events, organizing museum displays and day-to-day tasks. Anyone wishing to volunteer is asked to call the museum at 664-4749.