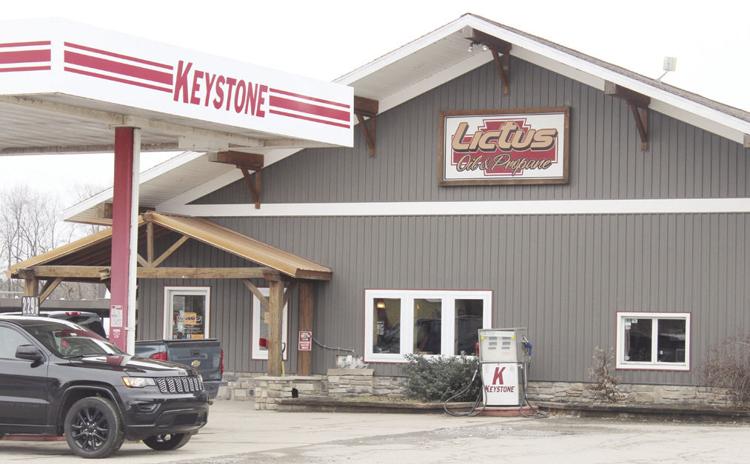 CLYMER, N.Y. — A local family business, Lictus Oil & Propane, 8799 W. Main St., Clymer, New York, is celebrating its 60th year of providing petroleum products to residents in Clymer, Corry and the surrounding areas. 
Lictus Oil & Propane is operated by a team of 38 employees, which is spearheaded by Lant Lictus, of Clymer, and his two sons, Dan and Alex. Lant also has a daughter, Andrea Ball, who currently works at Healthy Smiles in Corry, and a teenage son named Grant.
Among its many services, which includes a gas station, Lictus Oil & Propane offers bulk delivery of carbon-based petroleum products such as heating oil, off-road diesel, propane and gasoline, along with retail sales including motor oil and other lubricants.
According to Lant, the business serves a wide customer base, spanning Chautauqua County in New York and several areas in northwest Pennsylvania.
The parent corporation, Lictus Keystone Inc., was officially established in 1982, Lant said. He serves as the corporation's president, Dennis Hinsdale, who has been involved with the business for almost 40 years, is the vice president and Jon Woods serves the corporation as its secretary-treasurer. Woods and his wife Amy (Lant's sister) manage Clymer Hardware and Home Center, directly next door to Lant's operation. The corporation is also comprised of several other minority stockholders, according to Lant.
An additional business, Lictus Automotive and Conversion Center, 8706 E. Main St., Clymer, is also under the umbrella of Lictus Keystone Inc. It is managed by Ken Newton and Bobby Hammond.
The business may have been incorporated in 1982, but the Lictus family has been serving local residents longer than that.
In 1960, Lant's parents, the late Jim and Lynnette Lictus, began a bulk delivery service of heating oil out of their home in Clymer. In 1962, the couple moved their operation to the center of town and ran a gas station from where, today, there is a parking lot located across the road from Neckers Co. General Store.
In 1973, the Lictuses began working out of a building on Clymer-Sherman Road that once housed Tenpas Insurance, which was across the street from Clymer United Methodist Church, where the Southern Chautauqua Federal Credit Union and Deuink Insurance are now.
The business moved to its current location on West Main Street in 1985 and began selling propane in 1992, Lant said.
Lant attributes the success of his business to the strong foundation established by his parents, the continued support of its customers and the dedication of employees.
"Because of my parents, this has all been possible," Lant said, noting their good business sense, financial responsibility and strong people skills were what helped them build lasting relationships in the community, allowing them to achieve success.
"These things allow us a great foundation to build on," Lant said.
Hinsdale echoed this sentiment.
"They built a pretty solid foundation and we're fortunate enough to expand on it," he said. "What they taught me when I came into the business was invaluable, and it's still being reflected in the loyalty of customers today."
Lant also noted customers have been instrumental in maintaining a stable company.
"I feel a strong need to reflect our appreciation to the community and our customers," Lant said. "The community has been very supportive of us and that has allowed us to grow and do better service."
Another factor in the company's success, Lant said, has been the commitment of employees to producing high-quality work.
"I can't stress enough the importance of our employees," he said, noting several of them stepped up to help out during some recent health challenges he's faced. "I have a tremendous supporting cast of characters."
He went on to say Terri Bensink, who works there as an office manager, has been with the company since 1996.
Additionally, Lant emphasized the importance of the next generation, his sons, helping to focus on day to day operations and in so doing, making expansion of the business possible.
"We've gone from primarily serving the farming community to serving other types of industry," Lant said. "I wouldn't have attempted to do that without them here."
Hinsdale commented on the business's growth as well.
"Just watching where it started and what it's grown into is exciting and fun," he said.
Lant's oldest son, Alex, who joined the business in 2017, highlighted his appreciation for working with his family in his hometown.
"When you're working for your family and a community that's important to you, small things matter a lot more," Alex said, commenting the work he does makes him feel good about helping people.
"You're paid in other ways as well," he said.
Alex's brother Dan returned home from college and began working with their father in 2015. He commented he especially likes working alongside family members.
"You get extra time with them because you're not leaving your family to go to work," he said. "That's probably the most valuable thing to me about this."
Dan added some difficulties come with running a family business.
"It's a unique challenge," he said.
The future goals for Lictus Oil & Propane are centered around continuing to serve the community, Lant said.
"Our goal is to continue to provide petroleum products to the area," he said. "Where we go in the next 10 years, hopefully we'll be in a position to react to changes in the carbon fuel industry."
Alex noted he is confident in the company's ability to do this, commenting that regardless of any potential changes in the industry, human relationships will continue as the core of business operations.
"We know people and we take care of people," Alex said.