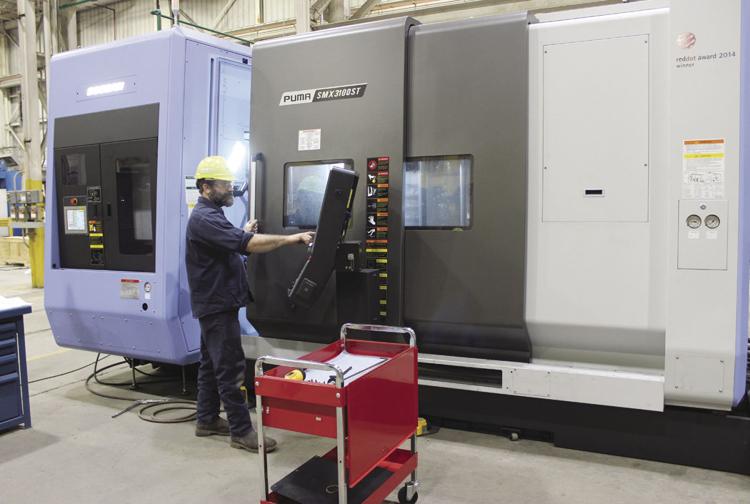 Ellwood National Forge is nearing completion of a more than $7 million investment in its Corry facilities and with the new upgrades and improvements — along with an uptick in the markets — there is now a need for 20 to 30 new employment positions within the company. 
In March, ENF announced the investment was aimed at boosting machining capacity and infrastructure to expand production of its products. The project did not add square footage to its plants, but focused on equipment upgrades and structuring the facility to align production between Corry and ENF's Irvine facility, which is located about 25 miles away in Warren County. 
The main Corry facility is located at 441 E. Main St., with about $5 million of the improvements taking place there. A second location called Corry West, located on the corner of First Avenue and West Washington Street, saw about $2 million worth of improvements. 
"We have some really exciting stuff going on here," said Mike Barrett, ENF president, who is based at the Irvine facility. "Ellwood National Forge is excited to be in Corry proving great opportunities to the community."
ENF will be holding a hiring event on Saturday, Oct. 19, from 6:30 a.m. to 2 p.m. at the Hi-Ed Building, 221 N. Center St., Corry. The company is specifically looking for skilled machinists and is offering a $5,000 sign on bonus in addition to retirement and profit sharing benefits. 
The positions would primarily be at the Corry facility, however, there is a possibility that workers could be assigned to the Irvine plant. 
Anyone interested in applying is encouraged to make an appointment online at ENFCareer.com. Walk-ins will be taken during the hiring event if time permits, but an appointment is guaranteed by signing up online. 
ENF performs a heat treating and finish machining process that is required to produce specialized machines parts. Different locations within the company play a unique role in that process, with the Corry plant specializing in further refining steel that has been reclaimed and melted.
Customers of ENF include the U.S. Air Force, U.S. Navy, U.S. Army and oil and gas companies. 
Defense products, including a specific product referred to as a "bunker buster," make up about 80 percent of ENF's product line. 
In addition to production areas and office space, the Corry facility has its own testing lab on site to ensure quality. It is mandatory that the company's steel products must pass a series of testing with specifications set forth by the customer. 
Steel that has not been heated or cooled properly can be compromised and those errors would become evident during lab testing.
Currently, ENF Corry employs about 75 workers in the plant and offices, and the Irvine facility employs about 225.
In 2003, Corry Forge was purchased out of bankruptcy by Ellwood Group and was operated by its subsidiary company, Ellwood City Forge until year-end 2018, when the Corry facility was moved under the direction of Ellwood National Forge, another Ellwood subsidiary.
Ellwood National Forge is a part of Ellwood Group, which was founded in 1910 and is a family-owned business. The company's footprint now spans 10 business units and more than 25 locations across North America.