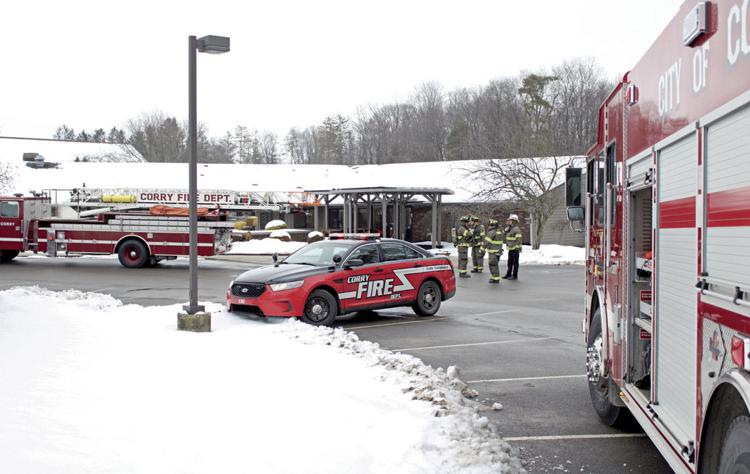 Sirens echoed through the city limits this morning as Corry Fire Department responded to a pair of possible electrical fires within an hour at two facilities less than a half mile apart while roughly 450 Penelec customers were experiencing power issues.
Corry firefighters responded to Corry Manor, 640 Worth St., at 8:12 a.m. and then the First Presbyterian Church of Corry, 607 W. Smith St., at 9:11 a.m. today for reports of possible electrical fires.
"There was an issue with Penelec," Corry Fire Department Deputy Chief Jerred Hodak said. "It was a brown out type of deal."
Hodak said people reported a smell  of smoke in both structures but there was no visible smoke.
"There was the smell of something burning definitely in the First Presbyterian Church but there was no smoke or fire visible," he said.
"In the Presbyterian church we did have an odor that everyone who entered could smell, like an electrical burning smell," Corry Fire Department Chief Jim Lathrop added. "We located what we thought was the cause and requested Penelec, and all Penelec can do is disconnect the electric feed."
About 450 customers were without power and Penelec couldn't restore electric to those residences until Corry Manor and First Presbyterian Church were disconnected from the power grid, according to Lathrop.
"They told me about 500 customers were without power, and until they addressed these two areas that had the possible fires, they couldn't turn the power on, so they had to come to each facility and disconnect them from the electric system," he said.
Firefighters determined the root of the cause of both calls to be electrical appliances.  
"At the manor, a steamer unit in the kitchen had shorted out," Lathrop said. "They had been experiencing a brown out situation where they were on half power, and then eventually Penelec killed the power.
"Then at the Presbyterian church, what we discovered was one of their HVAC units had probably shorted out during the brown out time where it was only running on half power until the power went completely out," he continued.
Power was restored to everybody else at about 10:45 a.m., but the manor and church were still disconnected, according to Lathrop. Hodak said both facilities were waiting for electrical inspectors to check and make sure everything was safe before they could re-energize the buildings.
"Both facilities will have to call in an electrical inspector to check their building before Penelec can hook them back up," Lathrop said.
Lathrop said people should be cautious during brown outs when it comes to electrical equipment.
"That is the worst time for electrical equipment and where it's running on half power," he said. "It was never designed to do that and there could be a lot of issues during that time, and really the only way is to have an electrical inspector check the equipment prior to putting electric back to it."