Over the last few years, Corry has undergone a facelift.
Whether in the neighborhoods or business district, many Corryites are focusing time, energy and dollars toward improving the buildings where they live and work. Much of the improvement is thanks to various grants which put a dent in the expense of upgrades.
William "Buzz" Hammond is one property owner who is excited about the improvement projects all over Corry. When Covid restrictions lifted last year, Hammond jumped into the renovation process with both feet.
With the exception of completing his degree as a business major at Robert Morris University, Hammond has spent his whole life living and working in Corry. He and his wife Miki are involved in a number of businesses in Corry, most notably Hiram's Marketplace and Pipit's.
"I've been doing this my whole life," Hammond said. "When I was 8, my grandfather and I bought the first building together here in Corry. That's how it started."
William "Wally" Hammond instilled a strong work ethic in his grandson. Hammond's dad, William "Bill" Hammond, started building and refurbishing houses when Buzz was very young.
"My grandparents and parents had a lumber yard and we started building houses," Hammond explained. "Over the years we've acquired a few pieces of property and we want ours to be absolutely the best looking they can."
Hammond has seen property improvement grant opportunities come into town before.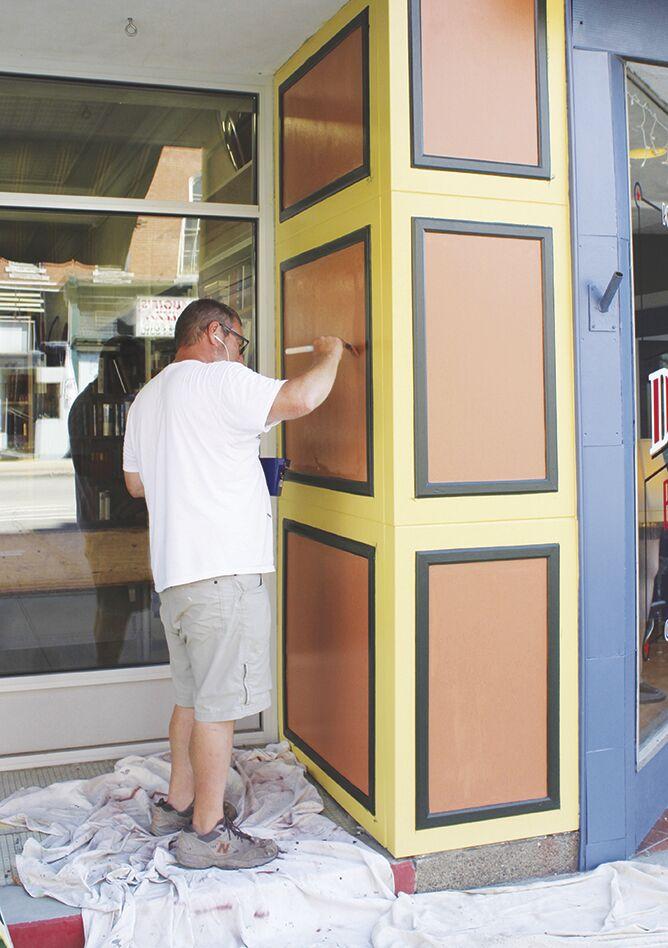 "Fifteen years ago they had a downtown grant, a little different than it is now, where they gave everybody $500 to paint or fix up the front of the buildings," Hammond explained. "We went through and did that."
But nothing in the past compares to the current grant initiatives available for home and business owners.
"Corry is very lucky in the fact that Impact Corry, Corry Community Foundation, and the Redevelopment Authority got together and decided they needed someone to spearhead all these little groups that wanted to do things in town," Hammond said. "They hired Chuck Gray and, by my estimation, she's one of the best things to happen to the community.
"She is always aggressively looking for ways to help the community. Well, she found the Mission Main Street program and that program helped business owners and property owners to do some clean up and fix up — all facade work — paint, glass, awnings and whatnot. They'll match up to $12,400. We've taken advantage of it."
But downtown businesses weren't the only recipients of grants.
"Through Impact Corry, Chuck Gray found the Neighborhood Initiative and that has been fabulous," Hammond said. "We participated in that because we also have residential rental properties. We had two of our parcels get new roofs, gutters, windows, driveways and sidewalks."
Hammond has received positive feedback about Corry's commitment to improvement.
"Even though there are positive comments about downtown, we get as many positive comments about the good things going on in the neighborhoods," he said.
Hammond explained that Impact Corry spoke to the business owners and asked what they wanted to do to improve their storefronts, and if they wanted to participate in the Mission Main Street program.
Impact Corry hired an artist to create renderings of what the buildings might look like after improvements. Sherwin Williams assisted in the process by putting together color combinations that are historically correct.
Property owners can look at the book, pick out the combination, and it gives the town continuity.
Many business owners took advantage of the opportunity.
"A number of people signed up and our hope is that it's a multiyear program and that those who didn't sign up this round will do it next round," Hammond said. "Hopefully the program keeps going. I hope everybody gets in on it because they should. It will make a big difference for the community."
In the last year, Hammond lost renovation time due to Covid restrictions. But once he and his crew were able to get going, upgrades came fast and furious.
"We did new paint and window upgrades on H&R Block. On the Great Lakes building we changed out brick for stucco, ordered new awnings and insulated windows upstairs. Whistle Stop has all new windows and paint. We just painted Gonstead Chiropractic, and Little Annie's will get all new paint this year and all new windows next year."
The old Johnson's Bookstore was a much larger project.
"We rebuilt the whole thing from the basement to the roof as the roof and back wall had caved in. The building now has a brand new façade, awnings and windows.
As Hammond keeps improving his way down Center Street, façade improvements to Hiram's Marketplace and Pipit's will be next on the list. Meerhoff's and Barista's Roast will receive some renovation next year.
And it's not just Hammond doing downtown improvements.
"It is true what people say — if you fix up your house, your neighbor will want to participate, too," Hammond said.
"Josh Dyne and others are doing a tremendous job on South Center Street, and there are pockets of owners on Main Street that are doing great fix-ups as well.
"Right now because of the direction of a few groups in town, everyone has a positive attitude about where they live and how they want to contribute to how they can fix it up. It's percolating downtown. It's percolating in the neighborhoods — there's a lot to be done at the city level, and it seems that everybody's trying."
Hammond is quick to say that Corry has been a good place to live, learn and work.
"We have a great school system, great people. Corry has been good to us, so now rather than taking dollars out of town, we're putting them back into Corry."
"I want to get everything in town done. Then everyone will be saying they love going to Corry because it's so nice. If everybody takes their turn in anything — whether it's their city, their job, their church, whatever — it's all going to happen. We have to get going if we're going to make this community what it can be."