The Corry Area Chamber of Commerce will revive an old Corry celebration — the Potato Festival. The festival will be held on Saturday, Sept. 18, 2021, at Mead Park from 11 a.m. to 6 p.m. 
Lisa Puckly, of the Corry Area Historical Museum, unearthed some area newspaper stories regarding the original Potato Festival celebrations.
The first Potato Festival was held in 1950 and included a football game and a pageant in which a Potato Blossom Queen was crowned.
Eight local granges selected candidates for the queen pageant, and voting was conducted from ballots issued by local retail stores. The contest included swimsuit, evening gown and costume competitions.
A local potato growers' association sponsored a display and the Corry High School football team faced off against teams such as Warren and North East high schools at a field behind the former Wright Street School, now Corry Area Primary School. The victor of the Potato Bowl received a trophy.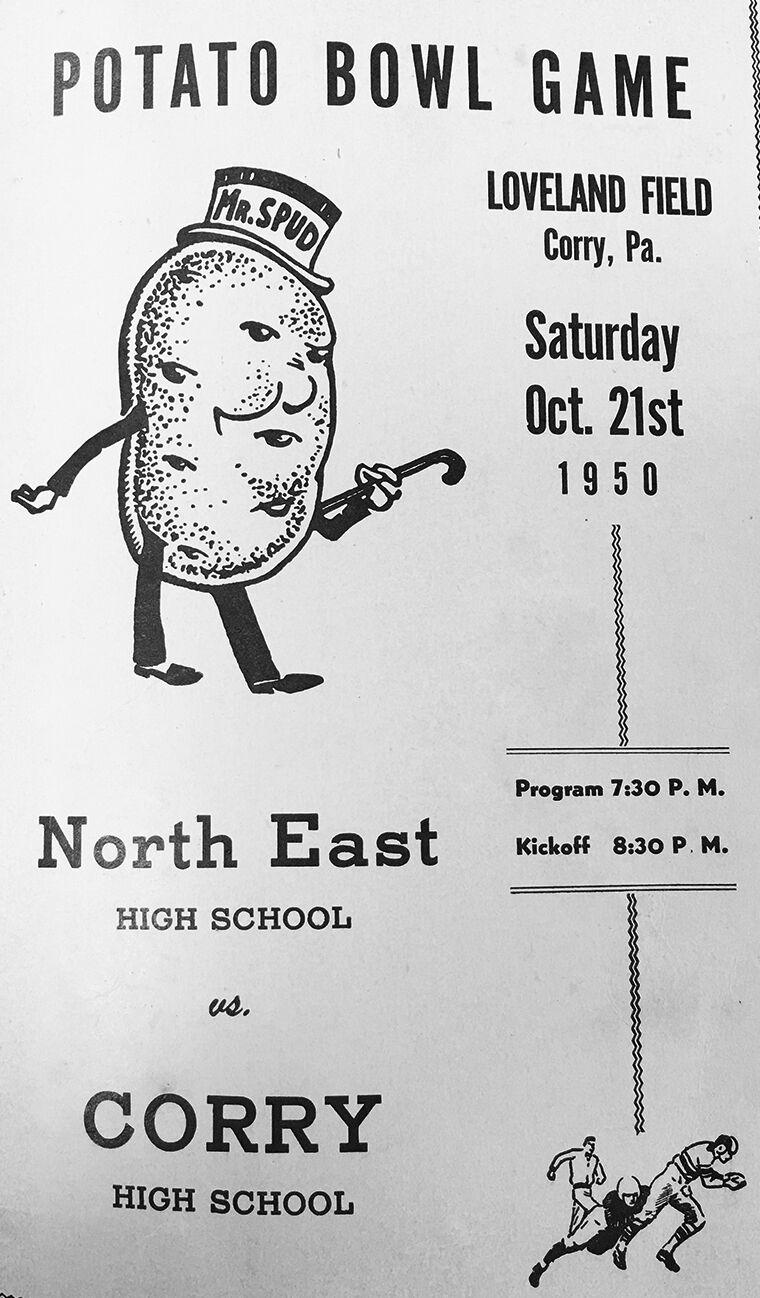 Parades featured children on bicycles and with pets, and the entire community was invited to enjoy a street dance on West South Street between Spring Street and First Avenue, with bands such as "Slim Shanks and his Orchestra" providing live music.
The 21st-century version will look somewhat different from the original, but will be full of fun for all ages.
The festival will include food vendors featuring — what else — potatoes prepared in a variety of ways.
"Each food vendor will feature a potato dish for sale," said Corry Area Chamber of Commerce Executive Director Chris Hornick. "We just added Augie's Pizza, which really excited me. They're going to have something really different from what they usually do. I'd say something but I don't want to spoil the surprise."
Activities for children and adults are sponsored by Corry Blue Zones Project, Crotty Chevrolet Buick, Corry Young Professionals, Snap Fitness and the Chamber.
"CYP is going to do a build-your-own Mr. and Mrs. Potato Head," Hornick said. "It's going to be cool."
Snap Fitness is sponsoring potato car races and prizes. 
"The potato car races will be on the order of the Boy Scouts when they have their pinewood derby," Hornick explained. "Crotty's is supplying the wheels and we're borrowing the track from the Boy Scouts. Our people will be there with the rules and regulations." 
The potato car race will begin at 3 p.m. and the kids can begin building the cars at 1 p.m.
Snap Fitness is holding a "Strongman Sack of Potatoes Toss" for men and women. In the first round for the men, the best of three tosses of 50-pound bags moves on to the 100-pound bag toss. For the women, the first round is the best of three tosses of a 25-pound bag, with the final round requiring a toss of the 50-pound bag.
"We're having a coloring contest for the younger kids," Hornick said. "We have the coloring pages and rules for that on our website and also on the information rack in the lobby of the Corry High-Ed. People should stop in there if they can't print it off at home."
The Corry Hi-Ed is located at 221 N. Center St. 
For those hoping to shop, artisan crafters as well as fall produce from a local grower will be available.
Pumpkins, fall produce and mums will be available thanks to Troyer's Greenhouse of Panama, New York. 
"We tried to get local greenhouses first but they were all unable to be there, so we did ask Troyer's if they would come," Hornick said. "They will be there selling mums and pumpkins and maybe some other things."
A contest for "Corry Signature Recipes" was held in August and the winners will be announced at the festival. Blue Zones Corry Project set an early deadline for the recipes in order to create the dishes from scratch and hold a blind taste test. 
All recipes were required to feature potatoes as a main ingredient. Healthy, homemade recipes highlighting the community's local agricultural heritage while embracing the philosophy of those who live in the original Blue Zone areas was the main focus of the contest.
Rounding out the celebration is a cruise-in with both Street Machines Unlimited and Small Town Rollers.
"I'm excited about the classic cars of Street Machines Unlimited, but also that we're getting Small Town Rollers," Honick said. "It's a group of young men who, during the pandemic last year, were just looking for something to do. It's all trucks."
While there will be no orchestra providing live music, Corry radio station channel 98.9 will provide background music for the event.
For more information, visit the Corry Area Chamber of Commerce website at corrychamber.com, or call 814-665-9925.