An Ohio resident with family ties to Corry recently had a historic firetruck from the Corry Fire Department restored, which he brought back to the city for two special occasions — once for a celebration and again to pay tribute to one of its original riders.
Kenny Rybka of Richfield, Ohio, who was a firefighter for 21 years with the Bedford Fire Department, came across a 1936 Mack pumper that was previously owned and used by the Corry Fire Department.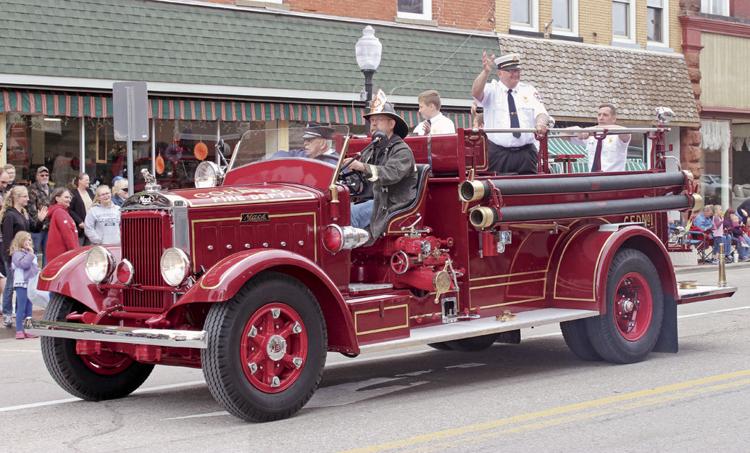 Rybka, 56, previously owned a 1956 Mack firetruck from his hometown which he co-owned with a friend of his. In March of 2016, Rybka had to take that truck to a mechanic named Dave Griffin because he was having problems with the fuel pump. When Rybka went to his shop, Griffin said he wanted to show him a firetruck he had recently acquired.
"I was in no way, shape or form interested in another firetruck," Rybka said. "I had one and didn't need another one."
As Griffin took the blue tarp off the truck, the first thing Rybka saw was "Corry PA Fire Department" on the hood of the truck and he was taken aback because his mother, Theresa Bogniak, was born in Corry and got married at St. Elizabeth Church.
"That truck could have said any other city in the world and I wouldn't have been interested," said Rybka, who would visit Corry to see his aunt, uncle and cousins throughout his youth.
Griffin knew a couple of guys who might be interested in it but Rybka asked him for the right to first refusal and he agreed.
So Rybka met with his firefighter friend who owned the other half of the 1956 Mack and told him he found another firetruck he was interested in. Rybka said his friend offered to buy out his half of the firetruck so he could purchase the former Corry engine.
Griffin told Rybka the 1936 Mack pumper was owned by a gentleman in northeast Ohio who bought it from the city of Corry at an auction in 1974. After he passed away, a friend of Griffin's bought it at an estate auction because he thought it might be a good project for Griffin since he does vehicle restorations and did some volunteer restoration work for the Crawford Auto Museum in Cleveland.
The firetruck was in good condition since it was kept inside and the only part missing from it was the bell. After Rybka agreed to buy it, he helped with the restoration as much as he could, but most of the work was completed by Griffin who owns a shop where he does restorations, modifications and mechanical work.
"So I understood this was going to be something that he worked on when he could," Rybka said.
Although it was stored inside, there were a few issues — the metal-covered wooden running boards were bad, the engine was frozen because it hadn't been started in roughly 30 years and the paint job was diminishing — so they decided to do a total frame-off restoration.
"Early on in the project, I walked into his shop and the truck was completely disassembled," Rybka said. "It was down to a bare frame on the floor of his shop and there were parts everywhere."
Griffin offered to install a diesel engine and automatic transmission, but Rybka declined because he wanted to keep it as close to the original as possible.
"I told Dave I wanted this to be original like it came out of the factory and he understood that," he said. "I wanted this to be a restoration, not a modification."
Rybka said almost everything that came on the firetruck is still pretty much there with a few exceptions. For safety reasons, they changed out the transmission from a four speed to a five speed and upgraded the six-volt electrical system to a 12-volt system for brighter lights.
"The truck didn't have turn signals or four-way flashers and only had one taillight so we added a second taillight," Rybka said. "Other than upgrading the electrical system and changing out the transmission, everything on that truck is what came with the truck."
Another slight difference is the seats are no longer filled with horse hair like they were when it was manufactued. Rybka said Griffin had to reupholster the seats because the leather was mostly destroyed but they didn't use horse hair to refill the cushions.
Rybka searched for a Mack firetruck bell and found an antique shop in Connecticut who had a Mack bell and bracket, which was also missing from the truck. He said the average person wouldn't be able to tell if it was a Mack bell or not but he wanted the firetruck to be as authentic as possible.
The restoration of the 1936 Mack firetruck took just over two years and was completed in June of 2018. It is now a fully functioning pumper.
Since then, Rybka has taken it to a few car shows in the area and it has won some awards. He then contacted Corry Fire Chief Jim Lathrop to let him know he had the truck and wanted to bring it to Corry.
Rybka decided CorryFest would be the perfect time to do it, so he loaded it up on an equipment trailer and brought it back to Corry. The fire department let him park it in Station 2 the night before the 2019 CorryFest parade on June 15.
"I'm 99 percent sure that's the first time the truck had been back in Corry in 45 years, and it was in the same station where it ran out of," Rybka said. "I also found out that the bell that was missing is at Station 2. Before the fire department or the city got rid of it, they took the bell off and kept it, which was pretty cool."
Someone from the fire department told Rybka it was supposedly the first-ever motorized fire apparatus used by the Corry Fire Department. Everything before that was horse drawn.
"A lot of people had never seen it in person. I put it in the parade and it was a really neat experience," Rybka said.
Although many people had never seen it before, there were a few firefighters who remembered using that exact truck back in the day. One of those firemen was Thomas Lathrop Sr. who rode in the truck alongside Rybka.
"He told me when he got in the fire department in 1954 as a volunteer, he rode on that truck on the first fire call he ever went on with the Corry Fire Department, and he remembered where that call was," Rybka said. "Some kid had ended up pulling one of the street boxes that used to be all over the city and it was a false alarm."
The two chatted throughout the parade and Lathrop would point out the locations of former fires he responded to throughout his years of service.
"He was just a great guy to talk to and I really enjoyed our time," Rybka said. "At the end of the parade, I drove him back to the fire station and said I'd try to come back next year so we could go for another ride."
But Rybka never got the chance to give Lathrop another ride in the parade.
"The week after Labor Day, I got a call from one of the firefighters that I had met in June, Jerred [Hodak]," he recalled. "I could hear a little break in his voice and ... he told me Tom had passed."
Hodak knew it was short notice but he wanted to know if it was possible for Rybka to bring the truck back so the fire department could give Lathrop his last ride after his funeral service on Friday, Sept. 6.
"Fortunately, out of that entire week, Friday was the only day that I would've been able to do it," Rybka said.
So Rybka hauled the truck to Corry on the evening of Thursday, Sept. 5, and immediately drove it to Bracken Funeral Home to park it outside of Lathrop's viewing. The next day, he brought the firetruck to St. Paul's Lutheran Church where Lathop's casket was loaded onto the truck and driven past both of Corry's fire stations as well as underneath an enormous flag hanging from two ladder trucks on North Center Street.
"This is the first time ever I can remember a firefighter who had his first ride and his last ride on the same firetruck," Rybka said. "I can't remember anybody anywhere having that opportunity because 99 percent of old firetrucks get junked and disappear."
Rybka said returning to Corry for such an occasion was hard to describe.
"Taking it back to CorryFest was neat because there were guys who remembered the truck that were still around, but to go back again in September and give Tom his final ride and ring the bell just one more time, to me that made the entire project worth it," he said. "And if I never did anything else with the truck again, I would really feel that I accomplished something with this restoration."
Since then, Rybka amended his will to include a provision that states the firetruck will be given back to the Corry Fire Department when he dies.
"Eventually it will be back in Corry," he said. "It's going back to the department where it came from."
Rybka said the firetruck won't be in Corry permanently anytime soon but he offered to bring it back if there's a special event he can attend.
"As long as I have the time, I would be more than happy to bring it up here for any event," said Rybka, who is considering bringing it back in March for the 50th anniversary of Corry's tragic Easter fire that claimed the lives of five firefighters.