Clymer Central School District recently announced its "Pirate Pride" Students of the Quarter.  
During each marking period, faculty members nominate students in grades kindergarten through three, four through six, seven through nine and 10 through 12, they feel demonstrate leadership, academic improvement/excellence and service to school or community.  
"Pirate Pride" is a Character Education Committee that reviews the nominations and selects one student from each of the four grade level divisions.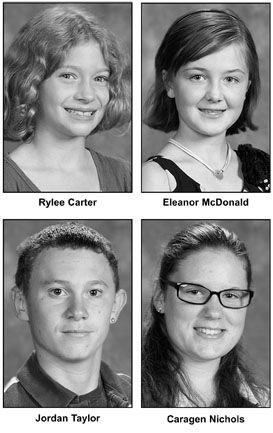 The kindergarten through third-grade Student of the Quarter is third-grader Rylee Carter.  She is the daughter of Chuck and Kathy Carter.  
In school, Carter enjoys art club, music, keyboarding, art and gym.  She also likes to play soccer, baseball and bible quizzing.  
Carter has received many awards including Junior Bible Quizzing (fourth out of 15), a baseball trophy and a soccer trophy.   
Her hobbies include bible quizzing and walking to the market.   She is undecided on her future plans.
Eleanor McDonald, a fifth-grader, is the daughter of Sean and Kelly McDonald.  
Her favorite thing to do in school is Art Club.  
Community activities include helping with library fundraisers and community events.  
McDonald made the honor roll. Her hobbies include reading, crafts and baking.  
She is undecided on her future plans, but would like to attend college.
Jordan Taylor, a ninth-grader, is the son of Scott and Wendy Dobson.  
Taylor has joined the trap shooting team and enjoys sports.  
He also enjoys helping people do odd jobs to earn money.  
Taylor has been on the merit roll. He is recognized as a hard-working student.  
His hobbies include riding four wheelers and working on tractors.  
After graduation, Taylor would like to be a diesel mechanic and repair small engines.
Caragen Nichols, an 11th-grader, is the daughter of Mark Cook and the late Tracey Cook.  
Nichols likes to work at Camp Findley in the summer.  
She has taken and is currently taking college credit courses at Clymer that include  drawing, ceramics, Spanish, statistics, problem solving and accounting. She plans on taking more advanced college courses next year.  
Her hobbies include running and basketball. She plans on attending college to major in theology and minor in mathematics.  After college, she would like to be a chaplain in the armed forces.