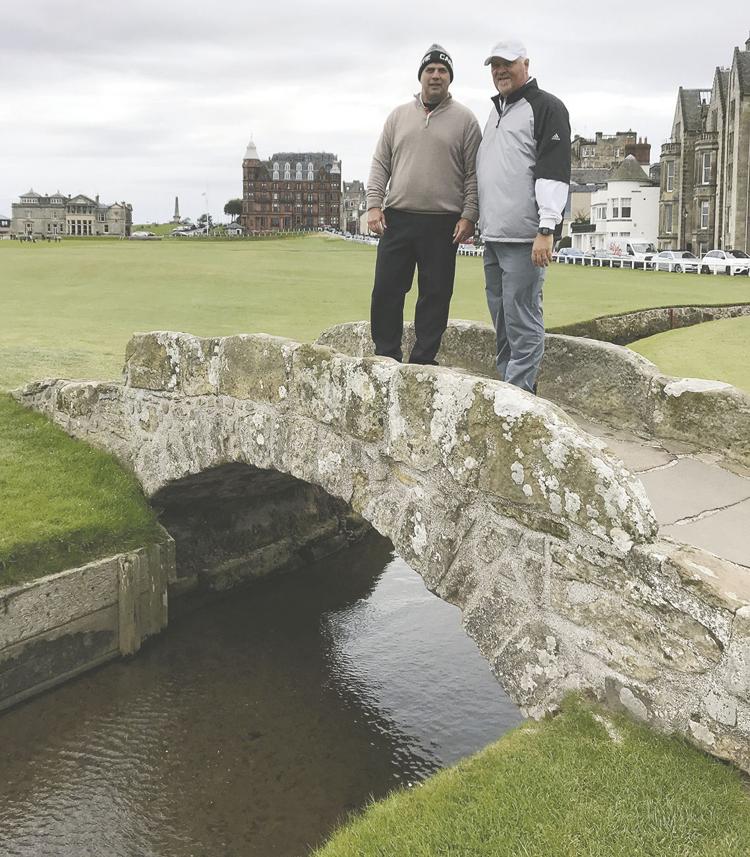 St Andrews Links in Scotland is like heaven on earth. Getting to play there is a dream come true, and it happened to Corry longtime friends Gary Merkle and Bob Williams. They waited six hours just to see if they could play the world's oldest (and most famous) golf course. They were among the few who did, and both shot 77s. After playing so many times together in Corry and many other places, they wound up tied. Gary and Bob were with Mike Biedrzycki and Scott Bailey playing several courses over there. But nothing tops playing at the Old Course.
Turn back the clock to 1993 and Preston Eshelman wore No. 73 for the Corry football team. No one wore that number until now, when Preston's son Wyatt brought back No. 73. For the record, the No. 73 was not retired by CAHS after Preston wore it.
Corry grad and former coach Shawn Wiler was the overall winner in 16:26 at the Daniel Feather Memorial 5K.
Have you seen the Allegheny Health Network's "medical minute" on WJET TV. It features prostrate surgeon Peter Lund. He was my doctor and also did great work on Mayor Dave Mitchell.
I see that Patti Brown and her family are enjoy a wedding in Oregon.
Nice to cross paths with Bill Lutton, who I had not seen in many years, at the Fork & Barrel the other night at the Lutton League Fantasy Football League draft. Becky Frazier was outstanding taking care of the patrons which included Brent Deuink who won't be golfing this weekend with his arm in a sling.
The Class of 1953 annual class picnic is on Wednesday, Sept. 18, at 10 a.m., to eat at noon at Mead Park. Those involved are asked to bring a dish to pass.
Tomorrow is National Grandparents Day. If you are lucky enough to still have them, show them some love.
Happy 37th wedding anniversary to my neighbors, Vicki and Jamie Anderson.
Birthday wishes to Shelby Weingard, and Scott Scouten who is now 55.
In the large crowd at Thursday's home volleyball match I spotted a Corry icon, longtime math teacher Dave Simmons in the front row.
Best wishes to Dawn McChesney after her 19 years at Corry Memorial Hospital.
Journal pressman Phil Griffis took third place in the Pinto vs. Maverick Car Show Rematch at Geneva-on-the-Lake. He entered his 1976 Mercury Bobcat. There were 18 Pintos and 17 Mavericks.