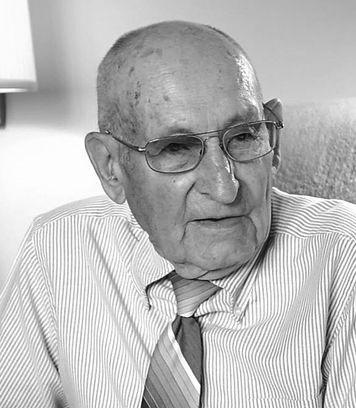 When I think of D-Day, I always think of Arden Earll. He's been on TV a lot the past few days as part of the 75th anniversary of the invasion. It wasn't long ago he was walking through the cemetery along with Michelle Obama. Now 94, he was quoted as saying "Sometimes I think, why were they killed and I wasn't? They were the heroes, the ones that did not come home." If you didn't know, Arden went ashore the Normandy beaches with the 29th Division's 116th Regiment on June 6, 1944. It's a day he'll never forget. Nor will we.
Corry lost two young men on the invasion: Sgt. Frank Carnrike and Pfc. Harley Hall.
Bonna Oyer found a program from May 21, 1957, from Keppel Tiffany's piano class. Among the many names were Carl Hillstrom, Nancy Buesink, Irene Tarbell, Carleton Wassink and Bonna.
Leroy Babcock says he'll be in the CorryFest parade on his lawn mower and wearing a new shirt he's having specially made. He says it will read I'm The Mayor of Corry.
I see that Chuck Shamburg, who lives in Austin, Texas, has retired. His father Art ran the Fair Store on Center Street next to where Augie's is now.
Happy 53rd anniversary to Sandy and Bob Howles and No. 37 for Lisa and Mike Andrus.
Stephanie Lynn Carson-Chase is writing a book that takes place in Corry circa late 70s-present day. She's looking for a photo of the old Connie's Supermarket if you can help.
Sympathy to the Fox family on the passing of Cindy Fox. Her husband, George, was a classmate of mine from 1969. They were married in 1976.
The pet-friendly worship service is set for tomorrow at the Eammanuel Episcopal Church across from the city park. It's for well-behaved dogs or domesticated pets such as cats in a carrier. There will be prayers and singing. People without pets are welcome to attend as well.
Former Corry Journal reporter Maryann Mook, who is a NASCAR fan, got a call from her son, Jason, on Thursday morning. Jason, who owns Deadwood Custom Cycles in Deadwood, South Dakota, told her that someone she knows of just asked to borrow one of his personal motorcycles. "Mom, Rusty Wallace just drove off on one of my bikes," he said.
It was a "Frisina Night" at the Little League Major boys game earlier this week. Cheryl and Skip, Lisa and Steve Frisina were on hand watching Ryan Knapp of the Beaver Club.
Tom Tripp, Greg Gurdak and Aaron Grinder have birthdays today while Sabrina Cummings Pierce and Jack McIntryre celebrate tomorrow. Phil Bemis is a year older on Monday. Tuesday's birthdays belong to Chuck Mack, Ned Bailey, Jane Tucci and Jean VanTassel.