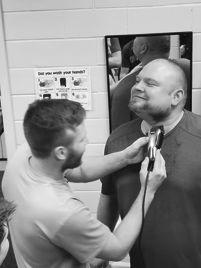 Above, assistant wrestling coach Austin Gillihan starts to trim Andy Gourley's hair, including his eyebrows. Below is the finished product.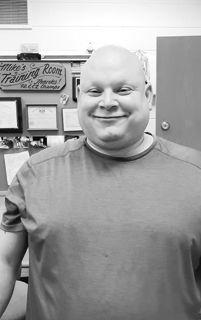 A Corry native and Murfreesboro, Tenn., dispatcher helped save the life of a man contemplating suicide from nearly 500 miles away. Brady Lutton was scrolling through a firefighter Facebook group on Dec. 26, 2019, when he noticed posts from a distraught man about harming himself and wanting to end it all. Lutton and a fire chief coordinator out of New Hampshire messaged the man, but he later stopped posting.
Lutton was able to reach the man and speak with him on the phone for hours while trying to track down his address in Mississippi that ended up not being the right location. After not being able to pinpoint the location, Lutton convinced the man to walk into a fire station in Gulfport, Miss. He was evaluated and taken to a Mississippi hospital. "Brady don't stop doing what you do, people need you," the man reportedly wrote Lutton via Facebook Messenger the next day. "I don't know where things would have gone last night. Keep going, don't you give up. You're good at what you do." Lutton received the NAACP Jerry Anderson Hero Award for the selfless act.
The photos posted of CAHS wrestling coach Austin Gillihan shaving Andy Gourley's beard, hair and eyebrows came about because of Gourley's incentive to the Beavers. He told the wrestlers if they won the region title, he'd shave off everything. He lived up to his side of the bargain.
I understand Patsy Nichols had her furnace go dead down in Florida. Normally it would not be a big deal, but it's been mighty cold down there. Today is Corry Day at Kissimmee.
Did you notice the bridge on I-79 in Edinboro near Wendy's where the tragic fatal shooting took place? Jeff Hiner tells me he worked on that bridge 30-plus years ago.
I see Three Dog Night is coming to Erie on Feb. 6. Wonder if Terry Hamilton will be there.
Thanks to John Yatsko for putting out the 2020 Corry football schedule on Thursday.
And thanks to Scott Earll, I got to see the color photograph of his dad, Arden, with President Obama and his wife Michelle, that was taken in Normandy on June 6, 2009.
Birthday wishes today to Joe Schrecengost, Charlie Shamburg, Adam Lamber and Caryn Marrs. Caryn will be celebrating with her husband Joe in Sharon at the district team duals. Della Gentile and Julie Shaver have birthdays tomorrow.
Happy anniversary to Anne (Zaphiris) and Tom Mack.
Belated anniversary wishes to Janice and Wayne Tingley.
Hard to believe that Jim Fenno turned 87 years young earlier this week.
There will be Super Bowl specials tomorrow at both the Corry VFW and the American Legion. Who do you like to win?
I saw that Erie Mayor Joe Schember's prostate doctor is Peter Lund, the same M.D. who did my surgery and Corry Mayor Dave Mitchell's a few years ago.